Craig Elliott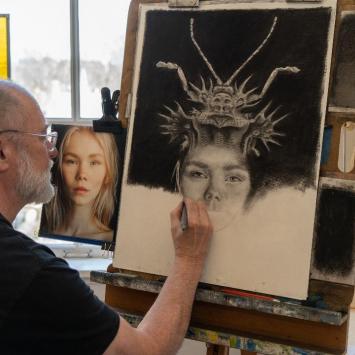 "I sketch charcoal portraits with an idea: merging opposites, simplifying, abstracting, finding the essential universal quality in people."
What is your background?
My background is in architecture- I spent the first half of my life disciplining my efforts to see the world as clarity and willful intention, and I'm spending  the second half opening up to aesthetic explorations for the love of the expression.  In short, not to design things, but to see design all around me and capture it in my own way.
What themes, ideas, questions do you pursue in your work?
I like to start with a principle, then craft the medium until it surprises me with its logical conclusion.  For example, the idea that opposites combine to make a complete idea, rather than separate polarizing ones.  I'll take something organic and combine it with something mechanical, then see the result.  Another principle is if you look closely enough, there's beauty in anything.  So l'll take a micro-view of something that is commonplace and draw it big.
What's your favorite artwork or artist?
Marcel DuChamp, who changed the way we look at art.  Also architect Louis Sullivan, who turned clay into something alive:  terra cotta ornament on his high-rise buildings in the late 1800's.
How has your practice or area of inquiry changed over time?
How my inquiry changed over time:  About six years ago I had no hand drawing ability whatsoever, being trained with a T-square and later a computer. I missed the intuition needed to draw things originally, so I started figure drawings and then portraits for the accuracy challenge.  Currently I'm exploring the insect world on a micro-level.
What memorable responses have you had to your work?
At events like Open Studios, people admire the drawings, and immediately say they could never do that.  This is sad, because I was the same way not long ago.  I'd rather inspire others to start drawing, but very few are willing to even consider it.  I've been setting up a table during Open Studio where people can draw a human eye, step by step, to take the mystery out of it.  This has been successful and very satisfying for me.
What role do you think art and artists have in society?
To inspire, to inform when asked, to encourage people to be more of who they really are.
What role does The Umbrella play for you in your work as an artist?
To be a place where like-minded people can share ideas and responses, where new ideas can be learned and explored.   To occupy a space where the full focus is on unfolding artistic exploration and sharing with the public.