Ben Eberle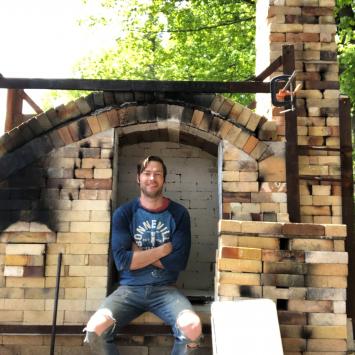 Ben Eberle, from Conway, MA, began his pottery career at The Umbrella Arts Center in 1993, working with Julie Jospe, a resident artist. With over 25 years of experience, his current work focuses on the unique results he gets from a small, wood-fired soda kiln, highlighting his dramatic textures, alterations, and embossed surfaces.
His current work is all functional pottery. He describes his process as: "I never make the same pot twice. In fact, I've tried. Didn't work..." He uses a small collection of custom, textured wood blocks to imprint, alter, and move each pot's surface with the hope that it retains its material "softness" after the final firing. It's a hard aesthetic to capture.
He has taught in studios from California to Boston, and sells his work locally via the Asparagus Valley Pottery Trail and the Hilltown 6 Tour, as well as various galleries and group shows online.