Lost and Found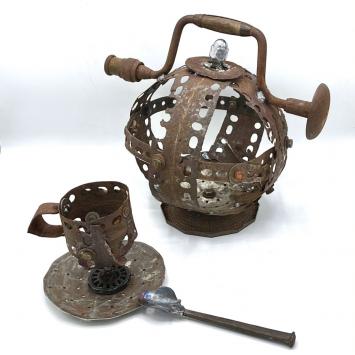 November 17 - December 30, 2022
The Umbrella Arts Center Main Gallery
40 Stow Street, Concord, MA
Juror Talk and Artists Reception:
Sunday, December 11, 4PM
This show, juried by Jessica Straus, examines our relationships with familiar, unfamiliar and defamiliarized objects. Sometimes we find things we never knew we lost. They have been hidden away in our attics or our drawers. Other things we discover in the dailiness of our lives. We find meaning and even healing in found objects and pieces from the past. Meanings are created somewhere between claiming and severing relationships with objects, between reviving and recasting their history. The work starts with a found object which must be physically embedded or transformed into the piece itself. Objects may be recognizable or beyond recognition, depending on the story they tell. This show examines these stories.
Juror's Statement
The artist's love affair with found objects may have begun a few hundred years ago with the "Wunderkammer".  In these Cabinets of Curiosities, beautiful, soulful objects were amassed and lovingly arranged in a way that elevated their status. The collector had deemed the objects to be significant, and the arrangement was meant to enlighten the viewer of this significance. An object, once merely functional was given a new life. It was not just to be used but to be pondered and admired. 
Found objects worked their way into fine art in the early 1900's in the creations of Pablo Picasso, Kurt Schwitters, Meret Oppenheim, and Marcel Duchamp. Like the Wunderkammer collector, these artists transformed their objects. Objects no longer had to be content with merely being documented, they could reside physically within a work of art. They could be art!
The siren call of found objects to artists has never let up since these early pioneers. Ask any artist who incorporates found objects in their work and they'll describe an object beckoning to them; asking to be used and even rescued. One can feel this pull in the exhibition, "Lost and Found" at The Umbrella Arts Center. The works in "Lost and Found" are a praise-song to the ordinary. Lifted out of the continuum of daily life these objects have come to represent the complexities and richness of the human condition.
Though defying neat categories, the 35 artists in "Lost and Found" fall roughly into three baskets. Many artists in this exhibition chose their object because of its known personal history, evoking, a nostalgia for a time or person left behind. There is a love, even reverence for the object on display.
On the opposite end of the spectrum, we see artists who look with a revulsion for the plethora of objects which overwhelm our material world. These artists rise to the challenge to "recycle, reuse, reduce" with an artful vengeance, employing this in their artistic process. The job of these artists is to draw the viewer in while offering a cautionary tale.  
Finally, the third group of artists plucks objects from one context and invents an entirely new one for them.  It is the quirkiness of the object that is appealing, the chameleon-like ability of an object to become something surprising and unfamiliar to the viewer. 
In all the work in "Lost and Found" objects have been graced with a kind of re-incarnation, proof perhaps that objects have soul. 
-- Jessica Straus
About the Artists
Christopher Abrams
Christopher Abrams is a sculptor and teacher who lives and works in Waltham, MA. Abrams received an MFA in Sculpture from the Massachusetts College of Art, and is an active member at the Boston Sculptors Gallery in Boston's South End.
John Anderson
John Anderson grew up in Los Angeles close to Simon Rhodia's Watts Towers. These structures became important symbols of pure artistic vision, independence, and the down to earth attitude of using whatever materials are available. Over the years Anderson has explored and integrated Indian and Buddhist sand painting, Fluxus objects, minimalism, Bricolage, and Assemblage. He has exhibited in museums and galleries throughout the United States including the Robert Freidus Gallery in New York, The Rose Art Museum, and The Boston ICA.
Lisa Barthelson
Lisa Barthelson's mixed media, printmaking, sculpture and installation work from her 'family debris series' have been featured in curated exhibitions at the Fitchburg Art Museum, the Newport Art Museum and the Danforth Art Museum. The sculpture: 'hangling' was purchased by the Newport Art Museum for their Permanent Collection. Commissions include site specific wall sculptures for Kronos. Inc. and Worcester State University. Artist-in-residence fellowships have been awarded by Vermont Studio Center VT, Playa OR and The Kimmel Harding Nelson Arts Center NE. Barthelson was awarded a Finalist Artist Fellowship Grant in Drawing & Printmaking for FY22, by the Mass Cultural Council.
David Lee Black
David Lee Black is an award-winning New England-based photographer and sculpture artist. He is a storyteller on a never-ending pilgrimage to capture people, places and events in moments both simple and sublime. His work is simultaneously whimsical and serious, graceful and awkward, understated and conspicuously complex. He also applies his artistic skill and personal philosophy to his work in music, expressive arts therapy, educational workshops and visual artist performances.
Linda Bond
Linda Bond's drawings and installations have been exhibited widely including shows at Drexel University, Kean University, Clark University, Delaware State University, Brandeis University, Simmons College, the Brattleboro Museum, the Cape Cod Art Museum, B'NK'R Munich, Germany, Museo de Arte de Zapopan, Jalisco, Mexico, MFA in Boston and Eastern State Penitentiary Historic Site. She has received awards from the Pollock-Krasner Foundation, Puffin Foundation, Chenven Foundation, Artist Resource Trust, Foundation for Contemporary Art and the Massachusetts Cultural Council. She is currently an Affiliated Scholar at Brandeis Women's Studies Research Center and her work is included in the Feminist Art Base at the Brooklyn Museum. 
Jessica Burko
Jessica Burko has been an exhibiting artist since 1985. She holds a BFA in Fine Art Photography from Rhode Island School of Design, and an MFA in Imaging Arts and Science from Rochester Institute of Technology. She has exhibited throughout the United States including solo shows in 2022 at Beacon Street Gallery, Brookline, MA, in 2020 at the Shelter In Place Gallery, Boston, MA and in 2018 at ArtProv Gallery, Providence, RI. Burko is also the Creative Director at the Photographic Resource Center, and she teaches arts marketing workshops for arts organizations throughout New England.
Laura White Carpenter
Sculptor Laura White Carpenter has been recognized for her creative 3D work in a variety of materials from clay to metal. She is an accomplished welder and manipulates her found steel using a variety of cold connections as well as the mig welder and forge. Her art path began as a painter of abstracted environments and her focus has transitioned to conceptual sculpture, which continues this theme of nature and speaks to relationships between humans and our earth.
Jeanne Ciravolo
Jeanne Ciravolo has exhibited her work nationally in galleries and museums including the Yellowstone Museum, Coral Springs Museum, Site: Brooklyn, ODETTA , Equity Gallery, and ARC Gallery (Chicago). Publications of the artist's work include Manifest International Drawing Annual 15 and Manifest International Painting Annual 10. The artist has been awarded The Walter Feldman Fellowship from the Boston Arts and Business Council and residencies at the Hambidge Center, Kimmel Harding Nelson Center, the Anderson Center (MN), and the Byrdcliffe Guild. Ciravolo is an Assistant Professor in Residence and the Director of the Alexey von Schlippe Gallery at the University of Connecticut.
Merill Comeau
Narrative mixed media artist, Merill Comeau tells stories of shared human concerns.  Her work has been featured in over 80 exhibitions including at the Fuller Craft, Danforth Art, Fitchburg Art, and Attleboro Art Museums. The Institute of Contemporary Art Boston's Art Lab hosted her project Threads of Connection in 2019.  Comeau's teaching highlights include Eliot School of Applied Arts and Craft, Surface Design Association's biennial conference, and Snow Farm New England Center for Craft.  Publications showcasing Comeau's work include Surface Design Journal and SDA blog, Fiber Art Now, MutualArt.com, FiberArts, TextileArtist.com, and World of Threads Artist Interviews. 
Thomas A.D. Cornell
Thomas A.D. Cornell is an artist living and working in Indiana. Cornell received his BFA from the University of North Carolina at Charlotte, and his MFA in sculpture from the University of Notre Dame where he is now employed as a visiting instructor. His studio practice combines processes such as steel work, welding, working with found objects, sewing, casting, ceramic sculpture, electroforming, mold making, and wood working. His work draws from themes of phenomenology and object-oriented ontology as he seeks to understand my relationship with objects through the process of making. 
Daniela DesLauriers
Daniela, a native of Hanover, Germany, received her MA in Film and Television from the University of Amsterdam. She was fortunate to study with arts and craft educators, from a young age, that led her to develop an interdisciplinary artistic oeuvre, with an emphasis on ceramics, sculpture, fiber arts, photography and jewelry. For the past 16 years she has lived and created art in the Brickbottom Artist Building in Somerville and has served on the board of directors of the Brickbottom Artist Association.
Russell Dupont
Russell Dupont a photographer, painter and printmaker whose works have been widely exhibited at such places as a The SMFA; The Chandler Gallery; The Art Complex Museum; The SSAC; The Jasper Rand Art Museum; Gallery 360; The Duncan Miller Gallery; and numerous other galleries. His works are included in both public and private collections, such as The Boston Public Library; Brigham and Womens Hospital; and The Dana Farber Cancer Institute. He has has been featured in various publications, ranging from The Boston Herald Traveller Magazine and other newspapers to Camera Obscure, Howith Castle and JerryJazzMusician. He received  a Certificate of Merit Award from the 1968 Newspaper National National Snapshot Awards for his work, "Shhhh."
Yvonne C. Espinoza
Yvonne C. Espinoza is a visual artist and designer of indigenous Peruvian ancestry. Her formal training in Fine Arts at Bard College, along with her ongoing studies in the many fields integrated with environmental studies, combine to form her signature style of mixed media artwork. After many years in marketing and project management, she is focusing on art and design work at the crossroads of art, ecological design, and resilience planning. She currently works at her fine art and design studio in Connecticut.
Laura Evans
Laura Evans lives and works in Boston, Massachusetts. Evans has had more than fifty solo and group exhibitions at distinguished venues such as OK Harris Gallery, Brenda Taylor Gallery, Howard Yezerski Gallery, Barbara Krakow Gallery, Fuller Craft Museum, Boston Center for the Arts, LIST Art Center at Brown University, and Berkshire Art Museum. Evans has been a member of Boston Sculptors Gallery since 2006. Her work is in the collection of the Boston Public Library, Wellington Management, and the Museum of the National Center of Afro-American Artists among other public and private collections. Media coverage includes Sculpture magazine, The Boston Globe, and Art New England. Evans earned her MFA from Boston University and her BA from Hampshire College.
Audrey Goldstein
Audrey Goldstein's works have been exhibited locally at the Museum of Fine Arts, Boston, the Danforth Museum, the Art Complex Museum and the DeCordova Sculpture Park (performance). She is a recipient of a 2022 MassCultural Council award in Drawing and Printmaking, an Artist Resource Trust award, a Foster Prize nominee, a Traveling Scholars Award from the School of the Museum of Fine Arts and a recipient of an International Association of Art Critics Award. She is represented by Gallery Kayafas, Boston.
Nicholas Goodhue
Nicholas is a Waltham-based multidisciplinary artist and Middle School Art Teacher from Bridgewater, Massachusetts. His autobiographical work explores identity formation in relation to American suburbia with motifs of privilege, toxic masculinity, and substance abuse. He received his BFA in Art Education from Mass Art in 2016 and his MFA in Studio Arts from Maine College of Art in 2022. Nicholas has shown work in galleries around the Boston area, including Fountain Street Gallery in Boston's SOWA Art District and gallery263 in Cambridge. He participated in SVA's Summer Artist Residencies Program in 2022 and will be an Artist in Residence at GRACIA in Antigua, Guatemala in 2023. 
Jared Green
Jared Green is an author, visual artist, literary critic, and professor of English literature at Stonehill College. His fiction and critical writing have appeared in numerous journals and his multimedia installations and performance collaborations have appeared in Boston Conservatory, ICA Boston, and Cheim & Reid Gallery in New York City.
Peter DeCamp Haines
Peter Haines graduated from the School of the Museum of Fine Arts in 1974. He cast his first bronze, his primary medium, in 1978. 
Joe Hedges
Joe Hedges is an intermedia artist with an expansive practice that weaves together oil painting, new media and installation. His projects often explore the effects of digital technologies on human experience while paying homage to historical archetypes of oil painting. Hedges is the recipient of several grants and has exhibited nationally and internationally. He is currently living in Pullman, Washington where he draws on a diverse background in the arts to create original combinatorial works. In addition to his studio practice, Hedges coordinates the painting area at Washington State University and organizes community public art projects with Pullman Arts Foundation, an arts nonprofit he founded with his partner.
Shira Karman
Shira Karman has been a dancer most of her life and has been a body-oriented psychotherapist most of her adult life.  She drew images when the artists in her life weren't looking. In recent years, visual art has become a refuge for absorbing and digesting the complexities, challenges, graces, grief and staggering beauty of life.
Cynthia Katz
Cynthia Katz is a photographic artist. Her cyanotypes, one of photography's earliest forms, are created in a way that is relevant today, and often include other media. Her work, shown regionally and nationally, and published in journals, books and blogs, including Manifest's International Photography Annual 3, The Danforth Museum, Fitchburg Museum and SlowSpace.org, is also in private collections. She has presented and taught at the Photographic Resource Center, Wellesley College, Concord Academy and the Griffin Museum of Photography and consults privately helping people craft portfolios for college admissions. Her studio is at The Umbrella Arts Center in Concord, MA.
Lisa Kellner
Lisa Kellner's paintings and sculptural constructions have been exhibited throughout the United States and internationally at exhibiting institutions including the Bellevue Arts Museum (WA), the Lower Manhattan Cultural Council (NY), the Brooklyn Arts Council (NY), the Weatherspoon Museum (NC), the Islip Art Museum, Washington Project for the Arts and the Muscarelle Museum of Art (VA), among others.  She has created site-responsive Paintings in Space for the Cornell Fine Arts Museum (FL), the Center for Maine Contemporary Art (ME), Lehman College Art Gallery (NY) and the Target Gallery at the Torpedo Factory (VA). In addition, Kellner has worked with galleries such as Ascent Contemporary (NY), Project 4 (DC), BravinLee Projects (NY) and JoAnne Artman (LA).  Kellner's work has been reviewed and mentioned in publications including The New York Times, The Boston Globe and Sculpture Magazine.
Michelle Lougee
Michelle Lougee's meticulously crafted otherworldly sculpture turns discarded plastic remnants of the human presence into representations of life sustaining floating microcosms currently being choked out by plastic waste. Lougee recently completed a year-long Public Art Residency in Arlington, MA. In 2019, she was Artist in Residence at the Society of Arts and Crafts in Boston. Her work has been exhibited internationally and closer to home at the Wilson Museum at Southern Vermont Art Center, the Cape Cod Museum of Art, the Fuller Craft Museum, the Peabody Essex Museum, the Christian Science Plaza, and the Heritage Museums and Gardens. 
Billy T. Lyons
Using objects and imagery from my childhood I create work that relates to the childhood trauma caused by drug abuse and domestic violence. Specifically dealing with the Crack era of the mid 80s and 90s. With my use of pop culture references through imagery and objects, as well as my grungy cartoon like style I create an uncomfortable contrast of adolescence and adult themes. Using familiar imagery I hope to connect to the viewer and shed light on the harsh realities of children who carry trauma caused by adult choices.
Steve Novick
Steve Novick was born in 1966 in Worcester, Massachusetts. He earned a BFA from Rhode Island School of Design in 1988, and an MFA from Cranbrook Academy of Art in 1991. He has exhibited his work in solo and group shows in New England and nationally. His work has been reviewed in the New York Sun, the Newark Star-Ledger, and the Boston Globe. A recipient of Pollock-Krasner and Massachusetts Cultural Council grants, he is Professor of Art & Design at Suffolk University.
Jeanne Williamson Ostroff
Jeanne Williamson Ostroff is a mixed media artist who works with fabric and is inspired by the grids and holes of orange construction fences. She has been sewing since childhood and studied textiles in art school. Her work has been exhibited widely in galleries, museums, and online. She has attended residencies at the Millay Colony for the Arts, and the Vermont Studio Center. Licensed prints have been available at Crate & Barrel, Anthropologie, Annie Selke, and Pottery Barn. Her work is hanging in private homes, and hospital, corporate, and hospitality settings, and has been published in several books and magazines.
Ponnapa Prakkamakul
Ponnapa Prakkamakul is a multidisciplinary artist and landscape architect based in Massachusetts. Her work explores the relationship between humans and their environment, focusing on cultural displacement and sense of belonging. Using found materials foraged from landscapes and stories collected from local communities, she aims to create place-specific artwork that represents their identity and cultivates a stronger sense of place. Ponnapa holds a Master's degree in Landscape Architecture from the Rhode Island School of Design. She is a member at Kingston Gallery and a landscape architect at Sasaki. Ponnapa is 2022-2023 Artist-in-Residence at the Umbrella Arts Center.
Abbie Read
Abbie Read works and lives in mid coast Maine, usually working on collage, assemblage with found objects, artist books and other mixed media.
Emily Rose
Emily Rose is an American and of Puerto Rican descent, Boston-based multidisciplinary artist. She explores themes of identity, memory, migration, and home through research, art, and performance. She examines the multidimensional aspects of identity, particularly how they are formed, accepted, and rejected to build a sense of belonging. Emily Rose revisits physical and metaphorical spaces through her childhood memories and dreams, collects associated items of memory and re-contextualize family photographs to invoke one's imagination, senses, connections, and possibilities to create new meanings of identity and home.
Robert Rovenolt
Rovenolt was born in 1949 and grew up on a Pennsylvania dairy farm. His higher education began at Tyler School of Art, Temple University. In 1969-70 he studied abroad at Temple Rome Italy. BFA: 1971. Rovenolt was awarded a full scholarship to the University of Illinois and received his MA in 1972. He moved to Boston's South End in 1974 and obtained a studio at the Boston Center for the Arts. He still continues to reside and maintain his studio practice in Boston. His life-long partner, Ken Clark, an accomplished artist, died in early 2022.
Marilu Swett
Marilu Swett has exhibited throughout the US, and has work in several corporate collections, including Bank of America, Fidelity Investments, Meditech Corporation, and New England Biolabs. She is the recipient of a First Light award for the Town of Brookline (MA), a residency for iron casting at the Maryhill Art Museum (WA), a NEFA Fellowship in Sculpture, a Somerville (MA) Arts Council general support grant, and a Massachusetts Artists Foundation Studio Exchange grant. Swett has been an Associate Professor of Art at Montserrat College of Art in Beverly, MA, and is a member of Boston Sculptors Gallery.
Caron Tabb
I was born in apartheid South Africa, raised on a farm in Israel, and have lived in the US for the last twenty years. After working in the nonprofit world, I turned my focus to art. My passion for social justice deeply impacts my artistic practice. My conceptual, abstract mixed-media pieces address social inequality issues, racial justice, and feminism through the lens of my Judaism. I feel that my role as a Jewish, white woman and a human today, is to raise the level of discourse, increase empathy and engagement with difficult issues towards a more just and equal society. 
Martha Wakefield
Martha Wakefield is an award-winning painter and photographer. Her work has been shown in over 75 exhibits across the country including the Fitchburg Art Museum, Wheaton College, Lasell University, and the Griffin Museum of Photography. Awarded artists residencies include Weir Farm National Historic Site in CT, Vermont Studio Center and Orquevaux, France. Wakefield's work has been featured in Juniper Rag, Artscope and Watercolor Artists magazine. Her paintings are in numerous corporate and private collections internationally. She is represented by Powers Gallery of Acton, MA.
Leslie Wilcox
Boston-based Wilcox studied at the School of the Museum of Fine Arts on scholarship after graduating from Kent State University, OH.  Her recent work can be seen regularly at Boston Sculptors Gallery, MA, and has been shown at Chesterwood, Stockbridge, MA, Kunstverein Tiergarden, Berlin, Germany, McMullen Museum of Art, Boston University, Brandeis University, Waltham, MA, UMASS Lowell, MA and Fuller Museum, Brockton, MA.  She has completed many public and private commissions for both indoor and outdoor venues and has work included in major collections such as Fidelity Investments, Decordova Museum, Lincoln, MA, Boston Public Library, Boston's Museum of Fine Arts, and Brandeis, Simmons and Harvard Universities, MA.  Reviews of her work appear often in regional and national periodicals.
Carolyn Wirth
I grew up in New Jersey and earned a BA from Smith College and an MA in sculpture and environmental art from NYU. I live in the Boston area with my family and exhibit in various local and regional galleries.