Gathering Places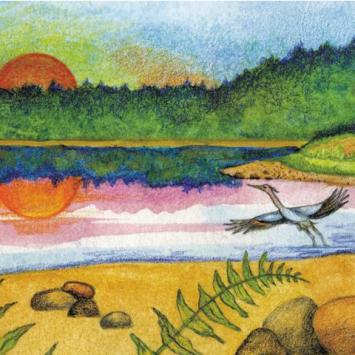 Gathering Places: Annual Musketaquid Earth Month Exhibit
April 12 – May 6, 2018
Opening Reception: April 19, 2018 from 6:00-8:00 pm
On view during Earth Day: April 28, 9:30 am – 2:00 pm
Throughout its history, Concord has been a gathering place for native peoples, revolutionaries, writers, and philosophers, as well as for literary and historical pilgrims. Concord provides natural gathering spots as well: communal nesting sites for herons, refuges for migratory birds, dens for foxes and other mammals, lodges for muskrats and beavers. Some gathering places are relatively permanent, but others may be ephemeral: a tree where birds roost for a night, a stump where squirrels gather to eat nuts, or a table where friends gather for coffee and conversation.
Gathering places can reinforce our shared bonds, our commitment to happy and healthy communities, and our resolve to defend the vulnerable places and populations (human, plant, and animal) that need our care and attention.
What Gathering Places inspire you? Express your response in any artistic medium: drawing, painting, sculpture, collage, multi-media, poetry, song, photography, dance, or performance.