Dazzleship Artist Statements
Michael MacMahon
Julia Csekö
Maya Erdelyi
Laura Fischman
Sarah E. Jenkins
Matthew Murphy
Wilhelm Neusser
Loretta Park
Brooke Stewart
Erin Woodbrey
Michael Zachary
Michael MacMahon
Curator Statement
Shifting trajectories and varied destinations in the studio practices of regional artists culminate in the exhibition "DAZZLESHIP". The title has origins in a form of abstracted camouflage used in the early 20th century known as "razzle dazzle," whose purpose was meant not to conceal, but to obfuscate trajectory, speed and proximity. These vessels were known as dazzle ships.
The artworks range from large multi-panel paintings, experimental animation, and sculpture to precise renderings aimed to toy with our perception. By bringing together these artists "DAZZLESHIP" surveys a variety of personal trajectories and visionary languages where each of the artworks offers various visual triangulations, and navigates a precarious balance of perception and proximity.
The exhibition artworks can be interpreted as relics, mediations and boundaries, and navigates our proximity to the present, past and future. Detached from any point of orientation, this exhibition emerges as a study of the present moment from myriad positions.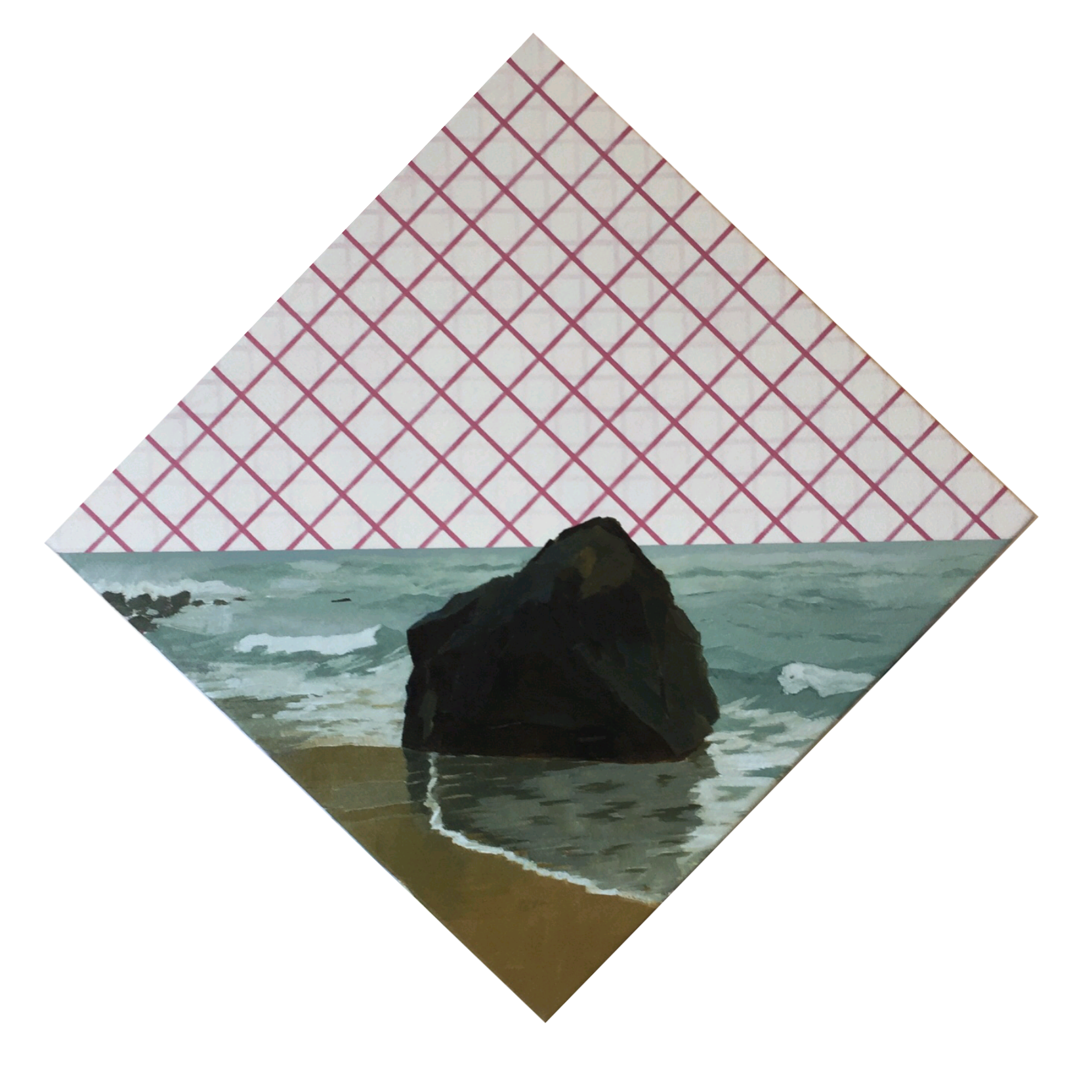 Artist Statement
The work of Michael MacMahon utilizes a variety of painting strains while subjecting them to personal systems. Polychromatic grids play with images of the landscape's natural boundary. In combining both geophysical origins and the cultural overlay of human presence, often created over millennia, MacMahon's landscapes reflect a living synthesis that is vital to understanding its past, present and future. If the pairings seem to create abrupt transitions they form the aggregate to MacMahon's explorations into movement, origin and place to further his long-standing interest in the representation of the American landscape via proximity, place and matter. 
Julia Csekö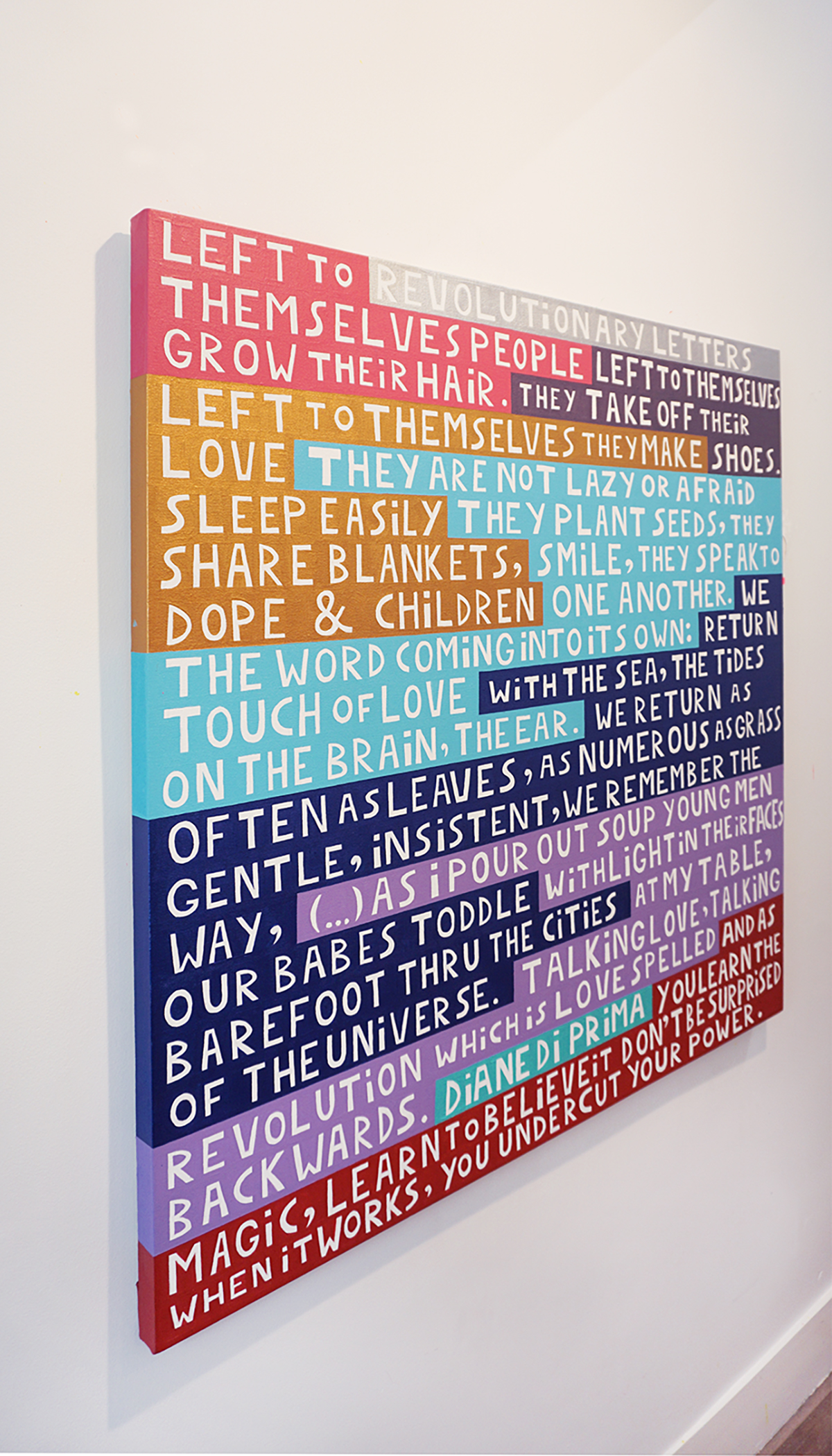 Having grown up in Brazil, my work is deeply influenced by the colorful Brazilian culture and landscapes, in the same measure that it is marked by the country's violent and convoluted history. 
Being an immigrant and dual citizen offers a disturbing perspective, that the spiraling degradation of Brazil's environment, natural resources, democracy, and political scenario is not an isolated event. 
In this context, making art is an act of resistance. We must seek creative solutions to the problems we face, or experience the continuous degradation of our environment and communities.
I strive to engage viewers ranging from art enthusiasts to those who have never been exposed to contemporary art. Brazilian Thinker and Educator, Paulo Freire, and his Critical Pedagogy have taught me to understand that a dialog is the only true form of education, and that creative thinking is often at the heart of all conversations.  
I want to welcome the viewer and offer a sense of belonging, participation, and agency. Through my creative practice, I hope to create spaces to stimulate critical thinking and offer the possibility of escaping the banality of daily life.
By experiencing the present with a sense of wonder we become more permeable to paradigm shifts, allowing us to dream and construct futures grounded in collaboration, diversity, justice, fraternity, equality, and beauty. 
We must analyze, discover and create meaning as we go. We must not accept symbols for their traditional or historical value. We must search for symbolic constructs, in language, actions, and objects, and observe them in light of our present circumstances and knowledge. We must see history from several perspectives, and not as a monolithic truth or monologue. We must continue to learn and educate ourselves in order to better ourselves.
I am fueled by the thought that fatalism can be overcome and that alternatives abound.
I want a future where no one will dare say, "it has always been this way" to justify the unthinkable.
Love, sweat, joy, and tears,
Julia

Maya Erdelyi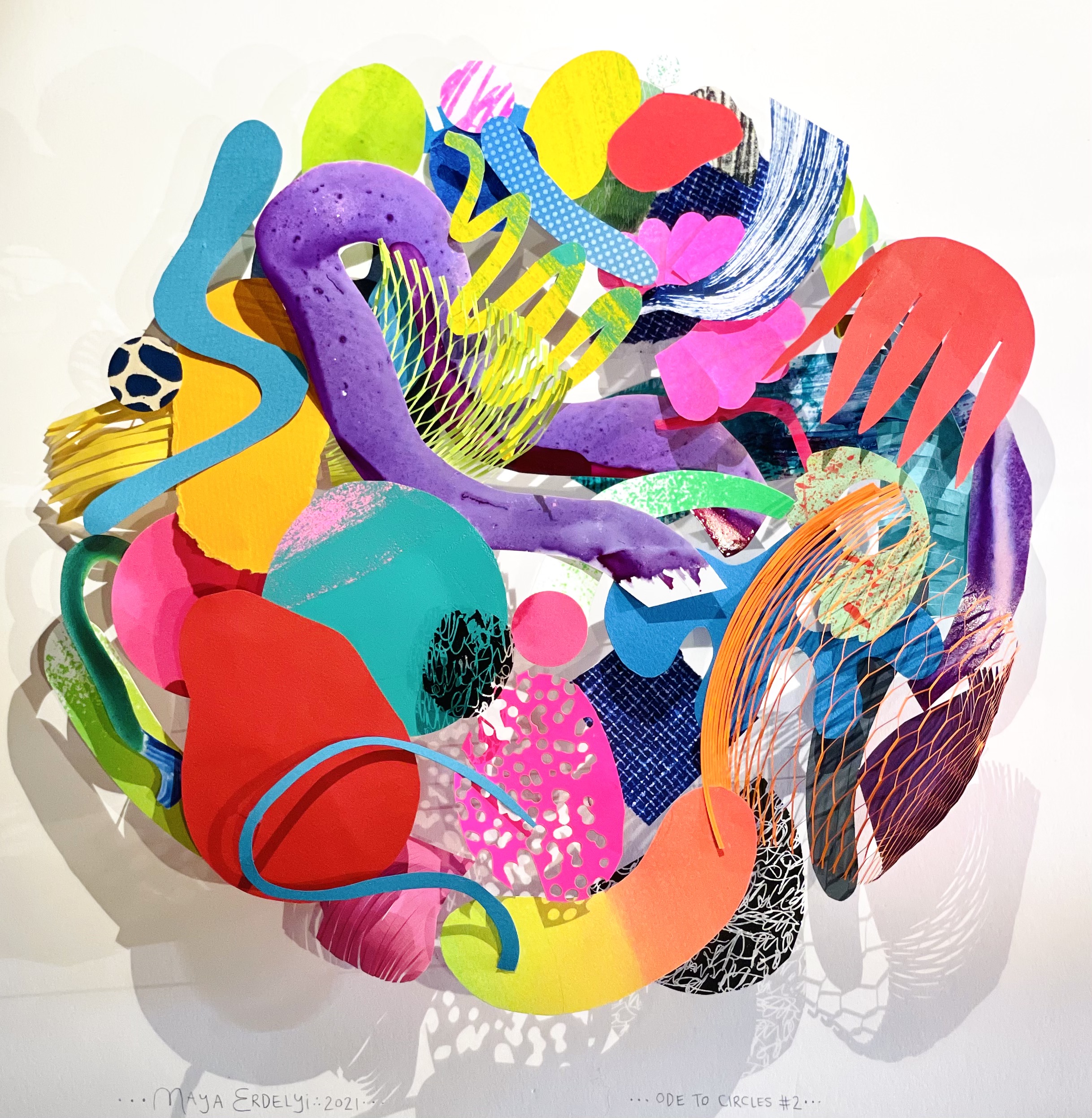 I'm a collagist; cutting, sourcing, and colliding memories and imaginary realms into animations and 3-D paper works. My work braids together various animation and visual processes: cut-paper, stop-motion, hand-drawn animation, collage, puppetry,  printmaking and experimental direct-on-film techniques within hybrid digital worlds. I often use bold colors, patterns and found paper textures. The final artworks exist as  animated films, artifacts, collages and installations. 
In the studio I experiment with automatic writing, drawing, play, chance, and visual games, as inspired by Surrealist and Dadaist methodologies to set free images and ideas. These improvised methods reveal surprising juxtapositions which bring a sense of wonder and discovery that shape my visual and narrative decision-making.  
My current project is "Anyuka" ('mother' in Hungarian) an animated documentary film about my grandmother's life and journey to America as a World War II refugee,  escaping Communist Hungary in 1949. The film takes a magical realist approach by reimagining moments of her life, birth and death, through a variety of animation  approaches. The film will interweave found super-8 footage, audio interviews, emails, text from her unfinished memoir, various photographs and typed letters, along with direct-on-film animation, hand-drawn and stop-motion animation. Through my own search for meaning in history, family stories, and the nature of reality, my films aim to create a conversation about life, death and magic.

Laura Fischman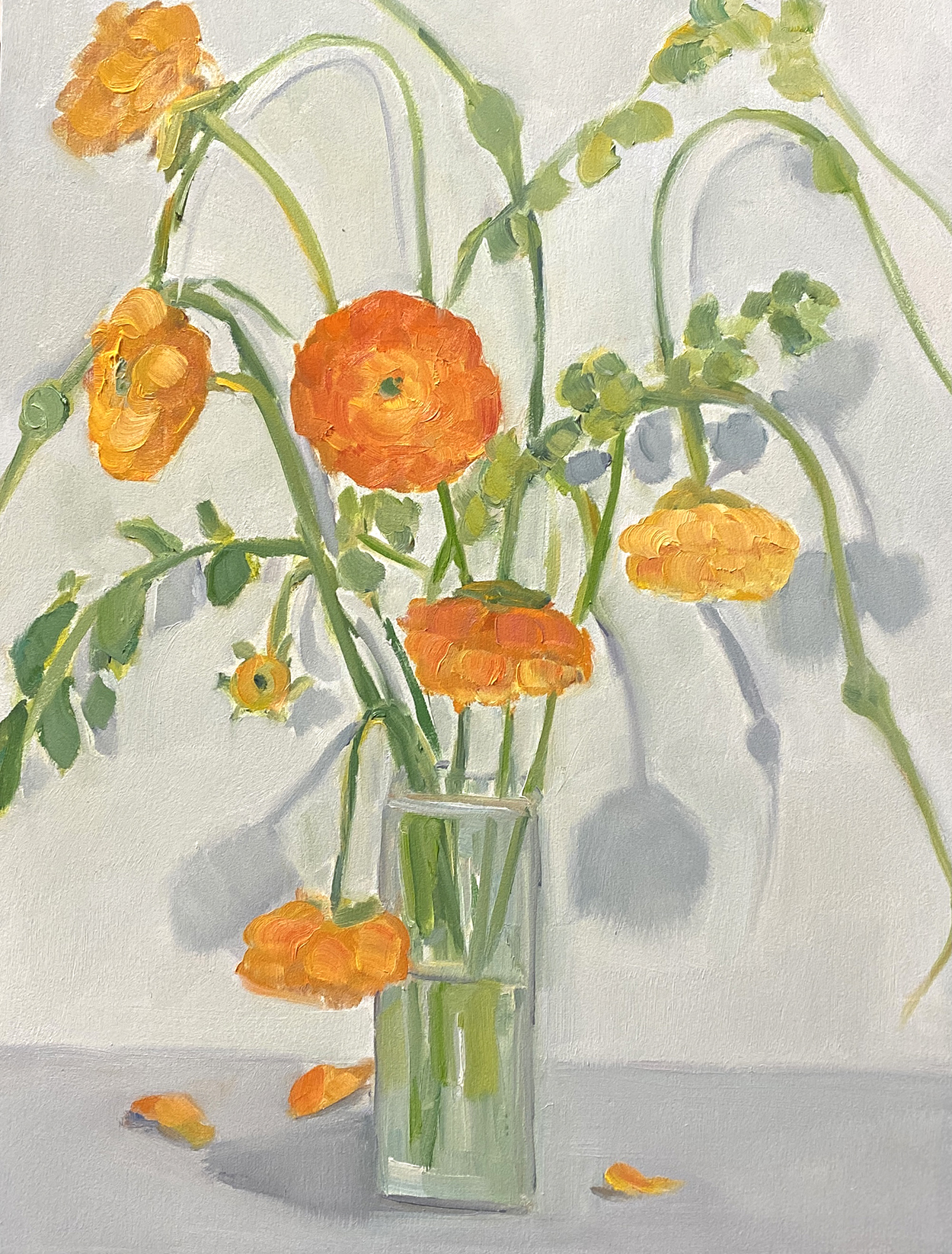 Time. Potential. Anticipation.  
Time is a medium in my work – time and paint as the building blocks of a practice. Stillness and  incremental motion. Wisdom in time passing. Decay as time passes. Distance to. Distance from. Immediacy. Patience. Revisiting motifs, memories, meetings – and experiencing them with a new perspective. Inevitability or the passage of time and an inability to control time. Covid time. Drying time. Practice time. Time as healing. Resilience. Space. Slowing down and speeding  up Waiting. Watching. Hoping. Blooming. Fading. And, again. 
Painting for me is a daily practice. Like walking the dog or even brushing my teeth, painting is a  vital part of my routine. The studio is where both I gather and quiet my thoughts. Painting is a reprieve from the chaos of the world and a source of constant challenge and learning.  
Embracing failure and fragility through investigation, repetition and humility. Each painting is a record of my own inquiries, memories and curiosities. Paintings are both temporal and a temporal; capturing a moment in time, and simultaneously collapsing time, elucidating fictional moments or expanses of time within one image.  

Sarah E. Jenkins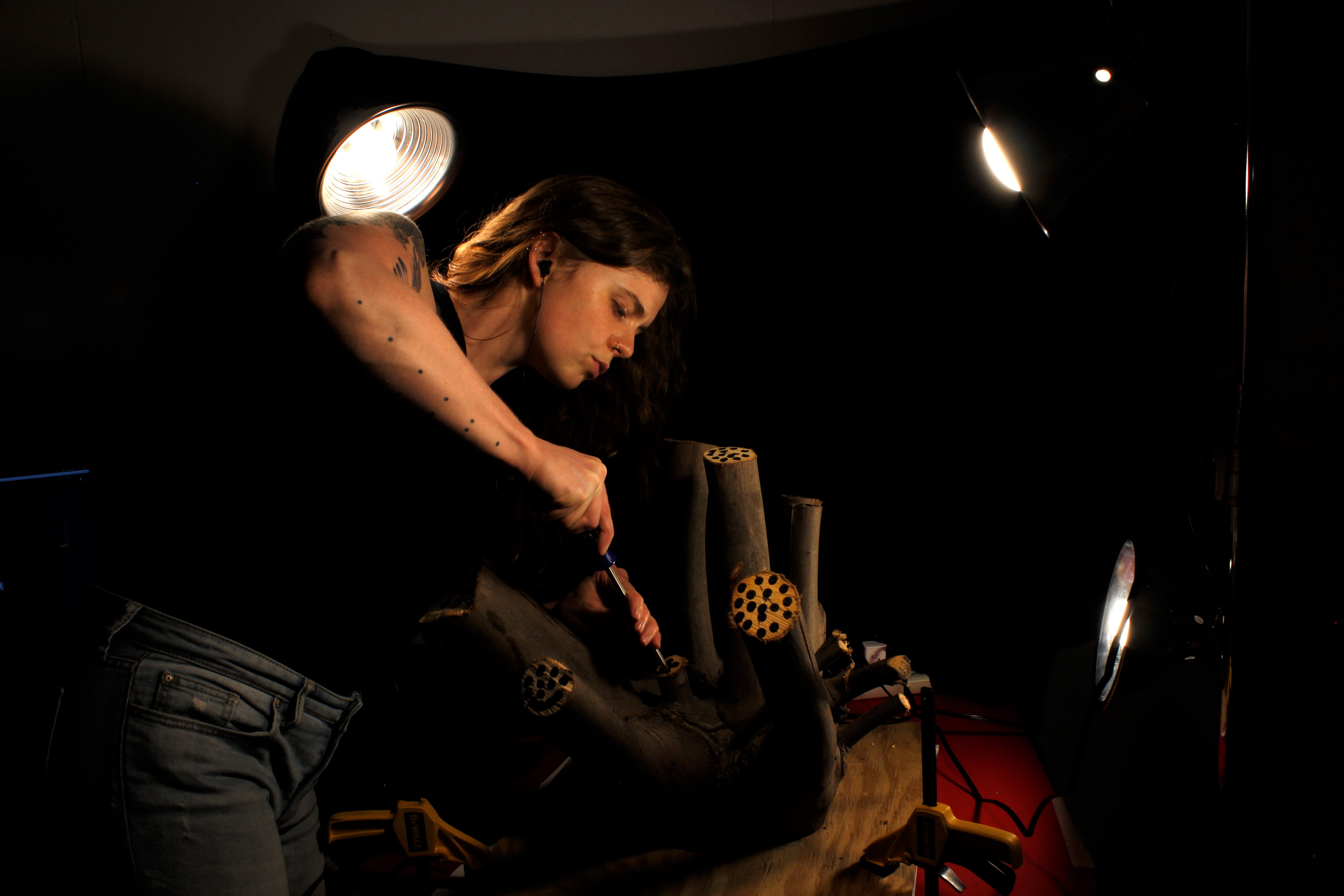 I am a multidisciplinary artist working in stop motion animation, drawing, and social practice. My work is inspired by post-industrial landscapes, labor, and a desire for experimentation. I explore ideas and images of coal mining/natural resource extraction and labor that is repetitive and unseen.
These interests grew in part from my lived experience and family history. I'm from rural Appalachia, my grandfather was a coal miner - an occupation 5 generations long, traced back to ancestors in South Wales. My grandma worked in a textile factory as a young woman - my family sold mineral rights to a fracking company when I was a teenager. I grew up playing on slag heaps. 
For my short animation, Slate Lines, I created a stop motion animation by drawing directly onto slate ruins in post-industrial Corris, Wales. For this work, I responded to the landscape by using slate rock to draw onto old structures left behind by the slate mining industry. There was a ritual to this process. I hiked up a mountain each day with my animation gear - the sun and rain became part of the work.  
My previous project, Patch Work, is a series of 6 stop motion animation/video works. The materiality of these animation devices was inspired by sewing, drawing, coal mining, and the studio environment: charcoal, coal slag, screws, t-pins, wood, cardboard, and thread. The process of stop motion animation is significant to my concepts: the work is slow, repetitive, and laborious. My hands touch the objects thousands of times in an effort to create movement that looks mechanical and filmic. Through this process, the evidence of my labor is erased.
The creation of my moving image work is a solitary act, but my artistic practice is not. In my ongoing social practice, Sewing Conversations, I gather people together to sit, sew, and talk. This practice is based on the practice of quilting or sewing circles and the act of bringing people together around the act of making. I've held Sewing Conversations in homes, at galleries, outdoors, and at universities.
I am currently working on a stop motion animation exploring disappearing acts, extraction, and manual processes using logs, ink, screws, and a black velvet backdrop. I paint on and screw into logs in a studio setting - but the environment is obscured. A viewer may guess that I'm animating on living trees in the woods. When I started this project, I was living in my hometown in Northern Appalachia. I stared at a logpile (from my dad's tree-trimming business) and asked myself how I might animate the logs. I brought some of them into the studio and that experimentation sparked my current project.

Matthew Murphy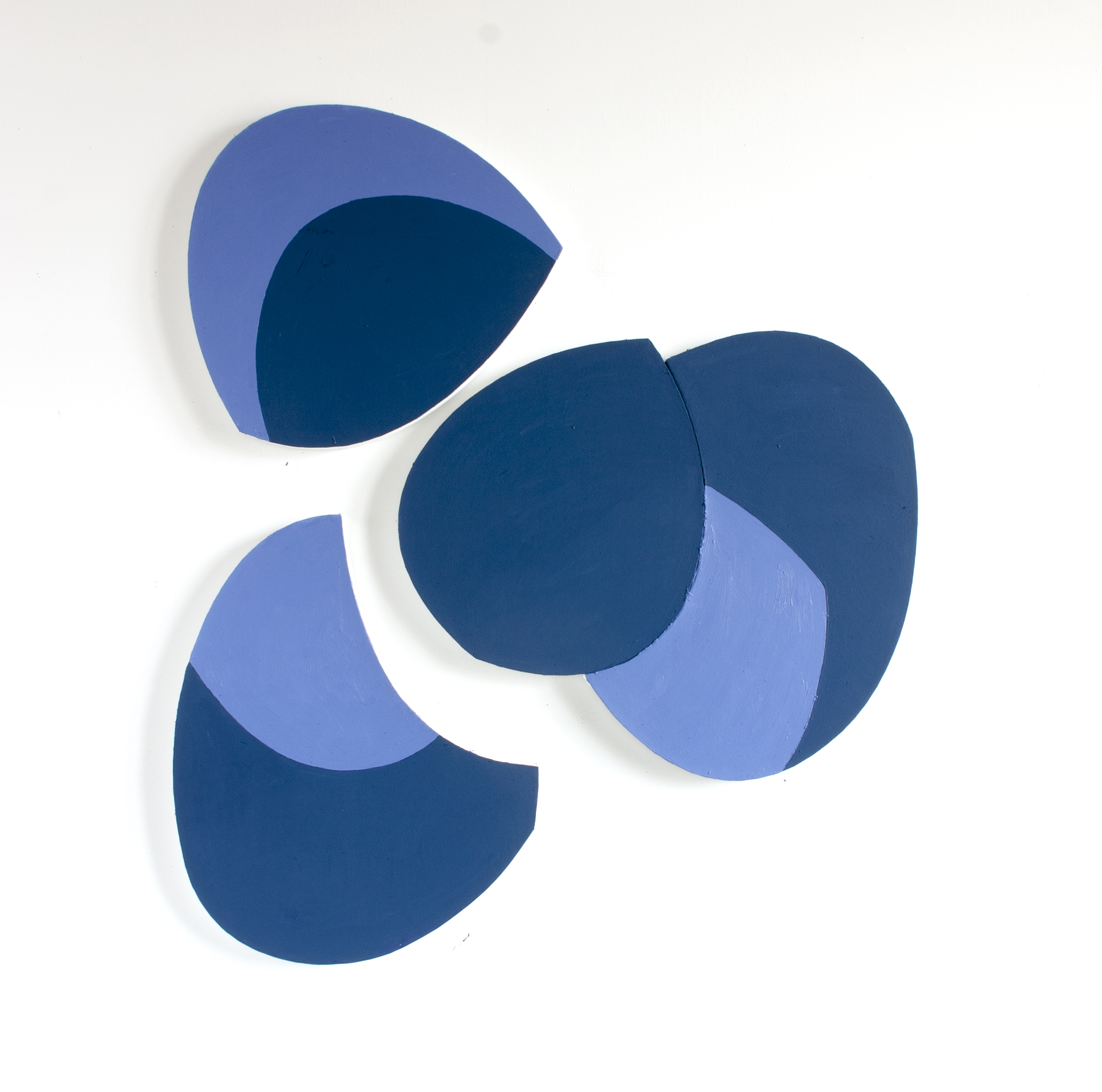 Wilhelm Neusser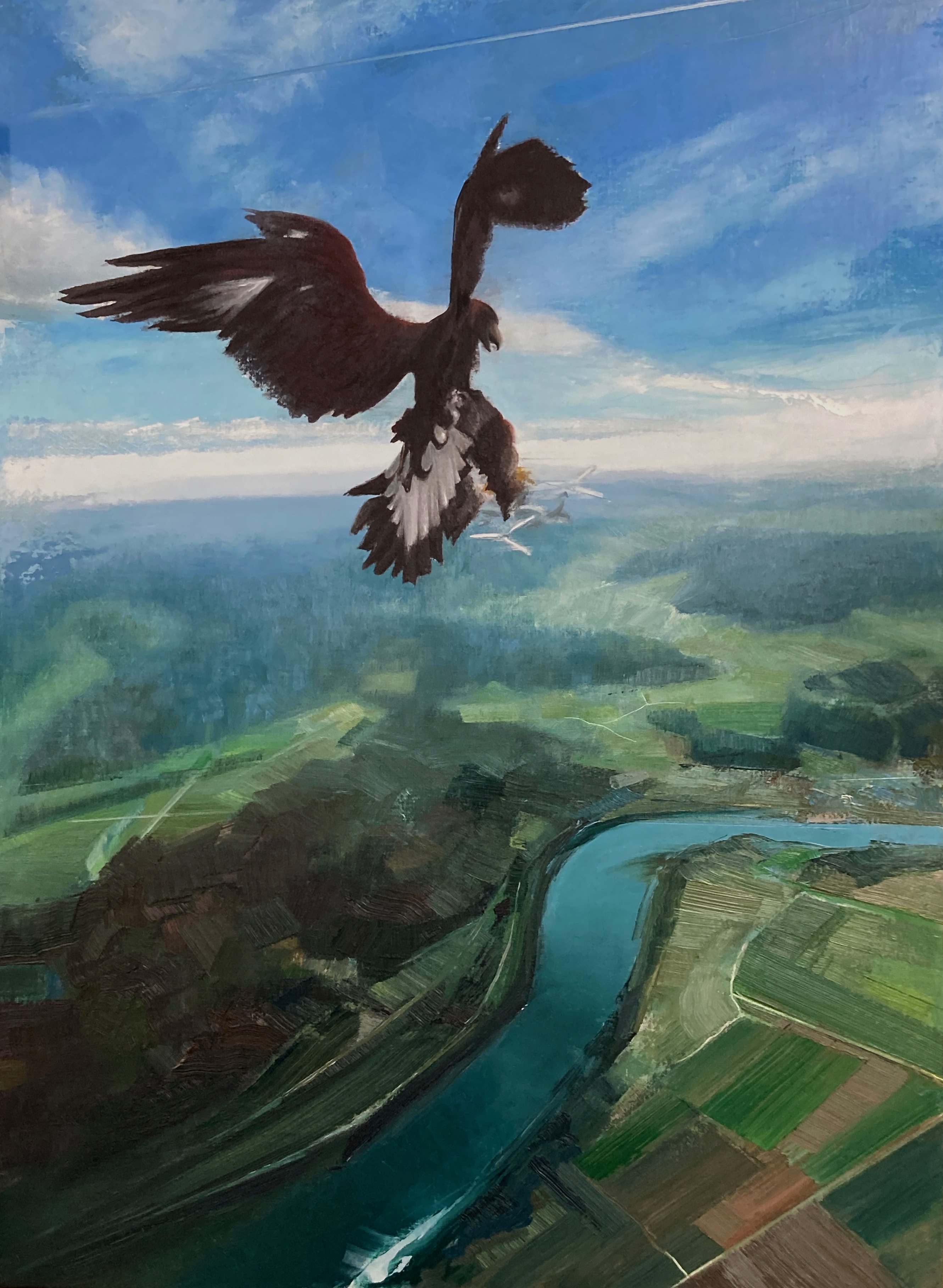 The German-born Neusser, who moved to the United States in 2011 and lives in Somerville, is a deft landscape painter: An acute colorist, inventive and freehanded with paint application, and attuned to the dramatic implications of space. Some works (…) are undeniably ominous, yet they all hum with the joy of their making.
Cate McQuaid on "The Sixth Season", Oct. 30, 2020

Loretta Park
I sew, braid, paint, cut, and crush objects to create works that are impractical and function-less. In doing so, I build abstract shapes that are non-representational but reference the real world. Although the forms in my work do not depict any specific ideas or items, my work is embedded with a sense of figure, especially the hand of a maker.  As the shiny and slippery plastic lacing is woven through soft, tightly braided cotton fabrics, these contrasting textures repeatedly come into contact with each other.  This intimate gesture of touching suggests the materials were held and altered by my hands. As I manipulate my chosen materials, the small tactile and visual elements accumulate and turn into larger structures. These densely detailed structures are combined with simple passage of lines, becoming at once two and three dimensional, and durational. 

Brooke Stewart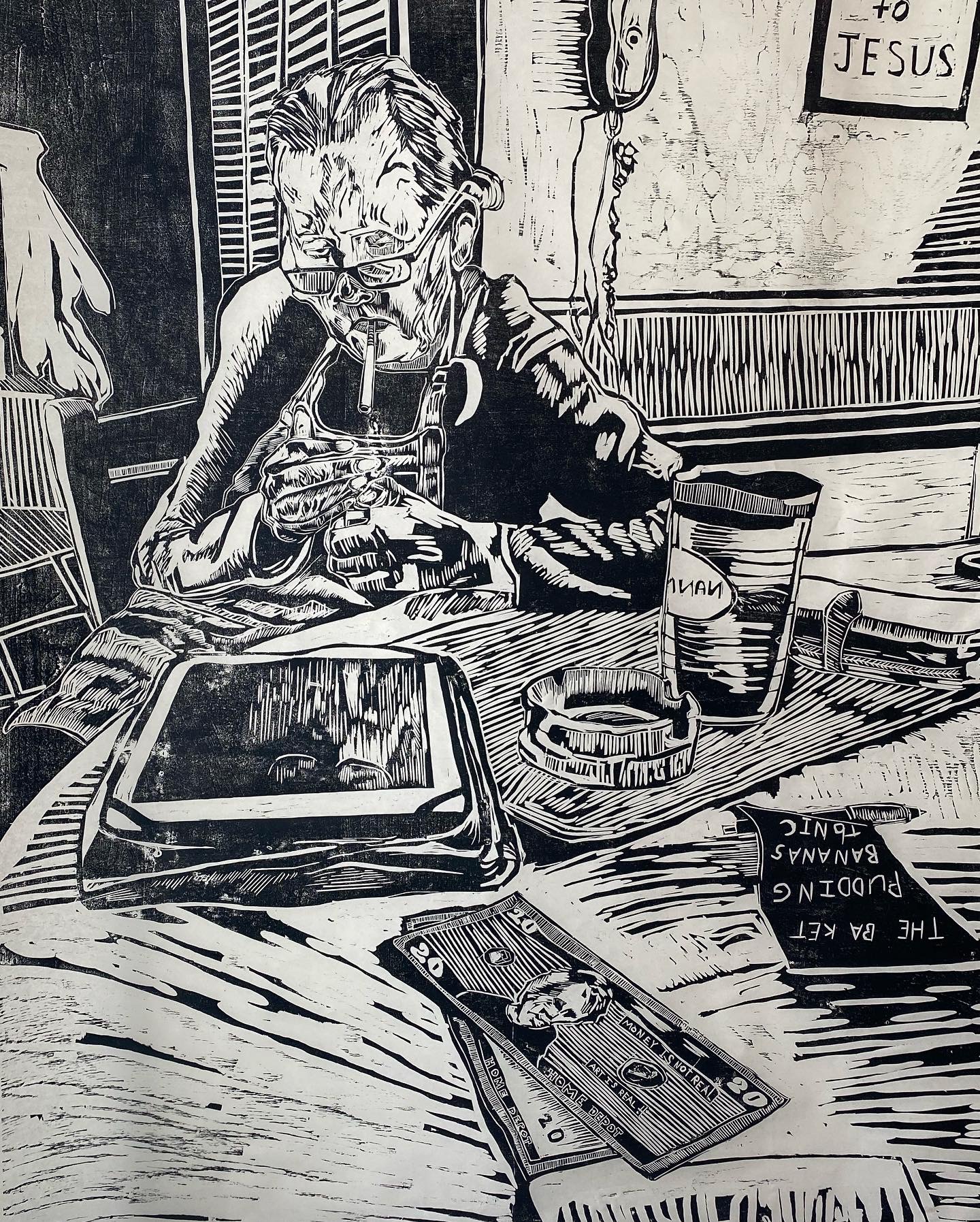 My paintings and woodcut prints are autobiographical in nature. As I sift through my internalizations of formative life experiences, my work is driven by feelings of loneliness, trauma, and gender identity, and grapples with the resulting effects on my navigation of the present. Spinning narratives between reality and perceived reality—the tangible and the dream —I often transition between woodcut and painting and feel this back-and-forth dance between mediums aligns with my thought processes. I find the mediums are a metaphor for my life, floating between the hard and permanent line of a woodcut, and the dream as expressed through the whimsical perspective in my paintings. It is a fight between what is real and what I will to exist.  

Erin Woodbrey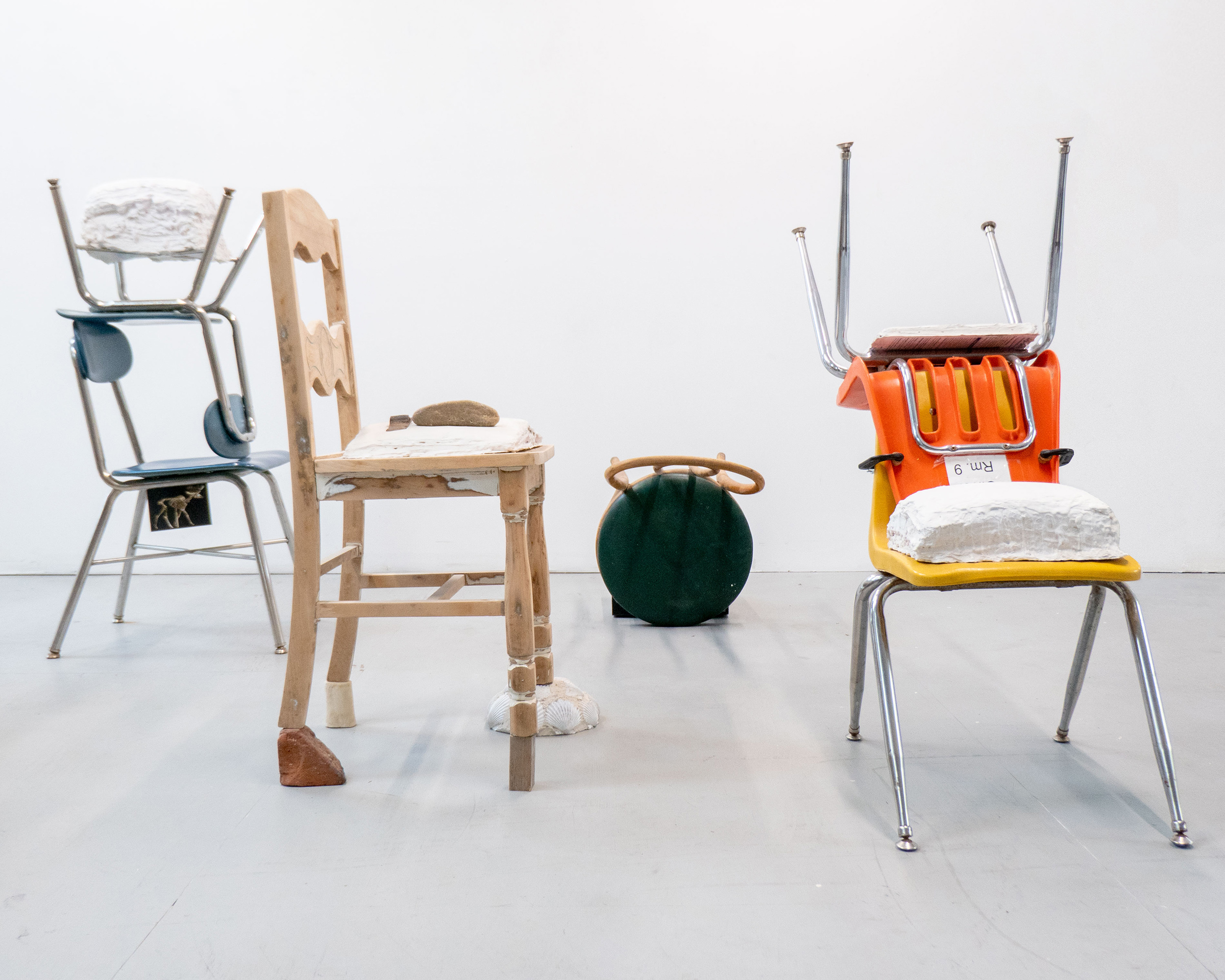 Erin Woodbrey (b. 1985, Portland, Maine) is a New England-based visual artist whose  body of interdisciplinary work utilizes sculpture, printmaking, photography, and time based media. Woodbrey's work seeks to parse the fused and knotted qualities of the  current global environmental crisis as examined through objects, the landscape, and the  relationships between bodies and architectures. Woodbrey's work is presented, piece  by piece, as a study of fabricated and naturally occurring units of space and time. Her  gaze, wide in scope, is trained on the interrelated qualities of process, time, material,  nature, the body, and architecture. Using sometimes insubstantial materials to depict  what seems simultaneously indestructible and delicate, Woodbrey's work, explores the  tension between permanence and transience, growth and decay. Often involving a  dialog on contemporary ecological discourse and new materialisms, Woodbrey's work  asks essential questions about how the functions of objects and space inform, mirror,  and tend to the human condition and more broadly, conditions of being. 
Recent solo and two-person exhibitions include The Fragment Series, Gaa Gallery,  Provincetown, MA, USA; Quill Isn't Staying Now, with Dani Leventhal ReStack, Gaa  Projects, Cologne, Germany; Leg, Limber, Lumber, Limb, Higgins Art Gallery at Cape  Cod Community College, Barnstable, MA, USA; Time Mothers, Gaa Gallery  Provincetown, MA, USA; Material Studies, Arena Gallery, Liverpool, UK; and Air of  Another Planet, Gaa Gallery, Wellfleet, MA. Her work has been included group  exhibitions at Cry Baby, Berlin, Germany; Center for Maine Contemporary Art,  Rockland, ME; SÍM Gallery, Reykjavík, Iceland; Greylight Projects, Hoensbroek,  Netherlands USA; Code Art Fair, Copenhagen, Denmark; Blue Star Contemporary Art  Museum, San Antonio, TX, USA; International Print Center, New York, NY, and Kumu  Art Museum, Tallinn, Estonia, among others. Woodbrey received an MFA from the  School of the Art Institute of Chicago in 2014. In 2007 she completed a BFA at the  School of the Museum of Fine Arts at Tufts University, where she also is the recipient of  a 2017-18 Traveling Fellowship.
​Michael Zachary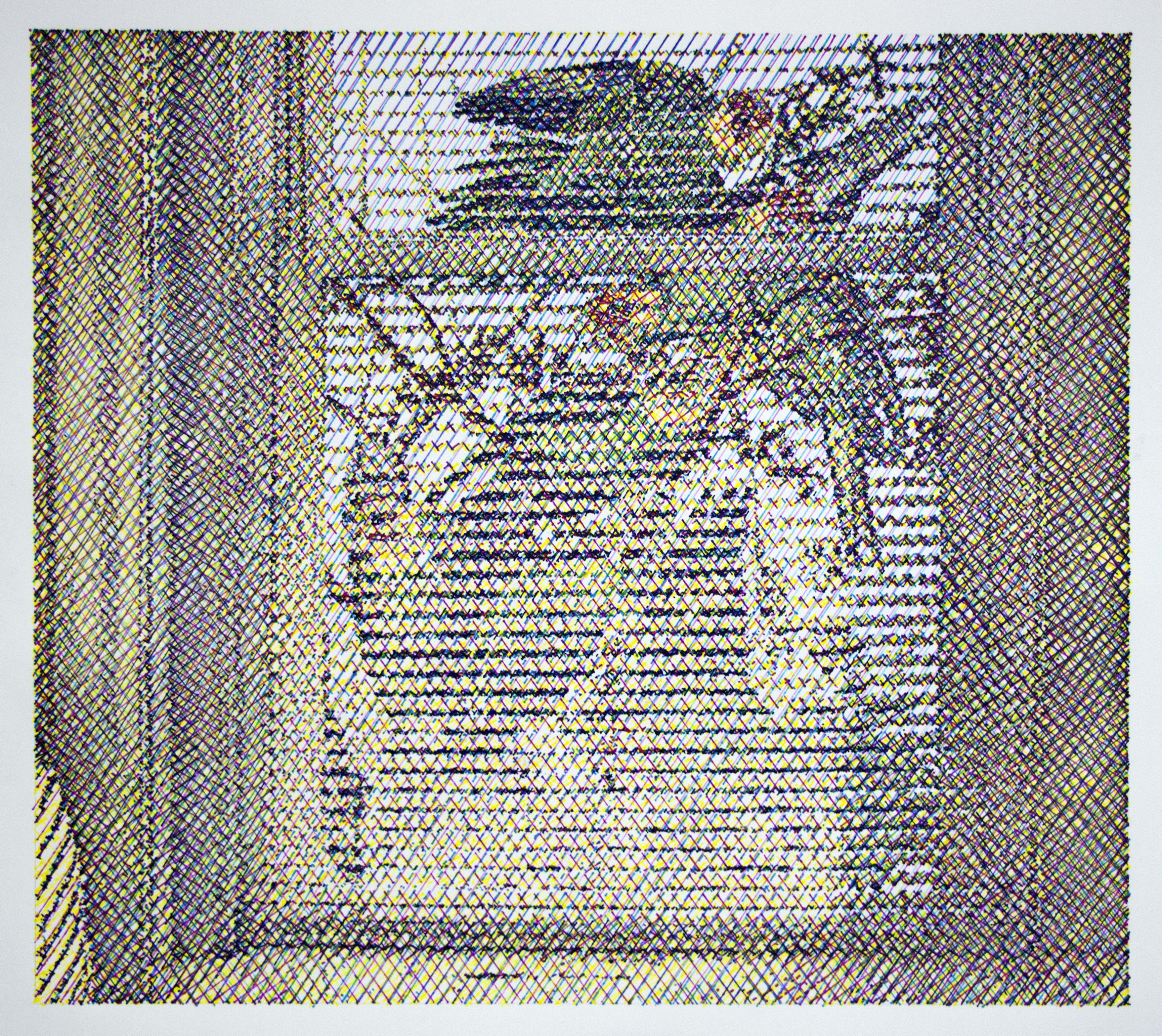 Michael Zachary uses simple marks in four different colors (CMYK) to create drawings that are much more complex than the sum of their parts. He is interested in our relationship to technology and machines, in the possibility that a human being is in fact a complicated machine that uses other machines, and in the ways that our conceptions and misconceptions about what is natural and what is mechanical shape us. In his drawings, he imagines that he is the computational algorithm inside a computer chip, processing sensory "data" and sorting it into modular units. Given those limitations, he asks himself how he can find the poetry and humanity inherent in this "mechanical" way of thinking and hand processing.
In his work, he is interested in positioning site contingency, physicality, and a sense of place and history as a counterbalance to the hyper-mobility and fungibility of contemporary image culture, particularly digital images and the internet. Although the language of these hand made images is "digital" (i.e modular, logical, combinatoric) he is most interested in what happens when that system of making is slowed down and embraces the "limitations" of becoming a cumbersome physical object that exists in a specific (and physical) space, time, and context rather than "flying free" on the internet.
A longtime Boston artist, Michael maintains a studio in East Boston, Massachusetts and is Assistant Professor of Art at Simmons University in Boston. He received his MFA from Massachusetts College of Art and Design, and is a recipient of support from The Joseph and Annie Albers Foundation, The Berkshire-Taconic Foundation's Artist Resource Trust, The Massachusetts Cultural Council, Boston University's Blanche Coleman Trust, Mass MoCA's Assets for Artists Grant, and The Surdna Foundation. His work has been featured at many venues including  The Portland (Maine) Museum of Art, Burren College of Art (Ireland), Frappant e.V. (Germany), Massachusetts College of Art and Design, Wheaton College, Rhode Island College, Second Street Gallery(Virginia), Lux Eros Gallery (Los Angeles), Fountain (Brooklyn), Proof Gallery (Boston), European Gallery (Boston), Area Gallery (Boston), Shelter in Place Gallery (Boston), Cost Annex (Boston), and Room68 in Provincetown, MA.