Ceramics Artist Residency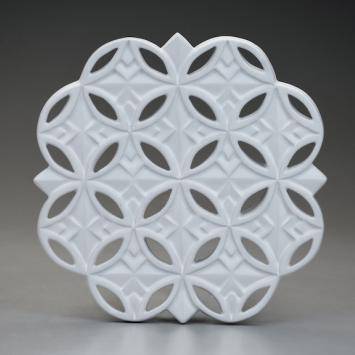 The Ceramics Artist Residency Program
The Umbrella Arts Center seeks supports Ceramic teaching artists through the Ceramics Artist Residency program. Active ceramic artists and educators looking for access to a fully equipped ceramics program with a large and growing community are encouraged to apply.
For 2023, we're delighted to introduce our first-ever Ceramics Artist in Residence, Katie Bosley Sabin! Learn more about her in this artist and instructor profile, and join us for her Artist Talk on February 3, 2023, 4PM.
About The Program
The residency awards a 220 square foot studio space as well as access to and use of the resources of the ceramics program (details below). Artists are invited to take advantage of this platform for experimentation, exploration and development of their practice within the greater Umbrella community. In addition to our ceramic resources, The Umbrella boasts a makerspace, performance and gallery spaces and numerous working professional artists in historic Concord, Massachusetts. Applicants are expected to be working primarily in ceramics, and are required to participate in the educational operations of the studio through teaching classes and or workshops. The Ceramics Artist Resident will benefit from a creative community of more than 50 artists in the iteration and innovation of their ideas. Visiting artists can belong, experiment and establish leveraging Umbrella studio space, shared workshops and exhibition space. 
Proposals will be judged based upon the body of work submitted, instructional experience, enthusiasm for engagement with our community, as well as general experience and quality of resumes. 
Opportunities: The Ceramics Artist Residency position will offer the chance for instruction of a full semester class as well as the potential for additional workshops for qualified candidates. Instructional activities would be compensated at the standard rate for our other instructional staff. When appropriate, the Ceramics Artist Resident may offer public engagement talks, panels, tours, or participatory art opportunities and will have the opportunity to participate in Studio Artist exhibitions as well as the Spring Open Studios event and Sale.
 
Studio Resources: The Umbrella Ceramics program is a thriving community studio supporting the work of ceramic artists from beginners to established professional artists. We boast a large public workspace, full glaze lab, five electric and two gas kilns.
5 electric kilns
Bailey 30C reduction kiln​
Bailey 20C Soda kiln
The Ceramic Artist Residency will be allowed access to and use of the glaze laboratory and kilns under the supervision of and at the discretion of the Studio Manager. The Umbrella will provide clay and materials at cost, and charges a firing fee for all kilns based on electricity/fuel usage. 
How to Apply: Send a PDF document (preferred) to Zachary@theumbrellaarts.org that includes the following:
Biography with a statement of why you want to join the Umbrella community
CV with references
At least 6 Images of work with at least 3 from the past two years.