Volunteer Spotlight: Zoe Wefers
October 25, 2017 by Admin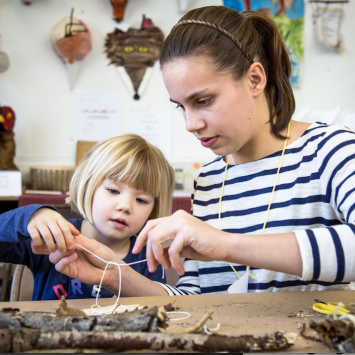 Written by Molly Cohen
Zoe is a volunteer who has grown up with The Umbrella Community Arts Center. She began frequenting the gallery as a child when she attended the center's summer arts camp. Her favorite activity quickly became ceramics. Flash forward several years, and now Zoe is an 11th grader. Her time at The Umbrella has come full circle; last February she was a teacher's assistant at the vacation arts camp.
Zoe enjoyed seeing just how talented The Umbrella community is. One memory that comes to mind is when she was assisting in the Musketaquid Studio.
"There was a 5-year old boy. His mom was talking about him, saying he's an amazing painter. While she was talking he got some crayons and painted a portrait of the woman his mom was talking to. It was amazing," she says.
Zoe has volunteered for multiple events at The Umbrella, including various plays, the Winter Market, and the Empty Bowls pottery fundraiser.
"It's really fun. It's cool to see people coming together and making something amazing," she says.
This year, Zoe is looking forward to seeing the play TO KILL A MOCKINGBIRD, and even attending her first Earth Day Parade.
So, why does she enjoy The Umbrella so much?
"Art is a nice break," she says. "It's sort of like a retreat where you can come."