Volunteer Spotlight: Shayna Loeffler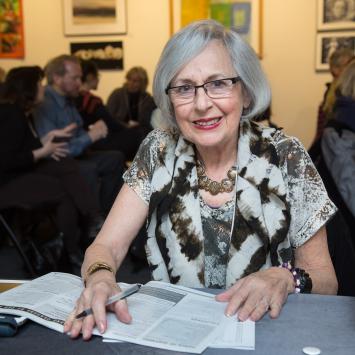 By Wendy Seadia                                           
Arlington resident Shayna Loeffler is a highly creative person. Trained as an industrial designer with a degree from New York's renown Pratt Institute, she brings her many talents & abilities to the Umbrella. With her extensive background in product development, graphics, advertising, mechanical engineering and marketing, Shayna worked with her late husband building a design business in Arlington that lasted for twenty-eight years.
For the past year and a half she has been volunteering at the Umbrella working with the youth classes. She assists in classes in ceramics, woodworking, sewing, art birthday parties and in nature classes. As Shayna sees it, her job as a volunteer is to assist the art instructor, impart knowledge, to help the children with whom she interacts learn to be creative while not getting frustrated as they acquire new skills. She also emphasizes the safety factor and makes sure they do not hurt themselves in the process.
Shayna also assists at a variety of Umbrella events, and uses her artistic and organizational abilities in the Umbrella Arts and Environment department. Now, describing herself as semi-retired, she is involved in a couple of volunteer positions apart from being at the Umbrella that include assisting at the Jenks Senior center in Winchester. Her days and activities are varied, she says, indicating that she likes it that way. Doing the same thing every day is not her cup of tea.
Adding entrepreneurial to her list of many personal traits, about 10 years ago she started a handbag business- Shayna's Bags, (Shayna.biz). Her fully lined handmade bags are made of recycled materials- upholstery remnants as well as leather & vintage carpets- that she finds in fabric shops and at yard sales. She now sells these one-of-a-kind creations at farmers markets and craft shows.
What fascinates her, she says, is "the thrill of the hunt." She loves doing her own craft projects and finding unusual materials from which to make her handbags. Being able to share her many talents with others gives her great satisfaction, she says. That gift and her teaching ability is something she is well aware of and she is generous in using it to help others.
Shayna sews, does alterations, paints, makes jewelry, knits and crochets. She enjoys being able to share her love of art with all those in The Umbrella community. Being creative in her own life each day is vital to her well-being, she says.