Volunteer Spotlight: Marian Sutherland
September 6, 2017 by Admin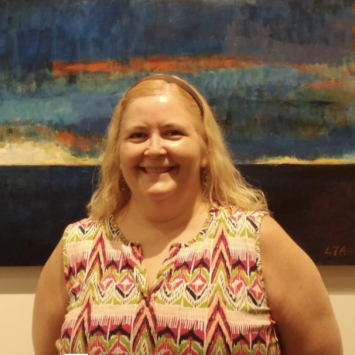 written by Molly Cohen
An advocate for the arts, Marian has been volunteering at Umbrella Arts since the 2015 Winter Market. She enjoys volunteering because she likes making a difference in her community and giving others the chance to experience art.
"It is so important. Everybody deserves that opportunity…I've been around art my whole life. To not have that would be devastating," she says.
Marian grew up in an artistic household, and describes her parents as being musically inclined. Her mother's in a singing group and her father plays piano. The love for music was contagious.
"As soon as I could crawl on the piano bench I was playing along. We used to play the song Heart and Soul. He loved showing me off," Marian says.
Music has played a part throughout Marian's life; she played music all through her school years. She took up the trumpet in school, going on to play baritone in marching band, and later joined a garage band. Marian has been in several garage bands over the years, including Planet Earth, Pikman's Model, and Egg.
She's excited about the musical opportunities at Umbrella Arts. Marian has previously ushered for the Performing Arts Season of plays, which she looks back on fondly. "All four of the plays from the production, to the cast, to the music have been wonderful," she says.
Marian also enjoys volunteering at Umbrella Art's annual Winter Market, where she has had the chance to meet artists. One such artist is friend and illustrator Wayne Geehan, who creates children's books.
"His illustrations are set in medieval time," she adds. "With my name being Marian, I was always interested in Medieval things. The time period interests me."
When Marian's not volunteering at Umbrella Arts, you can find her practicing piano, finding new pieces for her elephant figurine collection, or mastering the art of cake decorating – ask her about her Bermuda cake.