Volunteer Spotlight: Lauren Lamenza Naylor
September 6, 2017 by Admin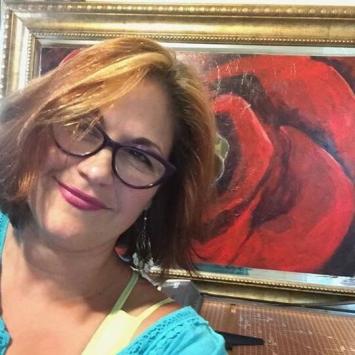 written by Chandreyi Datta
Lauren Lamenza Naylor, better known as Ren, is an experimental artist who has wonderfully blended her passion and profession and set a great example for those who dare to choose paths less travelled. At six, a little Lauren gave her thoughts artistic expressions on a neighbor's wall. She fondly remembers sketching up little bunnies or raccoons on pieces of paper on request from friends. As she grew up, she realized the true vocation of her life and let the artist in her show her the right direction. The mother of two works as a volunteer at Umbrella Arts, alongside studying for an undergraduate degree in Studio Art with a concentration in Art Education at Framingham State University.
Ren joined The Umbrella in March 2017. She loves the vibrancy of this place, which has a magical ability to make one's mood in the blink of an eye. As a teacher who encouraged her students to create unusual pieces of art like a dress made entirely of coffee filters, old newspapers, garbage bags and the like, she enjoys working with budding talents. She volunteers at various Umbrella craft workshops and shares her artistic knowledge and experience with little attendees. She shares the experience of one of the craft workshops with me as I interview her in the quiet corner of a breakfast joint. One of the kids at the workshop made a cute little owl with twigs and wires; she shows me the picture on her phone quite excitedly. As a teacher who has been working with children for many years, Ren feels very happy to see more and more kids taking interest and getting involved in creative activities. The Umbrella is a great place for art lovers of all ages to get together, explore, experiment and create something unconventional and amusing, she says.
Ren started her professional career as a commercial artist. Despite being remarkably successful in her profession, she realized that it didn't offer her much creative space, food for her creative mind, or scope to explore her artistic side. So, she looked for a fresh start and fetched up in Rockport, the picturesque town in Essex. The amazing landscape with beaches, lighthouses, and the incessant sound of waves breaking on rocks fueled her artistic energy. She produced some of her best works there. She captured the breathtaking, scenic beauty of Rockport and Gloucester on canvas. The changing color of the ocean, the azure blue sky, the dying sun melting into the horizon came to life in watercolors. Ren loves to explore the myriad aspects of arts. She attended Parsons School of Design in New York City and studied topics like designing theoretical sets and costumes. An Italian by origin, Ren studied art history and language in Florence for a brief period. She lives in Maynard with her husband and two sons.