Volunteer Spotlight: Lainey Volz
March 31, 2020 by Anonymous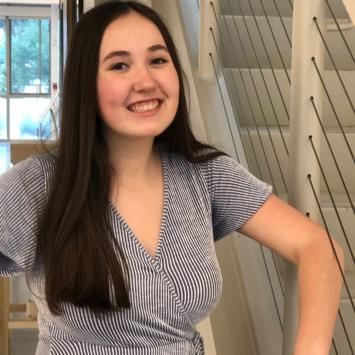 Interview by Emma Weltner
Can you explain your volunteer work?
I distribute the monthly flyers for The Umbrella, and I post them around Concord Center. The flyers often include information about the theater shows and galleries. I love doing the flyer runs because they allow me to learn more and be more involved in Concord, the town I live in. I especially enjoy spending time outdoors and getting to walk around our beautiful town.
How did you get started?
When I was in elementary and middle school, I attended The Umbrella summer camps. By seeing the volunteering camp counselors, I realized that there must be volunteer opportunities at The Umbrella. When it came time for me to find an organization where I could fulfill the mandatory community service work for high school graduation, I immediately thought to check out the opportunities at The Umbrella!
What keeps you coming back?
I really enjoy the volunteer experience at The Umbrella, everyone is so nice. I've always had a passion for art, and I love volunteering at a place that is so art focused. It is really fulfilling to do community work for an organization that shares a passion for the arts.
What school do you attend? What is your favorite subject? What interests do you have?
I am a sophomore at Concord-Carlisle High School, and I've lived in Concord since second grade. My three favorite subjects are English, History, and French. Besides volunteering, I love art and have taken many art courses at the high school, such as the AP Studio Art course this year. I do Varsity Cheerleading in the fall, and I started the Fashion Design club at CCHS. Our high school did not have a Fashion Design Club until I started it during my freshman year. Once a week after school, I teach our members the fashion design process from sketching, pattern making, sewing, and final presentation of the garment. I love designing colorful, whimsical, but also sophisticated clothing. I especially admire Kate Spade's work, and I primarily sew dresses.
What is your life like? Family?
My family is very close, and it consists of my mom, dad, sister, dog, and me. My sister has a variety of interests, such as volleyball and basketball, and will attend Concord-Carlisle High School next year. We love to go outdoors and travel together. My mom is a teacher and my dad works in commercial data and analytics for a pharmaceutical company. Both of my grandmothers sewed and taught me how to sew in elementary school, and my great-grandmother sewed wedding gowns for Priscilla of Boston.
What do you plan to do after high school? College?
I want to pursue fashion design and entrepreneurship. I hope to have my own clothing brand and my own stores around the world. I am often asked by people in the shops in Concord Center about what I am doing during my flyer runs and being able to clearly communicate and share ideas with others will definitely help me in an industry that is centered around expression. I enjoy being a part of The Umbrella community very much, and I hope it continues to be a part of my future.