Video: "Sustainable Solutions" Artists' Panel Discussion
July 13, 2022 by Stewart Ikeda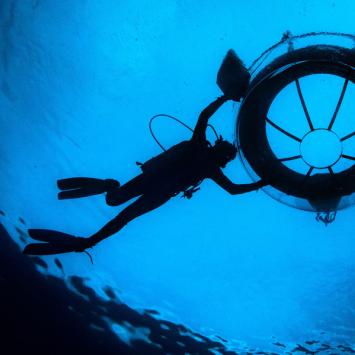 On Tuesday July 12, the publishers of Zeke Magazine and The Umbrella Arts & Environment Program hosted a virtual discussion with three world-class documentary photographers featured in the current gallery exhibition, Sustainable Solutions: Documentary Photographers Explore the Climate Crisis, on extended view through August 15. In a discussion moderated by renowned climate and environmental journalist, Antonia Juhasz, the photographers gave presentations that went behind-the-scenes of their climate solutions photostories featured in the current edition of Zeke Magazine, a quarterly glossy published by the Concord-based Social Documentary Network.
Featured speakers included Kiliii Yuyan, speaking on the Indigenous Peoples' Burn Network in the western United States; Giacomo d'Orlando, who documented in Italy's Nemo's Garden—the world's first underwater greenhouse; and Sarah Fretwell, who shared her work on the African Women Rising's Permagarden Program in Uganda.
The panel was held on Zoom for some 40+ attendees hailing from throughout the U.S., as well as the UK, India and Peru.