Updates on the Ceramics Expansion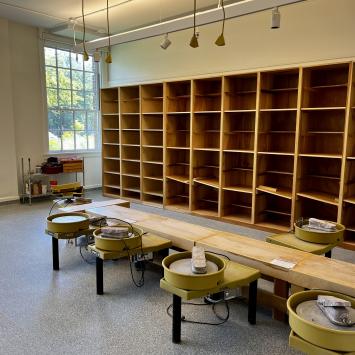 Our newly remodeled Ceramics Studio spaces are coming together ahead of the Fall 2023 semester.
The Ceramics program has seen a huge demand since reopening in 2020, and construction on an expansion of the space has been well underway since early July 2023. The ceramics classrooms and studios have been thoughtfully redesigned to improve facilities, increase capacity, and provide a better overall experiences for students and artists. 
Noticeably, the walls that had divided the wing into smaller, individual studios have been removed to accommodate additional wheels, cubbies, and ease of access. Existing equipment and storage has been rearranged to create more navigable space and to make room for new resources.
We're thrilled to be able to welcome students and artists back into the new and improved space this fall!
Interested in the expansion or our class offerings? Be sure to sign up for our newsletter to receive updates!
Find ongoing updates posted in our Ceramics Studio section here