The Umbrella's Checklist for 2014
December 31, 2014 by Laura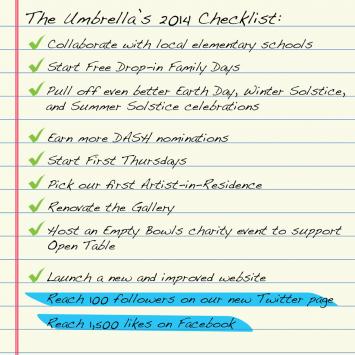 2014 has been an incredible year for everyone at The Umbrella, our end-of-year checklist has never been more full!  Between our growing theater program, our education outreach, and our monthly open studio events, the building feels more alive than ever. 
Become a part of our growing community and help make the checklist for 2015 even longer!  You can support us by registering for a class, inviting a friend to attend a performance, visiting an art show in the gallery, or stopping by for one of our monthly First Thursday open studios or Thursday night salons with the Musketaquid Arts and Environment program.
Or take the next step and make a gift to our annual fund to help support another year of creative and quality arts programs.  Thank you for your support and generosity - we couldn't do this without you!
Help us reach the last two goals on our checklist, to reach 1,500 Facebook and 100 Twitter followers, by liking our page, inviting your friends, and sharing this post!  And don't forget to follow @theumbrellaarts on Twitter.
Wishing you all a happy, creative, and productive 2015.