Umbrella Teacher to Give Tiffany Glass Demo at MFA
July 1, 2019 by Stewart Ikeda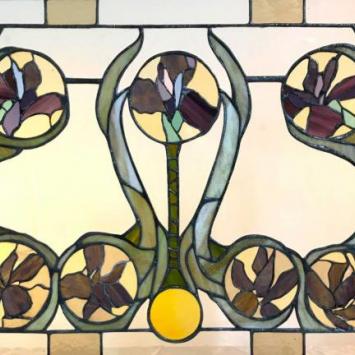 Artist and Umbrella Arts Education instructor Kathleen Muse Mayer will give an artist demonstration on The Art of Stained-Glass Windows at the Museum of Fine Arts in Boston.
On Sunday, July 14, 2019, Mayer will provide insight into how glass is cut, shaped, and assembled using traditional lead came and the copper-foil approach developed by renowned artists John Lafarge and Louis Comfort Tiffany. Afterwards, attendees will be able to visit the works of Lafarge and Tiffany on Level 2 of the Art of the Americas wing.
The demonstration will be delivered from 12:00 pm–3:00 pm in the Museum's John, Bertram A. and Ronald M. Druker Family Pavilion (Classroom 159) and is free to all with the price of regular museum admission.
In addition to teaching glass art to youth and adults at The Umbrella's new makerspace facility, Mayer has taught at Diablo Glass School, Boston; she has also created original stained-glass art and been commissioned to restore fine stained glass.
Learn more about stained glass art classes with Kathleen Mayer.