Umbrella Makerspace Volunteer Uses 3D Printing to Help Hospital
April 1, 2020 by Rachel Olson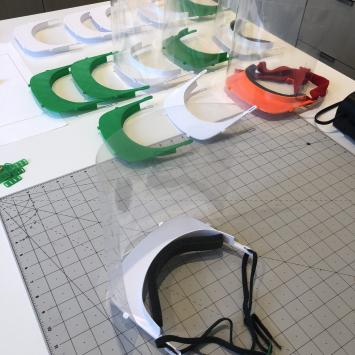 April 1, 2020 – Concord, MA -- The Umbrella Arts Center has joined the effort to help in the public health emergency. Although officially closed since March 24 pursuant to Gov. Baker's emergency order, The Umbrella has dedicated some of its new Makerspace equipment to fabricate personal protective equipment (PPE) for staff at Emerson Hospital.
Since March 28, Concord resident Alex Salvi, a member of The Umbrella's maker community and regular volunteer, has been using The Umbrella's newly installed 3D printer, along with his own machine and supplies, to create a version of a face shield that helps protect healthcare workers from transmission as they care for those with COVID-19.
After gathering design specifications and needed materials, Salvi was able to fabricate and deliver the first batch of 21 completed shields in a matter of days.
"We are so grateful for The Umbrella's support," said Christine Shuster, President and CEO of Emerson Hospital, "and for their creativity and commitment to this community, which will help us weather the storm."
The effort is in response to a call from hospital administrators for local businesses and groups to do what they can to help. If you want to contribute to this cause more information can be found here.
Photos: Alex Salvi, a member of The Umbrella's maker community, created 21 face shields for Emerson Hospital