Teacher Spotlight: Bryony Bensly
February 26, 2015 by Laura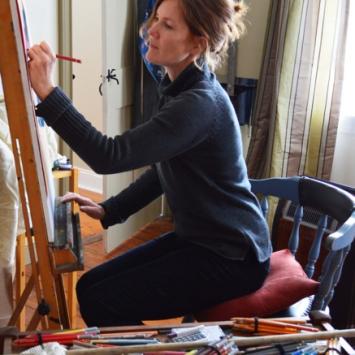 Article by Kiirja Paananen. 
Bryony Bensly always knew how to draw because she spent her life drawing. Her father, a single parent, was very supportive of her art when she was growing up in Hong Kong. There, she had "a multicultural childhood. My early years were spent in Hong Kong surrounded by people of all ethnicities," she says, which brought with it a melange of spiritual, ethnic and social influences.
When she was older, she moved to England to live with her mother who introduced her to a variety of spiritual paths. That, on top being brought up Baha'i' by her father, created she says, "the search for truth… a constant questioning."
All these cultural images and inner spiritual quests are tightly interwoven into her colorful and expressive early works.
Her current work draws from her Anglican heritage, from images in medieval tapestries and watercolors created by her ancestors, juxtaposing 2-D and 3-D elements that attempt to convey inner and outer realities.
"I'm happiest when I'm wielding a paint brush, art is my whole life," she says as she shows me around her new home studio in Lunenburg, Massachusetts. 
When asked what she loves about painting she says, "Ah I'm totally in love with color…. I'm at a place now where I'm making a stand for beauty. I'm making a stand for what I want my world to be, what I appreciate and love."
Bryony passes on her love for the "incredible perfection and beauty of the natural world" to her students. "The more you see, the more you fall in love with life", she says and was delighted that a student echoed this sentiment back to her at the end of a drawing class.
When she lists those who have affected her own work she lists her teachers, and other well-known artists, such as Neo Rauch and Gerhard Richter. "Gerhard is brilliant because he won't be put in a box." she says. "He goes wherever he likes, from photo realism to abstraction and everything in between." Richter's "Woman Descending a Staircase" inspired her to do a series of paintings on movement.
Bryony recalls fondly another teacher, Rose Garrard, when she was working on her Bachelor's degree in sculpture at Dartington College of Arts in England. "Rose would come to the studio and rescue everybody. It was a very conceptual course and people would get really stuck. There was pressure to come up with new and original ideas, but very few students could even really draw."
"Rose was a practicing artist and gave us great tools to move through creative blocks. Tools I pass onto my students. This helps them find their own voice."
"As a teacher, I think my intention is really important, and that is to offer all the tools necessary for a student to blossom creatively. Accuracy with observation based work is vital in the beginning and that's simply because, once they have it, they have a very solid base. From that solid base, they can go off and do whatever they like. It's a spring board. Fundamentals are important, and once they have that, then my focus is on the development of the conceptual."
"I like to teach classes on heads, hands and feet because a lot of people, even when they get the figure down, find those areas challenging. What I give are very straight-forward classical tools and as soon as you master them you are fine, you can do it."
Bryony explains how her methods help her students in her painting classes, "I start people off with a limited palette, and teach various classical techniques. By doing this, students learn how to mix colors and do tonal studies, gradually incorporating more color. This allows for a comprehensive understanding of color, form and light."
"I start people with fundamentals but I take them all the way through. I've had professional artists come to my classes because they need to learn a particular technique or they need a nudge to help get through a creative block."
There is a reason why she brings each student along this path. "Learning to draw is important because it's so fundamental. You can't write a book without first learning grammar."
It can be hard work, she says, but "..if you just keep holding the bar high, you will get there."