Surprise! Steve Miller Joins Lyle Lovett at The Umbrella Benefit
November 2, 2019 by Stewart Ikeda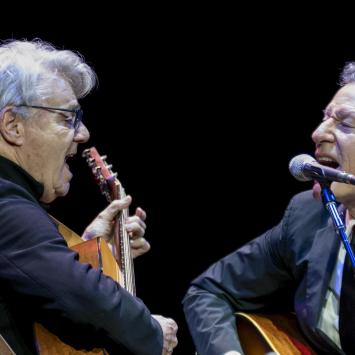 Spontaneous Jam Session with Country Superstar Lyle Lovett and Rock Icon Steve Miller Brings the House Down at The Umbrella Arts Center
The Umbrella Concert Series came full circle on Friday, October 25, in a surprise-filled performance by four-time Grammy winner Lyle Lovett.
It came as no surprise when Lovett's return to The Umbrella Concert Series was announced that tickets sold out within days.
"When Lyle first came to Concord in the spring of 2015, we told him of our plans for the new Umbrella," recalled Liz Gross, concert committee chair and board member. "He said if we got it built, he would come back to open it for us."
Lovett was true to his word. He even rearranged his schedule so that the day after he was inducted into the Austin City Limits Hall of Fame he could arrive in Concord to mesmerize the audience with soulful ballads and upbeat country hits. When rock legend Steve Miller was discovered in the sold-out crowd and invited to join Lovett on stage for an impromptu two-song jam—the first time the two had ever performed together—the energy in the new state-of-the-art theater was palpable.
Between songs, Lovett showed his appreciation for The Umbrella's arts mission in the region, emphasizing the importance of accessible art, and recognized the importance of the concert date, Oct. 25, coinciding with the Massachusetts #ArtsMatterDay. He also spoke admiringly about the remarkable transformation of the venue (when he first visited, before significant construction began, the concert had been staged in a former school auditorium with uncomfortable wooden seats, cramped stage, and poor sightlines).
A New Venue for the Region
Excitement buzzed through the sold-out crowd during a pre-show reception in The Umbrella's newly constructed atrium art gallery and art-filled halls. The mood was raised further still by the foot-stomping bluegrass ensemble The Ruta Beggars who opened for Lovett.
The evening was a joint milestone and fitting celebration for both the region's arts scene and The Umbrella. The event celebrated the opening of the renovated Umbrella, including the naming of the new main stage theater, Theater144.  Liz Gross, chair of the capital campaign, received a standing ovation in recognition of her leadership.