Studio Artist Spotlight: Wayne Geehan
April 2, 2019 by erinruvalcaba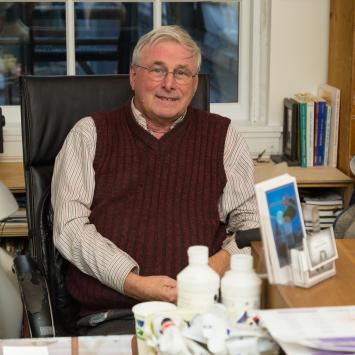 When Wayne Geehan came to The Umbrella in the late 90's he had his share of experiences with various artist studios. From renting spaces in Watertown Square, Belmont and Carlisle, Wayne was finally able to obtain a studio in Concord at The Umbrella in 2005.
When he was living as a full-time artist, Wayne needed a space where he could come and create his work. When asked he said, "I didn't want to work out of my house. I've done that a few times. It's very hard when you have four kids at home, especially in the summer. So that's when I heard about The Umbrella from other artists." The Umbrella offered the perfect solution.
For Wayne, what brings him to The Umbrella on a daily basis is his work. He still considers himself as a commercial artist, an illustrator. His work takes him anywhere from four to five months when he is working on a book from start to finish. He is able to balance out his work, for instance after he is done with a book he has time to, "do a lot of paintings that I like to do, like some of the seascapes and things like that that I love doing. So I love art and I've been doing it my whole life basically. It works very well."
As for what makes up the heart of The Umbrella, Wayne feels it's all about the artists and the tenants of the building. He believes, "the ones that I see all the time especially are always focused on making this place a comfortable place to be." Having a sense of community at The Umbrella is a key ingredient in the way the organization operates.  If you ask Wayne he'll say, "It's a really nice community. And another thing is you don't have to be 100% with the community all the time, I mean, you're busy, you can shut your door and you're in your own zone."
When asked what makes the community at The Umbrella unique as opposed to others he has been a part of Wayne feels that, "There's different kinds of artists, which I wasn't a part of before. I get to see other aspects, I get to see potters, seeing them do beautiful work and I see sculptors. So I think it's the mix of art and it keeps me feeling young too, seeing everybody else's art and feeling a part of it."
In five years from now, Wayne is interested to see what new educational opportunities there will be. If you ask him he'll say, "I think it'll expand, for not only this town but the whole area." He is also excited about what changes there will be and how the artists in the building will benefit from them.