Spotlight: The Creative Studio of Michael Goodwin
September 25, 2020 by Anonymous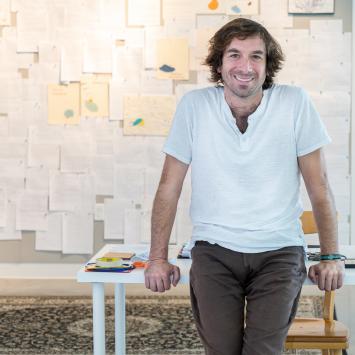 Author, Musician, Teacher, and Umbrella Board Member 
By Chandreyi Datta

Teacher, writer, leadership coach, musician—Michael Goodwin is a dynamic personality with many talents much like a diamond with myriad facets. The brain behind the interdisciplinary 'Rivers and Revolutions' program, which redefines the process of imparting education, has been in The Umbrella Arts Center's board of directors for the past ten years. His association with The Umbrella though dates back to the 80s when he used to act in the theatricals staged here. Around this time, his father Dick Goodwin, a speechwriter for presidents Kennedy and Johnson, used one of the studios here to write his book. Decades later, Michael has been following in his father's footsteps and writing his first book about his ideas to revamp the teaching and learning process as well as the education system for high-school students, using one of The Umbrella's expansive classrooms as his studio. 
The most interesting part of this project is that he's been using a typewriter instead of a computer to draft the book. He's been working in his studio, with large glass windows offering a view of the verdant outside and the walls covered with layers of typewritten pages of his manuscript since March this year. The biggest motivation behind the book are his writer parents, especially his father who always told him, 'You have to finish your book,' Michael shares. Literature was an integral part of his growing up years. He saw both his parents writing through the day and stepping out for fresh air every night to rejuvenate their creative selves. This project has been bringing him fond flashbacks from his parents' active years and he's been rediscovering the writers in them like never before.

Michael started his professional journey as an English teacher at the Groton School. He then went on to work in a diverse array of educational settings, including creating a program for at-risk youths in central Vermont. It soon became clear to him that the chief defining characteristic of all the schools was fragmentation—the absence of coherence between the topics taught through classroom sessions and the disconnect between the socioeconomic sections in the society. His 'Rivers and Revolutions' program explains the connection between the disparate academic streams like social studies and mathematics, and highlights the holistic nature of knowledge.

For example, he once discussed how water flows down rivers, evaporates and turns into clouds, and eventually comes back as rain. One of his students found the cyclic nature of this phenomenon particularly interesting and helpful in understanding lemniscate, a geometric shape that looks like the sign that denotes 'infinity'. 

Michael believes in the old African proverb that says, 'I am because we are.' The Rivers and Revolutions program creates an inclusive and interactive learning environment where everyone is encouraged to contribute and work towards the shared goal of enriching knowledge. Michael emphasizes the importance of being humble and open to learning and relearning. "The eminent military historian John Keegan, despite his wealth of knowledge, confessed in one of his books that the First World War was a mystery. That's what humility is. Accepting that you know only a fraction and are ready to explore more," says Goodwin. 

Michael is also a guitarist who has been working on a music album alongside the book and plans to release both around the same time. Writing to him is a test for one to face their inadequacies. Music, on the other hand, freshens up his soul and reanimates the creator and thinker in him. 

The doting father of Willa and Lena lives in Concord and loves gardening with his daughters.
Photos by Marian Stanton