Six Tiny Houses are Coming to Concord, MA!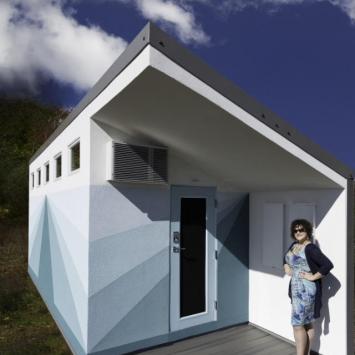 Tiny houses have recently made a gigantic splash, attracting a lot of attention from the media and even starring in their own cable television series. The Umbrella Community Arts Center has joined the party, with two tiny houses on the front lawn for the past year, and the 2nd Big Tiny House Festival coming up on Saturday, July 16th. The event will feature over ten experts in the tiny house movement and six tiny houses open for tours.
The festival promises to be a banquet of useful information for those considering the plunge into tiny house living, as well as a fun and thought-provoking afternoon for exploring questions about living in a home of any size, such as:
Do I really need all this stuff?
How can I live more simply?
How can I live comfortably and still protect the environment?
How can I surround myself with things that have meaning for me?
"The tiny house movement is about introducing questions about the space we live in," says Miranda Aisling, The Umbrella's Studio Arts Coordinator and the creative force behind the tiny house festival. Engaging with those questions at the festival will be an impressive line-up of tiny house practitioners who will appear on panels, and give tours of their own tiny houses.
The Building Tiny Panel will kick things off at noon on Saturday. Miranda will be joined by three panelists who have all built tiny houses, including Anderson Page from Tiny House Crafters of Vermont; Dave St. Germain, who designed and built his own 130 square foot house; and Tracey Powell, an architect who designed and built a high-tech, high-end tiny house.
The Living Tiny Panel begins at 1:00PM, featuring four panelists who will share their insights on how to live large and well with less, whether your home is a tiny house on wheels or a more conventional dwelling. Felice Cohen is the author of 90 Lessons for Living Large in 90 Square Feet (. . .or more). Ethan Waldman, Jana Lembke, and Brad Allain are all local tiny house dwellers who focus on quality of life questions for tiny spaces.
A high point of the festival will be the six tiny houses open for tours on the front lawn of The Umbrella throughout the afternoon. Locals may recognize two of the houses, which have been in residence since last summer. One was built on site by the community of Miranda's Hearth as a part of BIG Art; Tiny House, a yearlong public art project. The other is called "Concord Retreat" and was designed and built by Inriver Retreats, a company located in Concord. Joining them will be a house in the process of construction by Tiny House Crafters of Vermont; a tiny studio built by Ben MacAdam of Concord as what he calls "a small creative space on wheels"; a tiny house built by Tumbleweed Tiny House Company for Lisa Forbes; and a tiny floating tea house built by Dave St. Germain, in the style of a Japanese tea room.
As festival attendees look through the six houses and speak to their builders, they will have the opportunity to experience how unique a tiny house can be, both in its design and in its spirit. The "Concord Retreat" house was inspired by an antique glass bulls-eye door and window.  Across the lawn, everything in the BIG ART; Tiny House project is handmade including a mahogany front door, a stained glass window, and a batik floor cloth.
Local artisans and businesses will also be a part of the festival, displaying their handmade, economically responsible items and providing examples of the functional forms of art that are one focus of the BIG Art; Tiny House project.
As Miranda Aisling explains, "Several movements are converging in the tiny house sphere. The makers movement, the buy local movement, the farmers movement, and the environmental movement." Add to those the ingenious organization of many tiny houses, and the imperative they place on their occupants to de-clutter and simplify, and it seems that tiny houses are very much in step with the times.
"Tiny houses are trending right now, but the concept of living in a self-sustaining small space is many thousands of years old," says Miranda.
"All this comes down to re-instilling curiosity, asking why you're living your life the way you are," she says. That may well be a question for the ages, and Concord is the perfect place to ask it. "Concord has such a rich history around conscious living, especially with Thoreau in his little house," Miranda says.
So bring your own curiosity about tiny houses and their related aspects of living, and join The Umbrella on the afternoon of July 16th. The 2nd Big Tiny House Festival takes place from 12 Noon to 6 PM. We look forward to seeing you there!
written by Rebecca Cook