Science, Art, and Girl Scouts
September 17, 2015 by Jess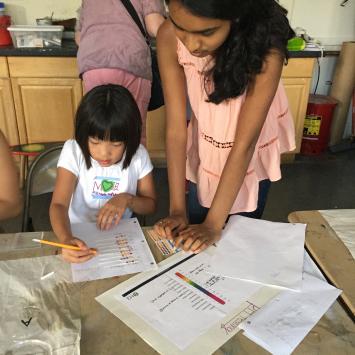 written by Amiya Subramanian
My name is Amiya Subramanian and I am currently a freshman at Acton-Boxborough Regional High School. I am also a senior girl scout and recently did my Silver Award project at The Umbrella.  My project consisted of using art-related science activities to give kids the opportunity to learn scientific concepts in a more creative,  hands-on way.  I wanted to see if kids could apply their own knowledge to a situation involving a new concept. Two of The Umbrella teachers, Meghan Shea and Nancy Lippe, helped me think about my goals for the project and how to set up my experiments to let kids think by themselves and use their own cognition to discover the concept they are trying to understand.  
I conducted 5 experiments, which included making paper flower petals that unfold in water;  magic milk that separates into colors,  a balancing clown, and pH testing.  In the final experiment, I let the students figure out the properties of a magnet by trying to paint with magnetic or non-magnetic objects.   
From these experiments I discovered that kids all think differently and understand concepts at their own pace. Some of the children I taught figured out the scientific principle at work right away, but others needed a slight nudge in the right direction. Then those kids finally get the concept on their own.  I discovered that I needed to use different strategies to help kids focus and to persevere when they felt the problem was out of their reach. I, too, had to try different approaches and not give up in trying to connect with each individual with their different personalities, learning paces, and most of all, their problem-solving abilities.   It was important for me to remind the students that it is perfectly normal to not get something for the first time and to keep trying.
I read an article called "Project-Based Learning," in which MIT professor Dr. Seymour Papert encourages  providing project-based learning in classrooms and opportunities for students to start problem-solving at a young age. He even states, "I think we have to reverse this order of things -- that the order in which we teach mathematics and science today starts with the most abstract, the most static, and you learn to do manipulation of numbers, then you learn to do algebra, then you learn to do calculus, and at last you can apply it to something real." Dr. Papert's article made me realize how letting children continue to learn every principle in a passive step by step manner is not always good for them, and schools need to make their learning more diverse by including more self-thinking activities.
My recommendations for other teens or adults who want to teach science/art experiments with children is to inspire and engage kids by letting them explore the situation and materials given to them. I learned that kids, over a period of time, will not need to rely on people older than them to teach them the solution to every problem. When creating a foundation of children's learning and problem-solving abilities, let them build knowledge on their own to develop creative problem solving skills that will potentially make them great thinkers, inventors, artists, or even just people who love to find new possibilities in society.