Remembering Ann Emerson
October 29, 2014 by Laura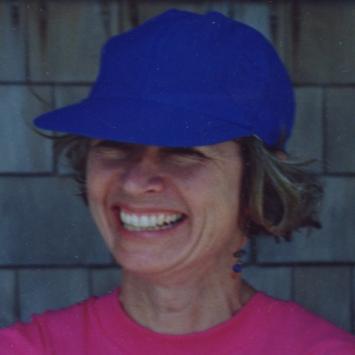 When Ann Emerson, the founding director of the Emerson Umbrella Center for the Arts, died this summer at her home in Maine, the lights flickered for everyone who was involved in that brave undertaking 32 years ago which now thrives as The Umbrella Community Arts Center.
Ann was at the core of its creation, directly (as the director) and through the immediate and extensive friendships and trust that she engendered in her fellow artists and the Concord community.
In a November, 1982 interview with the Concord Journal, Ann explained why she had packed up her dog and her two young daughters and moved East from her home state of Idaho to become the fledgling art center's first director:
"I became interested in the Emerson Umbrella because we have the same basic philosophy. We believe that art and community are important partners, that the process of creativity can be applied to almost every element of daily life, and that the arts are vital to the human experience. Fifty artists representing a variety of arts in one building, and the possibilities of an educational program evolving from that, is unique and ideal – almost Utopian."
This "Utopia" was, to many eyes, a shambles. The 1929 Emerson Building, Concord's first high school, had been closed for years. In the 1970s the building had been partially renovated for school administration offices, but school populations declined, the Ripley School became vacant, and the administration moved to Ripley instead.
Many of the large classrooms at Emerson had been divided and remodeled for office spaces, then carpets and ceiling tiles were torn out and moved to Ripley, leaving floors encrusted with nails and paint. Pipes were broken; the dinosaur boilers were ailing; stalactites dripped down the theater walls; flooring in the aisles buckled three feet high; there was an elevator shaft but no elevator, no insulation in the attic, and drafty windows.
But the theater had great acoustics, the office spaces with their paint-spattered floors and north light were perfect for studios, the larger classrooms ideal for art classes, and all in the heart of town. Ann saw the potential.
As the first director, Ann was charged with bringing The Umbrella idea to life. The 1982 Concord Town Meeting had approved the idea of converting the mothballed Emerson Building into a community art center, but much was required before the Town would agree to a lease.
Repairs to the building began in November. The lease with the Town was signed on January 1st, 1983, and artists moved into their studios. In March, the first classes were launched. And in June, the first Open Studios were celebrated with live performances as artists welcomed the public into their new spaces.
How did it happen?  Ann's energetic flare, spirit of fun, and love of the arts infused the old building with life. She saw opportunity in every obstacle. "Concord has always been a place for experimental innovations and intellectual pursuits. That's what this building is all about," she told the Journal in February. "I see this building as a piece of art. I'm planning to do this as my art."
And she did. The doors were opened to all and the community responded. Tradespeople, businesspeople, artists, crafters, teachers, all talents were drawn to The Umbrella office to offer help. A crew from the prison pitched in, and for weeks Ann could be seen driving across town with a truck full of inmates happy to be out and contributing their skills to this fun project.
In the midst of these building repairs, Ann put together an arts program on a shoestring budget. She found wonderful teachers, built imaginative programs for adults and children, produced and mailed all program brochures (before computers), and planned creative community outreach.
She held fundraisers (she called them "funraisers"): two edible art auctions with Julia Childs as judge; a footrace through Estabrook Woods for all ages; the "Elevation" lecture series to raise funds for the elevator.
One of the first public events at the theater was a lecture by environmentalist David Brower. It took place on a cold Saturday night, and Ann was in the audience when she noticed the boilers had gone off and the theater was rapidly cooling.  Quietly she slipped out and spent the rest of the lecture in the boiler room beneath the theater, making sure the problem was solved. She treated all such mis-adventures as adventures, and the show always went on.
Another basement adventure blossomed into romance when Alec Emerson joined the legion of Concordians volunteering their services to The Umbrella. Ann gave him a tour of the basement, where he inspected the ancient boiler and made some recommendations, and at the end of their hour together she approached his sister who was volunteering in the office.  "Isn't Alec wonderful?!" she whispered.  They married a year later, and Ann became a favorite sister and daughter to her new in-laws, who were descendants of the Concord sage for whom the Emerson building was named.
Her home, wherever it was, was a work of art. She transformed spaces with fabric, paint, and surprise art installations. She always looked forward, lightening our lives with grace and laughter.
After guiding The Umbrella through its first two critical years, and confident that it was well launched, Ann moved on to pursue her first passion of teaching art. Without fanfare she slipped away from The Umbrella and began her career as a secondary school art teacher, first at Lawrence Academy in Groton, then at the Masters School in Dobbs Ferry NY, and for 18 years at the Groton School where she was head of the art department for many years.
Students past and present, and their parents, lined up to pay homage to her at a memorial service at the Groton School in September. Their stories were a testament to Ann's qualities, which were captured by her close friend and fellow art teacher at Groton, Beth VanGelder, who said of her friend:
"She inspired in her students a love of art making and enthusiasm for the creative process. She was a master at building self-confidence in her students and making each one feel valued. She was also an accomplished artist whose talents were expressed in a wide variety of mediums. She found her muse in nature and animals, especially dogs, and her work was often playful and provocative, reflecting her wit and sense of humor."
She was a true multi-media artist, reflecting beauty back into the world wherever she saw it. Says a co-worker at The Umbrella, "With clear vision, grace, and a light touch, she was in constant motion, moving towards her next goal or creation. Her life was her art."
Ann was diagnosed with pancreatic cancer just months before she was planning to retire from Groton, but she was never defined by her illness. She continued to create art and share her lightness of spirit with all around her up to the moment of her death. She died as gracefully as she lived at her home in Kittery on August 26th, 2014.
Ann Emerson was born Olivia Ann Bradley on June 6th, 1943, the daughter of Thurman and Thelma Bradley of Boise, Idaho. She received her Bachelor in Fine Arts from Boise State University and her Master of Fine Arts from Utah State University. Before moving to Concord, she spent five years as an artist-in-residence in the school system, worked as a freelance advertising artist, and founded the Artists' Cooperative Studios in an old warehouse district of Boise. 
She is survived by her mother and two sisters, Pamela Jabs and Colleen Thompson, all of Boise; daughters Jana Rodebeck of Dayton, Ohio, and Meredith Sudborough of California; and eight grandchildren.
---
Article by By Bird Emerson & Ellie Bemis