Passion meets purpose with volunteer Sunny Tang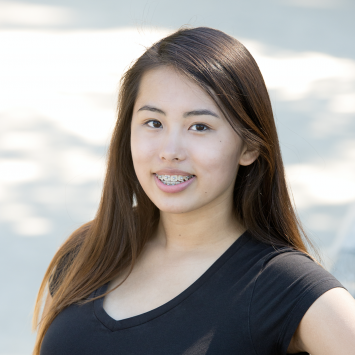 by Rebecca Cook
When passion meets purpose, it's a beautiful thing.
Sunny Tang is a senior at Concord-Carlisle High School who discovered her affinity for volunteer work early. The school requires students to perform 40 hours of community service before they graduate. Sunny burned through those 40 hours by the end of her freshman year. As a sophomore, she looked around for a place where she could combine her dedication to service with her love of art, and found The Umbrella.
Volunteers were already an essential part of The Umbrella's success, and the high school's community service program listed The Umbrella among the local organizations where students might choose to volunteer. But Sunny recognized that her motivation and commitment could take things to another level. She started to think about how she could shape her love of the arts and volunteering into something new and exciting.
"I wanted a club to focus on the arts in the community," Sunny said. A club with volunteering as its purpose. Her research led her to The Key Club, an international organization that describes itself as "the oldest and largest service program for high school students in the world." During the spring of her sophomore year she laid plans for a Key Club at Concord-Carlisle High School, and began volunteering through the new club in the fall of junior year, along with other club members.
The Umbrella is the beneficiary of the Key Club's efforts. When high school volunteers are needed, Kathy Warren, The Umbrella's Volunteer Coordinator, contacts Sunny, who sends a Facebook private message to club members with the information. Key Club members have ushered at plays, assisted at birthday parties and Winter Market, and other events.
"She can generate interest with other teens," said Kathy. "And when Sunny volunteers, she's very energetic and eager to help. She seems to be able to pick up very easily what is helpful."
Sunny has personally volunteered so much that a glance at her hours makes one suspect she must have an identical twin, also named Sunny. Self-effacing by nature, she barely hints at the sheer volume of time she has given to community service when discussing her volunteer work. Fortunately, her record speaks for her, as do the President's Volunteer Service Awards she has received during sophomore, junior, and senior years. This recognition is reserved for students who have given at least 100 hours during the academic year. Sunny achieved a silver-level honor during junior year (for students serving between 175 and 249 hours) and a gold-level during her senior fall semester (for serving more than 250 hours.)
"I enjoy putting a smile on people's faces," said Sunny, by way of explanation.
It's a simple reason for what draws her to volunteering, but The Umbrella appeals to her in other ways as well. Sunny is an artist. She mentions the fact in an understated way, but some sleuthing reveals that art is another area to which Sunny has shown real devotion. A year ago she won two regional Gold Key Scholastic Art Awards in the two-dimensional art division. This year she won a regional Gold Key and an Honorable Mention in the same competition, which the high school describes as 'prestigious and highly competitive.'
As Sunny looks ahead to college, she is weighing the possibility of majoring in art. Or maybe neuroscience. The range of her interests is not so surprising when you consider that this artist with a boundless enthusiasm for volunteering also plays two varsity sports, and is captain of the swim team.
Sunny Tang puts it all together in a beautiful harmony. The artistry. The athleticism. The community service.
The Umbrella is grateful to Sunny for her many contributions. And for putting a lot of smiles on people's faces.