New Artcubator Resident Hillary Kane
July 7, 2021 by Rachel Olson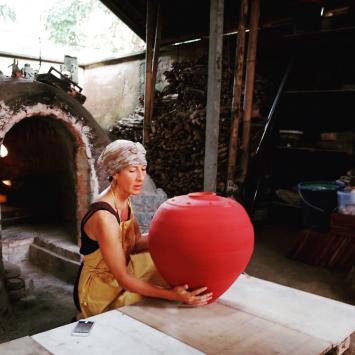 The Umbrella is pleased to welcome our new Artcubator Resident, Hillary Kane! Kane is a ceramicist and painter who has studied and worked all around the world. In 2010, Kane founded the Gaya Ceramic Art Center in Ubud, Bali, and continues to live a bi-hemispheral life between Bali and New England. 
In her residency, Kane aims to fully realize and create an emerging sequence in her work that she refers to as her "human archaeology series," which documents her five-year process of coming to grips with her daughters' neuro-muscular condition diagnosis. In this series, Kane re-mystifies parts of the human anatomy through exaggerated scale and texture. To house the smaller pieces in this series, which will be unfired porcelain "bones", Kane will also create "kurinuki" box forms using the black saggar firing technique.
Go to Hillary Kane's profile to learn more about her work and Artcubator residency!