Music Students Attend Lake Street Dive Masterclass @ The Umbrella
June 10, 2022 by Stewart Ikeda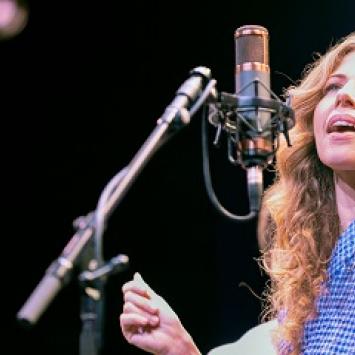 On Thursday, June 9, music students and educators from area high schools and conservatories were treated to an intimate and insightful masterclass discussion with genre-crossing chart toppers, Lake Street Dive.
Held in The Umbrella's recently constructed Main Stage Theater 144 at 40 Stow Street in Concord, the class kicked off with the five-member band performing two numbers with simple acoustic instruments and harmonizing around a single mic, reminiscent of the street-style performances in the viral online videos that first turbo-charged their career a decade ago.
In an hour-long discussion moderated by Berklee professor David Scott, band members Rachael Price, Mike "McDuck" Olson, Bridget Kearney, Akie Bermiss, and James Cornelison recounted the journey from the band's first incarnation as teenagers studying at Boston's New England Conservatory, and key moments in their evolution as individual performers, composers and bandmates. Along the way, they touched on nuts-and-bolts questions from the young musicians in the audience, from the relative approaches to recorded and live performances to the pros and cons of social media platforms for today's beginning artists.
The masterclass is a recurring feature of The Umbrella Concert Series, with semi-annual performances to support programming at the Concord-based nonprofit arts center. A portion of the proceeds enables The Umbrella to provide free student access to such educational events and to the concert. Other recent series headliners have included Indigo Girls, Natalie Merchant, Lyle Lovett, Old Crow Medicine Show, Sara Bareilles, Jewel, Bruce Hornsby and many more.
Lake Street Dive returns to perform a sold-out concert at The Umbrella on June 10 at 8PM.
Photos by Ron Mann