Making the Musketaquid Earth Day Celebration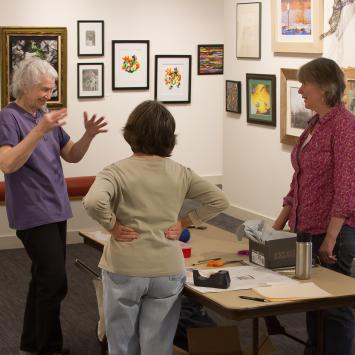 Musketaquid Arts And Environment: 25 Years of Celebrating the Confluence of Art and Nature
Blog 5 of 5
written by Dan Kemp
Preparing an Earth Day celebration can't be all that complicated, can it? That's what I thought before I joined planning meetings for this year's celebration. I soon found out how wrong I was. 
To put together the events of Earth Month, hundreds of questions had to be asked and answered. And getting satisfactory answers usually required work—often a lot of work—by members of the planning group and many others, and their achievements over the last few months have been truly amazing. To give an idea of what was accomplished, here is a sampling of questions asked and answered during preparations.
What will be the theme for this year? How does it relate to the 25th anniversary of Musketaquid? Will it work in the call for art for the Earth Month Exhibit? Is "conflue" the verb form of confluence?
What can we use as a theme image? Are those Converse All Stars on that otter? Will the artist let us use his Otter image?
Should we change the parade route? What will the new route be? Where will the parade assemble? Can we get concurrence from the National Park Service? The Old Manse? The Concord Police?  When will the road be closed? For how long? Where will we lay out the big puppets? Who will volunteer as parade guides? How will the parade flow at the end?
How will the new location behind the Old Manse affect the River Ceremony? How deep is the water at the new location? Where will people stand to watch? What is the general concept of the ceremony? How many voices? What is the script? What other music or performances should be part of the ceremony? How do we move people from the ceremony to the parade start?
What bands can we hire for the parade? Can we position them to enter at different points on the parade route? What happens when one band meets another? What other musicians can we get to play along the route? Where should they be located? Can we get local businesses to provide space for these musicians? What other entertainment can we get for the parade: Stilt walkers? Stilt dancers?
How did our big puppets survive their winter in the barn? Do they need refurbishment? How do we get trucks and drivers to carry them to the parade route? Have people signed up for a puppet through adopt-a-puppet on the Umbrella website? Do we have enough puppet carriers? How big did you say that fish puppet is?
How many puppet and float making workshops should we have? When will they happen? Who will lead them? Who will gather materials for the workshop participants to use?
What will be happen at the festival? What activity tables will we have? Where do we get tables and chairs? What other organizations want tables at the festival? Has anybody heard from Drumlin Farm? What musicians will play at the festival? How will we spread everyone out to create centers of interest and avoid conflicting music? How do we get people to visit the West Wing locations? Can we convince people that the big puddle behind the building is a vernal pool? What if it rains?
What food do we want for the festival? What food trucks can we get? What if one or more backs out? What other food vendors do we need? Can we give away food samples? Do the food vendors have their own Board of Health permits? What do we need to get our own Board of Health permit for the festival?
What repairs does the gallery need before the Earth Month exhibit is hung? How should we decorate the Umbrella entryway? Why is that river flowing uphill? How can we get that turtle up on the ceiling? What are we going to do with all these exhibit entries?
Where will we find volunteers for all the work that is needed on April 25? What jobs did we have last year? Who will provide direction for each group? How will volunteers find their group leader?
What publicity do we need? What coverage can we get in the Concord Journal--what types of articles? Who will write them? What should the Earth Day postcard look like? Who will distribute postcards around town? Should we make sandwich boards? Lawn signs?