Judy Siggins: Champion of the Arts and The Umbrella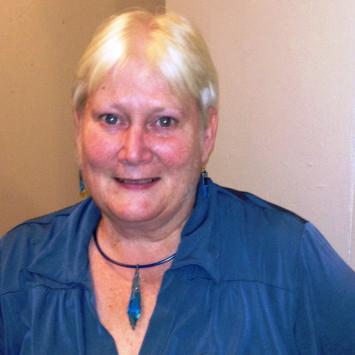 Article by Kiirja Paananen. 
Judy Siggins loves being surrounded by the arts, and she loves the energy that abounds when working with people in the arts. It is this energy that makes The Umbrella the place that nourishes her heart and soul. She loves the tremendous variety of activities that are percolating through the building on any given day.
"No two weeks are the same. I give my time but I get so much in return," she says.
Judy began her professional career working in student affairs on college campuses, then later worked in human services and recruiting for non-profit corporations. After 15 years of working 50 - 60 hour weeks, she decided it was time to scale back and spend more time doing things that bring more joy and meaning to her life. So she started looking into organizations that needed help. The April 2013 Annual Artists Open Studio was her first volunteer effort at The Umbrella, and that event led to other activities. The match was made!
As a former human resources professional, it's not surprising that Judy enjoys working with people, both the artists and the patrons. She's been a "volunteer-of-all-trades" at The Umbrella: welcome-greeter, studio-sitter, ticket-seller, guide, theatre-hand– you name it! She loves that The Umbrella makes a point of offering activities for people of all ages, and encourages community participation. "There is something here for everyone," she says.
Judy says she is particularly drawn to the hands-on activities such as the "Empty Bowls" event, where participants make clay bowls that are then glazed and fired by art students, and later sold at an event to raise money for charities that work to reduce hunger. The 2014 Empty Bowl Event was the first of its kind at The Umbrella, building on a national program (http://www.emptybowls.net). Judy loved the opportunity to learn three pottery techniques in making her bowls: pinch pots, slab construction and using the pottery wheel. It was such a success that The Umbrella hopes to make it an annual event.
The other event she especially enjoys is working with participants in the Musketaquid classroom during the Spring Open Studios, making floats from found materials for use in Earth Day celebrations.
Working at The Umbrella got her own creative juices flowing, motivating her to renew her interest in creating custom jewelry. She turned her grown son's bedroom into a studio and now produces colorful, innovative designs, inspired by the creativity she sees around her. With the encouragement of people from the studio, she now sells some of her pieces at various arts venues. Artists at The Umbrella have taught her how to manage marketing and expenses for her own fledgling jewelry business.
In addition to The Umbrella, Judy is an enthusiastic volunteer at Friends of the Boston Harbor Islands because she is also deeply committed to environmental issues.
At The Umbrella she has developed a rich community of friends; some are fellow volunteers, but she also gets to know frequent patrons and participants. She says, "the core group of people who run The Umbrella are always so appreciative of my time. They always make me feel good about being here. I love the positive energy that flows in this place. I can participate in a myriad of ways, and spend as much or as little time as I want or need to. It's very flexible."
"The Umbrella has expanded my personal horizons and given me experiences that I would never have had otherwise. I give my time but I get so much in return. The more time you spend here, the more you discover."
-------------------------
Kiirja Paananen, a writer and web content manager, grew up in Concord. She has a degree Comparative Literature from UMass, including work in Digital Culture and Contemporary Communications.
-------------------------