Join us for Parallel Paths: Andy Newman & Gregory Maguire now on view in the gallery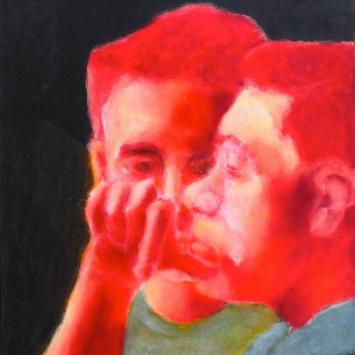 The gallery hums with the bustling of materials and machinery this season as we prepare to enter the next phase of our renovation project. Although it feels like the dust just settled a few short years ago on construction in the current gallery space, we are thrilled to vision programs for the future. In this exciting time of change, we hope you will enjoy the last events in our current gallery space on the 2nd floor. On view starting tonight May 10 - June 5, we are thrilled to present resident artists Andy Newman and Gregory Maguire in Parallel Paths.
Join us for the Opening Reception on Thursday May 17 from 6 - 8pm. In this exhibition, two artists who work side by side toward aims that are sometimes different - and sometimes similar - have chosen work that conentrates on their sympathetic depiction of character. Their talk for our Speaker Series on June 5th is one not too miss. The pair will share stories that will enliven and illuminate the characters in their work while surrounded by it. You may decide for yourself if, and how, these two artists have influenced each other in their work.
Our gallery space at 40 Stow will be closed for the summer and part of the fall as renovations continue. We will be sharing with you all the galleries across New England our artists will be showing work, including our very own Artist-in-Residence at the Trinity Church in Concord. We expect to mount our first show in the new 'transitional' gallery by December 2018 and will continue with a robust gallery season through spring 2019 when we break through to connect the existing building to the new lobby and new building. These larger, better lit exhibition spaces will allow us to organize even higher quality exhibitions which in turn will attract larger audiences. More importantly, this transformation will set the stage for presentation of symposia and other community programs on issues such as the role of creativity in our economy, society and education. What a prime setting to expose, contemplate and converse with visual art! See you in the gallery...