Join us for the Opening Reception for BIG Art: Metal in Motion!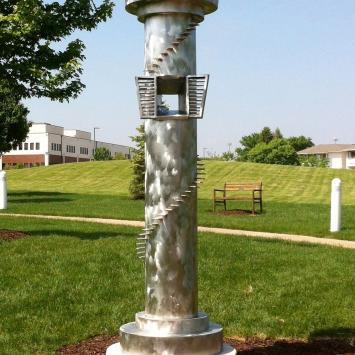 The Umbrella invites community members to the opening reception of BIG Art: Metal in Motion on June 1 from 6-8pm at 40 Stow Street in Concord, MA. BIG Art: Metal in Motion features work from local sculptors Gillian Christy, Michio Ihara, and Murray Dewart. Each of these artists work large scale with metal but despite the rigid medium their pieces are full of movement. Ihara's kinetic sculptures spin in the wind, while the sweeping arcs of Christy and Dewart's work move the eye throughout their pieces and The Umbrella's lawn. Work is on view through September 2017.
Gillian Christy is inspired to create artwork based on the familiar objects that one may view on a daily basis.  She uses the term "Connectors" to describe the focus of her work.  Using this theme to create sculpture she explores the elements of what connects home with one's everyday surroundings. She was born in Iowa in 1979.  She attended the University of Northern Iowa in Cedar Falls, IA, receiving her Bachelor of Fine Arts in 2002.  In 2003, she moved to Providence, RI. The moving experience from the Mid-West to New England is still evident in her work today. Christy's work, including "Winding Walk" and "The Space Within, Leaves" currently on view at The Umbrella, reflects the regional architecture while also integrating organic forms found in nature within the sculptures.
Michio Ihara's kinetic steel sculptures have been displayed internationally in Taiwan, China, Japan, New Zealand, and across the United States. A resident of Concord since the 1980's, his sculpture "3D Chicago," has been on The Umbrella's front lawn for several years and was the inspiration for this year's BIG Art show. New this year, Ihara is displaying two recent sculptures, "Cascade Sculpture 2016" and "Whorl – 2015." He originally studied oil painting at the Tokyo University of Fine Arts before studying at the University of Arizona and the MIT Department of Architecture on a Fulbright Grant.
Murray Dewart is an internationally recognized sculptor who has built large public and private sculptures in China, Israel, Peru, and across the United States in his forty year career.  In Sculpture Magazine, he was called "one of Boston's premier sculptors" and he has work in more than thirty permanent collections, among them the Museum of Fine Arts Boston, The DeCordova Museum and Sculpture Park, The Boston Athenaeum, The Cheng Yunxian Collection in China, Harvard University, the Rose Art Museum, and the San Marco Museum in Peru.  A co-founder of Boston Sculptors Gallery, he is a graduate of Harvard College and Massachusetts College of Art. His piece, "Song Bird Gate," is the only piece in the show that incorporates granite into the metal composition.