Interview with Kim Burns
February 2, 2023 by Stewart Ikeda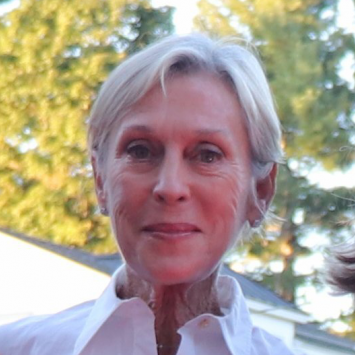 As we prepare for the long awaited return of The Concord Film Project, we met up with Kim Burns, CFP co-founder and 2022 Stewardship of the Arts Awardee, to get insight into how she curates her films and what she hopes the return of CFP will bring to the community.
The Umbrella Arts Center: It's been almost three years since The Concord Film Project has shown a film at The Umbrella. Thinking back to the films that you've shown here, are there any that standout as favorites? 
Kim Burns: It's exciting to be back! Yes, two of my favorites are Lives of Others and Force Majeure back in 2020.
TUA: We love the curation of the films you select each month. What types of films are you hoping to bring to the community this year? 
KB: We've had such a loyal following in the past, so of course I want all those regulars to come back. But I also want to reach new audiences. I want people to come to see a film because they heard about it in the New York Times or at a film festival, but it's not showing around here. I want to continue to show powerful, meaningful films and I want the audience to feel things. 
TUA: What makes The Umbrella and The Concord Film Project such a great partnership?
KB: Part of the reason I'm so happy to team up with The Umbrella is that those are your goals as well - innovation and connection. Film can be such a powerful thing and I really want to open it up to more people. And I also want to show films that make for a good night out! We've all been at home streaming movies for the past three years. I have a feeling folks are ready to go out and make an evening of it. The Concord Film Project -- and The Umbrella -- is all about bringing community together. 
Films at The Umbrella will resume February 8, 7:30PM, with the Japanese quirky "ramen western" culinary adventure,Tampopo, with optional meals catered by Concord's Adelita restaurant.