Inside The Umbrella's Classrooms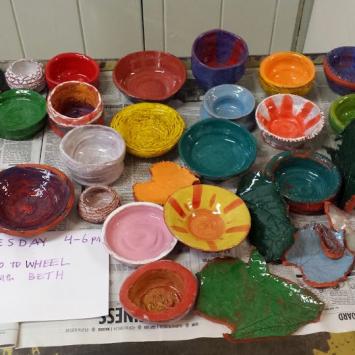 Free Family Drop-in Day
October's Free Family Drop-in Day was a great success with approximately 30 children and over 20 adults participating!  We took inspiration from the fall colors around us to create marbled paper leaves.  Kids got to experiment with color mixing in shaving cream to create their own unique fall look, which was then pressed into paper covered with leaf shapes.  Once dry, the shaving cream was squeegeed off to reveal a complex marbled pattern!  From here students had the choice of mounting their leaves on colored paper or creating a spiral mobile of falling leaves.  We had great examples of parents and kids working together to create a whole family of leaf examples!
November's drop-in workshop will involve helping turkeys to disguise themselves in preparation for Thanksgiving!
After School
Introduction to Wheel Throwing just wrapped up its first session of the Fall!  Students learned to tame a rebellious ball of clay on the wheel in order to create functional ceramic pieces they can use at home.  Cups, bowls, and even a plate or two appeared!  Students tackled a new technique called sgriffito this session, which included painting their pieces with underglaze and then carving intricate designs through the underglaze to reveal the clay beneath.
Thoreau After School
Students are half-way through their Build It Bigger class of hand-built ceramics.  We have created monsters from pinch pots, textured butter or pencil holders from slabs, and vases and mugs from coils!  This week, students will glaze the first half of their work and have it back by Thanksgiving!