Indigo Girls Thrills Fans at The Umbrella
October 18, 2021 by Rachel Olson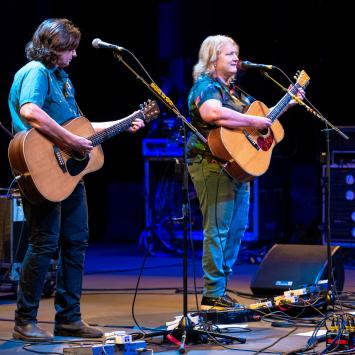 Sold-Out Show Perfect Reopening Concert After Long Delay

Oct. 15, the mood was buoyant at The Umbrella as the mainstage theater reopened for public concerts with a sold-out benefit performance by Indigo Girls. The packed house was on its feet and singing along throughout the set, effusive in applause not just for Amy Ray and Emily Saliers, but for the dazzling violinist Lyris Hung.

The evening was kicked off by Umbrella Executive Director Jerry Wedge, who started with a land acknowledgement, and thanked the audience for standing by The Umbrella ever since the pandemic forced the postponement of their original appearance in spring 2020. Ray and Saliers also recorded a video supporting The Umbrella's mission for last year's annual meeting, held on Zoom. The group was warmly introduced by Board Member Gail Burr, who took the stage with husband Matt Burr.

The band played a blend of past hits such as "Power of Two" and "Galileo" and powerful new pieces from their current album, Look Long. Hung wowed the audience with an improvisatory solo featuring loop pedal effects, and in a surprise encore, Berklee students Cammi McDermott and Leana O'Connor joined the band to sing along on "Closer to Fine". (As part of the two-day whirlwind, Indigo Girls had earlier led a master class at Berklee and a virtual interview  with Boston Globe's Linda Henry.)

Ray and Saliers spoke supportively about the work at organizations like The Umbrella and Berklee, and connected it to the importance the arts held in their personal development.

The appearance immediately preceded the kickoff of the group's U.S./Mexico tour, which runs through February 5. For more information about the tour and new album, see indigogirls.com.
Photos by Ron Mann and Stewart Ikeda