Important Updates for The Umbrella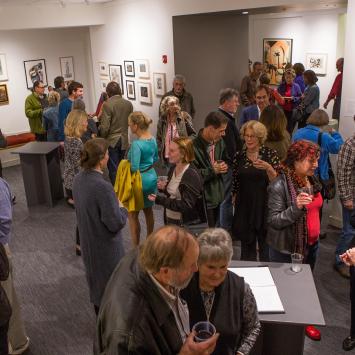 Dear Friends,

When you visit The Umbrella this fall, you will see that we are embarking on a transformational project. Our improvements will make the Arts accessible to all and expand our ability to provide the highest quality programs in state-of-the-art spaces. Both the renovations and new construction are designed to foster natural interactions and collaborations between artists, students, visitors, and theater-goers.

The Future:
Let me walk you through The Umbrella building:
The main building will be completely renovated and made accessible with a welcoming front entrance at grade, a freight-sized elevator at the main entrance, and accessible restrooms on every floor.

The new front entrance will bring you directly into a beautiful new Gallery, linking the existing building and new lobby. The formal area of the Gallery will allow space for longer-term exhibitions and the new lobby space will offer additional space for shorter-term and pop-up exhibits. We envision the new lobby as "Concord's Living room:" a place surrounded by art and artists, to be with friends, to hang out, or to just be a part of the energy that a vibrant center offers.

All Artist studios will move to the front building to foster an even more collaborative community. The clustering of studios and artists will also add vibrancy and energy to events like Open Studios and Winter Market. Artist studios will be upgraded with new heat and air conditioning and a ventilation system will be installed to carry residues directly out of the building. The building will be energy efficient and green:  old windows will be restored with new energy efficient glass, and our mechanical systems will be all electric that will eventually run off 100% non-fossil fuel generated power.

Our Arts & Environment program will hold a more central location in the new plan simply by remaining where it is. Community engagement is a primary goal of this program and being directly off the main entrance and the Gallery is ideal to promote their offerings, engage the public and encourage participation in Arts & Environment issues.

The lobby will lead directly into our new 350-seat theater which will have well-designed acoustics and excellent sight lines from every comfortable seat.  The theatre will be equipped with state of the art lights and sound and feature a 42-foot proscenium and a 46-foot high fly space. With these features, The Umbrella's theater will stand alone in the region and will be a destination for great performances and great audience experience, and will provide increased income from rentals. A black box theater with 100 seats will be built above the theater to provide more opportunities for theater in an intimate and flexible setting.

Our new lobby also leads to four new naturally day lit classrooms, which will be accessed off a common lobby, creating an Arts Education Center. Integral to this will be an interactive Makers Space equipped with digital, electronic, woodworking, and fabric areas. A primary goal of this program is to train our younger students to think creatively by learning through Art. Our pottery studio will be fully renovated, along with a reconfigured kiln room for better efficiency and a new gas kiln. We are creating an additional pottery classroom for independent study and over flow class space.  

Does this sound incredible? It is!


The Transition and Construction Period:

The road to our improved facility is long, but we are on our way. One of the first moves is to provide space for our Education and Performing Arts programs during construction. We have signed a two-year lease on a space just off Route 2, across from Emerson Hospital at 57 ORNAC in Concord. The Umbrella Annex will maintain four classrooms and a 90-seat Black Box theater. Our sought after painting and drawing classes as well as youth programs will begin in those spaces in mid-September. Our first theatrical production, DISGRACED, will open on September 29th.  
Our pottery program and our Arts and Environment program will stay at 40 Stow Street. Artists will stay as well, although there will be some shifting of studios to accommodate the construction work. Our gallery will continue to be the heart of our community.  
Over the next two years, access to and from The Umbrella will change several times. In the initial phase of construction we will use the back doors to enter the building, as the front entrance will be closed off to install the elevator and work on the new main entrance. We will work diligently to communicate changes like this to all of you. We are working on signage, graphics, a strong web presence, and monthly updates to keep you all aware of where our programs will be and where you will need to go.
We are looking forward to beginning this transformational project and I hope that you will actively join us in this most exciting journey.
We hope to see you under The Umbrella, as well as in The Umbrella Annex!
Jerry Wedge
Executive Director