Gifford Pierce Paintings on Sale to Support The Umbrella!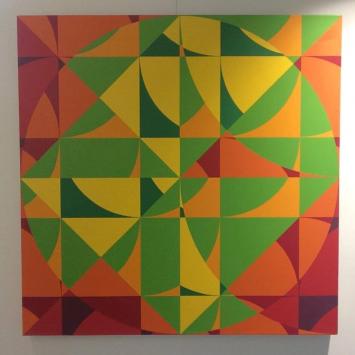 Support The Umbrella and celebrate abstract art by taking home one of Gifford Pierce's beautiful paintings! On view in Driven to Abstraction @ Villageworks through October 31, these five paintings are accompanied by the work of 19 local artists in a call for art show.
Gifford Pierce (1937-1999) was born in Worcester, MA and educated in the Worcester Public Schools, Exeter Academy, and Yale University. While at Yale, he studied under Joseph Albers, the first Maser of the Bauhaus.  All of Pierce's works are geometric studies in color and form showing Albers' noticeable influence. Among numerous honors, he won the Residential Design Competition of the U.S. Department of Housing and Urban Development and an honor certificate from the American Institute of Architects. His work has been exhibited across the United States in Worcester, MA; Boston, MA; Stow, MA; Moscow, ID; and Providence, RI.
Pierce began his teaching career in 1969 as an instructor at the School of the Worcester Art Museum. He was an assistant professor from 1970 to 1973 at Montana State University, and held positions at Rhode Island School of Design, the Groton Center for the Arts, and Carnegie-Mellon University, where he served as acting chairman of the architecture department. He served as chairman of the University of Idaho architecture department from his arrival in 1987 until 1990.
Professor Pierce lived and worked in Groton, MA during the 1980's and a large portion of his paintings were produced there. A collection of his paintings were donated to The Umbrella by longtime Concord residents Nancy and Elliot Lilien and are on sale for public purchase from October 1 - October 31, 2017 in Driven to Abstraction @ Villageworks.