Fiber Arts at The Umbrella!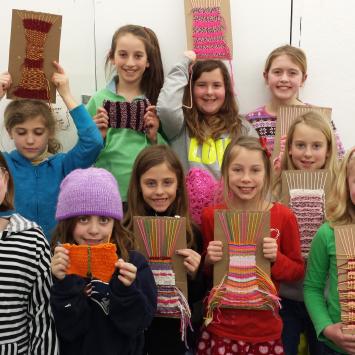 The Winter session of Fiber Arts just wrapped up with a big final project!  Students between ages 8 and 12 made their own custom pillow covers that are fully removable and washable from scrap fabric.  Each student learned to make a paper pattern, measure and cut fabric, pin fabric for sewing, and use a sewing machine in this project.  Although there was a bit of stress when the machines would un-thread themselves, the girls did a great job!  Those who finished early even helped classmates catch up and get through trouble spots. 
During this session, the girls also learned to create their own foam printing plates to customize tote bags with special fabric printing ink.  We talked about design as well as the challenge of leaving enough space between foam pieces without leaving too much space, which would cause problems during printing. 
Fiber Arts students also created their own weavings during the first half of class, moving beyond basic weaving to incorporate more complex stitches and beads into their pieces.  Finished pieces could be kept as wall hangings or sewn to create small pocket bags!
The next session of Fiber Arts will start in April so sign up soon!