Family Drama in August Wilson's Fences
November 20, 2019 by Stewart Ikeda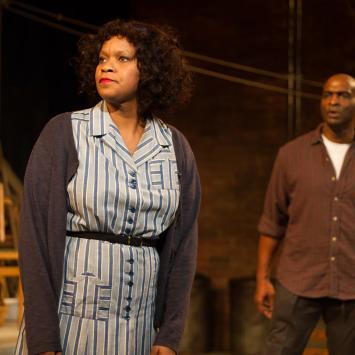 By Gayel Gauthier
August Wilson's FENCES, one of his 10 plays known as "Century Cycle" that covers African-American history in the 20thcentury, is a riveting, Pulitzer Prize- and Tony Award-winning play (1987).
The stage is set in front of a brick family home, where actors perform on the steps and in the yard. There is a wide expanse of other brick home fronts reflective of a 1950's neighborhood in Pittsburgh, where Wilson grew up.  It is his intent to share the evolving African-American experience, race relations and many other related themes in his work. In fact, the "fence" is a metaphor for black people bound within fences of slavery.      
When the play opens, we meet Troy arriving home on a Friday night, with his friend Bono, enjoying the ritual of drinking and "man" talk about their work as garbagemen and good-looking women. This scene foreshadows the plot by repeating and contrasting it during the eight years of the play. August Wilson repeats scenes to mirror changes and attitudes within same-life situations during the years. 
Troy's high school son, Corey, is desperately seeking his own path, as children will and must do.  As we watch Troy reflect his life failures, in "Negro" sports, onto his son by being overbearing, we may reflect similar wanting the best for our children. As Corey realizes his father is trying to "live through" him, he becomes stronger. Troy struggles with his son's evolving freedom of life choices, so it makes his own failures more evident.  So, as can happen, things we dread within our families take over relationships.
It is here Wilson reflects how the cycle of black fathers, burdened by their forefathers, set up generations with a life of inequity. Do we know if Troy is building a fence to keep people (family) in or others out?
As we get to know Troy's wife Rose, her "fence" is embracing nurturing, kindness, forgiveness, allowing for change and growth.  What we do not know is who she was before being a wife and mother.  So when she sadly pleads, "what about me, my life…" we wonder too. We do know, as an aside, that August Wilson's mother's name was Daisy. And, with the frequent gentle references to "Rose" being a flower, this may be a real-life author reflection.
The stage is perfectly angled to capture every scene of this play. It is a brilliantly created set where we experience all the emotions of these talented actors.  We become more engaged when the actors enter a scene down the aisles of the audience.  The actor stands in the aisle and "performs" an exchange with the actor on the stage. During intermission we watch the crew set up the "fence" and see how it changes the set.  The closeness with the set and actors is an engaging experience for an audience.
Director Michelle Aguillon, well-known in the Boston area for many years, has brought forth the talents of the actors and connected with those who artfully created the set, sound, lights, costumes, and crew for an amazing adaptation of this award-winning play. 
If you have not been to see August Wilson's FENCES, a ticket waits for you until the Saturday November 23rd evening performance!
Related Interest