Empty Bowls at The Umbrella!
November 10, 2014 by Jess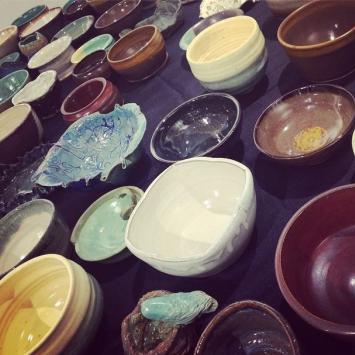 During our November First Thursday last week, over a hundred people came to The Umbrella to participate in our first Empty Bowls event for an evening of charity, art, food, and fun.  Three tables laden with bowls were set out in our brand new gallery while wave after wave of visitors searched for the bowl that spoke to them.  
These bowls were made by our elite crew of clay students, along with several volunteers and resident artists, out of recycled clay in a series of open workshops over the past few months.  Advanced clay students, led by our Ceramics Program Coordinator Caitlyn Marsh, then glazed all of the pieces and got them through the kiln in time for the event.
The event raised funds for Open Table, Concord's local food pantry, and their effort to provide healthy food and support to families in need. With a suggested donation of $20, visitors chose a bowl and headed down to one of our classrooms on the first floor which had been transformed into a dining room for the night.  Pasta and bread, donated by Comella's Restaurant, were served into the newly bought bowls which were then washed to be taken home as a reminder of all the empty bowls in the world. As we embark on the season of giving – it's important to remember the power of giving back. All of us at The Umbrella are excited to announce that our first Empty Bowls event raised $2,250 for Open Table of Concord. A heartfelt thank you to our community and everyone who volunteered, attended, donated, and supported this event for Open Table at The Umbrella.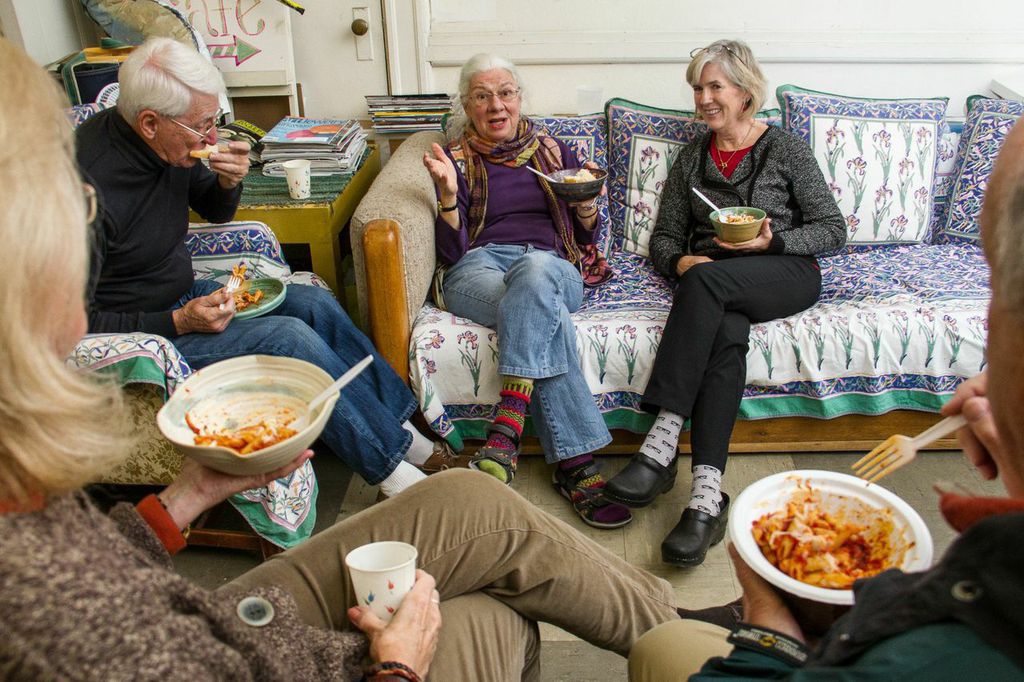 In addition to the bowls, over thirty resident artists opened their studios and encouraged visitors to walk through and see their work as part of our monthly First Thursday event.  "It's becoming a habit," said resident artist Andy Newman.  "I usually work in the morning, so it's good to come in during the evening sometimes and see my paintings in a different light." As one visitor mentioned, "It's wonderful to be a part of the excitement taking place at The Umbrella – it's a vibrant community arts center with something new to see and experience on every floor. I really enjoyed the opportunity to meet with artists in their studios, give back to the community, meet new people, and be inspired – all under one roof." 
See more pictures from the event on our Facebook page.