Empty Bowls Charity Fundraiser This Weekend
April 12, 2019 by Stewart Ikeda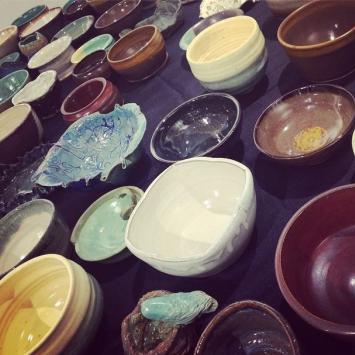 The Umbrella Ceramics Program is pleased to invite the public to attend the charitable fundraising event, Empty Bowls, presented this year with Littleton Community Farm at Orange Door Kitchen, 251 Arlington St, West, Acton MA from 7:00 to 9:00 pm on Saturday, April 13, 2019.
Guests will savor hearty soups and will take home a handcrafted bowl, many by Umbrella artists, as a reminder of their efforts to combat hunger. The Empty Bowls event is an opportunity to learn about and to engage the community in a conversation about hunger in and around this area.
Featured speaker Patricia Stern, Executive Director of Loaves and Fishes, will speak about hunger in and around our area. Ticket price person: $35. Space is limited and no tickets will be sold at the door. Tickets will cover the cost of the event. We encourage donations to make this event successful and support the farm.
Find more information and buy tickets here.