Construction has begun at The Umbrella!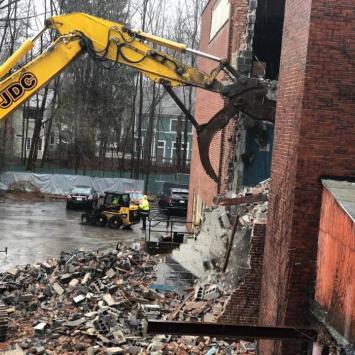 The Umbrella has begun renovations and the removal and rebuilding of the main theater wing to transform the building into a dynamic, state-of-the-art center for artistic expression and enjoyment. We thank you for your patience during construction and we hope you follow us on our journey through our blogs and social media updates!
The new physical setting will allow The Umbrella to fulfill its mission to "enrich lives and build a vibrant community through the arts." 

The front entrance of the building was lowered to ground level and the installation of the new elevator has begun. The front entrance of The Umbrella at 40 Stow street in once again open to the public.
On March 5, community members, staff, artists and board members of The Umbrella gathered to watch demolistion began on the back of the building, where the theater and west wing of artist studios were located.
The Umbrella's Theatre Demo - 3.5.18 from The Umbrella on Vimeo.
Performing Arts will enjoy two new theatrical spaces – a 350-seat main stage theater and a 100-seat black box theater along with a set design shop, green room and theater support. State of the art film projection equipment will be installed in both the main stage and black box theaters.

*Additional construction photos by Pierre Chiha, a resident artist at The Umbrella