THE COLOR OF CREATIVITY
February 27, 2018 by jason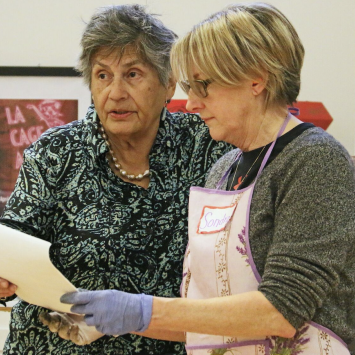 By William Levine
At the center of Joy Buell's Beginning and Intermediate Acrylic Painting class, in the bright, airy, high-ceilinged studio at The Umbrella, is a painting consisting of 40, identical sized colored squares. The gestalt view of these squares is just a random pattern color, akin to a slap-dash communal quilt. This painting though, is in actuality, the result of an exercise in creativity.  As Joy explained, the colored squares assignment was developed under the instructions that the students use colors that appeal to them. All of her students paint this exercise, but as Joy says, "No color scheme is better than the other." The uniquely colored squares become the student's creative choices, which in Joy's view, are essential for the creative design process. "We are always making choices with regard to color and texture and these are the important areas of design."
Joy even convinces me that I have an iota of visual creativity, though I originally deny it. She points out that every day I make subjective color choices in picking out a wardrobe. Today I realize that I have chosen blue.
Joy is a huge creativity advocate and she is also an art educator with over 40 years teaching experience. In fact after spirited exchanges of Turkey Day menus, Joy ushers the 4 students into a semi-circle, and delivers a mini lecture on the Golden Ratio. She brings out an alluring prop, a chambered nautilus shell to show how the Golden Ratio exists in nature. She demonstrates this ratio by drawing a cross section of the shell. Then, dispensing with the math, Joy gives the key artistic idea which is that the FOCAL point of a composition should ideally start 1/3 in from the periphery of the entire picture based on the ratio. The point being that this natural occurring ratio is most pleasing to the eye.
Before the students break the semi-circle for their individual work at the easel, the creativity goal is back, as each student picks out a colored creativity card based on their favorite color, these cards have pithy statements to encourage creativity.  
Enfolding her students in the greater artistic community is also a classroom goal. Joy herself is a practicing local artist with an MFA in printmaking from Yale, who is immersed in the local art scene. Her range of artistry includes work in handmade paper monotype, acrylic painting and collage. She has exhibits in these mediums scheduled in 2018 at Endicott College from June to October and at House of the Raven in Gloucester. She also will be exhibiting at the Topsfield Library in March together with her students. Joy champions student exhibits. She says. "I want to encourage them (students) to put work out in the world."  In doing this, the students will be pulled into the local artistic community.   
As the class wraps up, students exhibit their current projects for Joy to review. Alice, a professional art preservationist, presents two works: one a very polished landscape drawing and the other, a painting of the same scene.   Alice is in class to learn colors so as to expand from drawing to painting. Brian, is a professional photographer, albeit one that works in black and white. Brian wants to return to painting which was a strong interest in his youth. In fact, he first delved into photography to capture paintable images. He has presented an underpainting of the color reflection exercise, in which the basic design and areas of light and shade are roughed out. The third painter, Ann, is a beginning painter. 
Joy gives the three students simple but valuable feedback on their works in progress. Her comments have been honed through 40 years of teaching including stints at Endicott College, Garland Junior College, The DeCordova Museum, in addition to a BS ED from Tufts.  She has been at The Umbrella Community Arts Center for the past 5 years. But, through all these years teaching, for her, is more a calling then a career.  She says, "Helping people learn about creativity. That's what I feel my mission in life is. It's very exciting when people get excited about what they are doing."  
Clearly, Joy is not tired of teaching creativity through visual art. As she hopes, it will be a lifelong pleasure, "I will go to my grave teaching. My students are my family, my greater community."
​