BIG Art; Tiny House - Week Two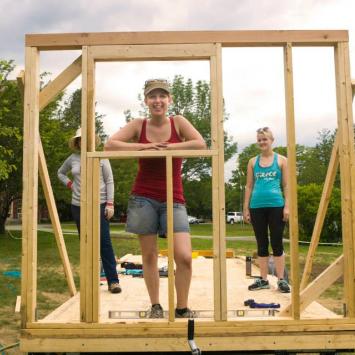 written by Miranda Aisling Hynes
You wouldn't guess it from the sunshine streaming mockingly through my window at this moment, but heavy downpours for most of the morning on Sunday kept us from going out to the build site.  I suppose it was just Mother Nature's way of ensuring that I rested, because apparently it takes a thunderstorm to make me slow down.
Thankfully, we got a lot done on Saturday!  Hearth Member Jaclyn Wood, my mother, and I spent the day putting together the first two walls of the house along with two volunteers: Andrea and Ash.  We were working off an old set of plans that didn't have all the measurements we needed, so our build was slowed down as I carefully thought through the placement of every stud in our two walls.  While this took more time than it needed to, it means that I know the exact measurement and reason behind every stud.
We started with the rear wall, which was actually most built by two volunteers last weekend until they ran into some confusing numbers.  The window opening in the plan called for a 30″ x 40″ window when the actual one will be 30″ x 24″. Thankfully, this was actually the easiest possible mistake to fix: all we had to do was cut the vertical sills 16″ shorter.  Once that was done and we all understood exactly how everything was going to be laid out (measure twice, cut once and all that) we started blasting away with the nail gun.
Next came the longest wall of the house, the 20′ piece on the right side.  We were debating about whether to break it into sections, but it once I started doing the math it was easier to lay it all out along one top plate.  Jaclyn and I measured and laid out the studs while Andrea and Ash carried out and cut the 2×4's.  We made sure that the top plate was connected over a window header so that there would be a lot of support in the weakest section of the wall.  Then we started nailing again.
This weekend got me over my slight trepidation about nail guns.  They're so easy and fast!  A lesson learned: aim carefully and shoot once.  After taking out several of my misfired nails with the bear claw, Jaclyn earned the title of Bear Claw Queen.  The temptation to make jean jackets with emblazoned names grow stronger every week.
Despite the oncoming storm, we decided to raise both walls and brace them.  We weren't ready to bolt them to the floor yet because we will be framing the next walls on the trailer this coming Saturday and Sunday, so it would have been easy to lay them both down and tarp the entire project.  But this comes to my second lesson: taking the time to appreciate achievements.
When I get in the zone, everything becomes a series of tasks to be completed one after the other after the other.  My usual exuberance falls to the wayside and is replaced by plowing through a to-do list with single-minded efficiency.  This is a good thing because efficiency is more likely to get your house done than exuberance.  So while I have been incredibly satisfied with the work we've accomplished so far, it wasn' t until I saw the two walls standing next to each other that I felt that spark of excitement once again.
They aren't bolted in, we'll have to put them both down on the ground so that we can build the next walls on the trailer bed, but damn do they look cool!
To participate in the project, visit the Community Building Page and send an email to mirandashearth@gmail.com with your experience level and availability. To see the full photos, all of which were taken by John Burke, visit our Facebook Page.