The ARTS of the MATTER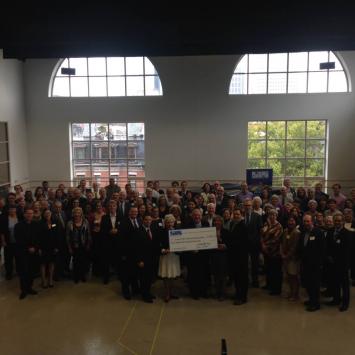 Did you know the state of Massachusetts funds more arts and culture organizations than any other state? It's invigorating to live in a community in which so many people and organizations advocate for public funds in arts and culture. This past July marked a major milestone in that advocacy, when the Massachusetts Cultural Council (MCC) benefitted from a $1 million increase to its state appropriation, approved by the Legislature and signed by the Governor.
Yesterday morning, Katie Krasin represented The Umbrella Community Arts Center at the MCC's grant reception. The event, hosted at Boston Ballet's headquarters, celebrated the latest round of investments in Eastern Massachusetts' nonprofit cultural sector. That big check you see in the photo above represents the $4.4M in new grants to the cultural sector!
As a community arts center, The Umbrella exists for and because of its community – local and state agencies are a part of our community and it's important to make sure arts funding remains a priority. To paraphrase Anita Walker, Executive Director of the MCC, "Our most valuable and precious assets in the Commonwealth are our art and our history – and the stories they create over time – that should belong to all of us. Public investment in the arts makes that so".
We are grateful for your continued support and look forward to amplifying our arts voice!  
Arts Matter!
ABOVE: Speaker of the House Robert DeLeo of Winthrop; Senator Sal DiDomenico of Everett; Representative Cory Atkins of Concord, House Chair of the Committee on Tourism, Arts, and Cultural Development; Representative Bradley Jones; Representative Jay Livingstone, along with Anita Walker, Executive Director of the MCC, and other leaders of the cultural community from across the region gathered for this important event.