Artist Spotlight: Lois Andersen
September 4, 2020 by Rachel Olson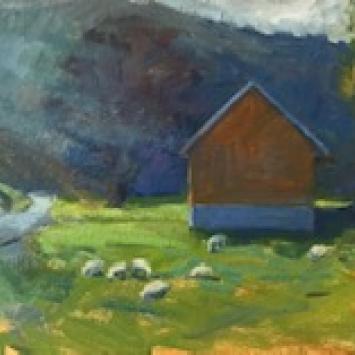 By Aimee Khan
Imagine a far-off beautiful place only spoken about in stories from early childhood onward, somewhere your grandparents once called their home, a place they left behind. The concept of home is difficult to define, but we all know it as something that should be good. Lois Andersen heard stories about family she hadn't met, their personalities, reputations, and what they were known for. Her father's struggling family of 7 children on a farm halfway across the world had immigrated for a better life, leaving that home, never to return.
A scholarship from the Art Students League of NYC allowed Lois to visit that home left behind.  According to her, it was a profound experience. 
"Farsund in southern Norway is a gem of a town, nestled on the sloping hills that spill down to the place where the Lyngdal Fjord meets the ocean," she says. "Craggy granite islands dot the passageway to the North Sea." 
Relatives she had never met warmly welcomed her into their homes solely based on the fact of whose granddaughter she was. There is a sense of generations that passed in one place, a shared ancestry. The struggle of life in 1920's rural Norway was unknown in Lois's NYC childhood, where "you grew up feeling as if you belong everywhere and anywhere; a citizen of the world." A moving and evocative picture emerged in the experience of visiting the home of her forebears.
Andersen is currently working on a painting series called "Finding Home," inspired by what she hopes will create inquiry in us of the lives of those past. For Lois, it was living in the rural area with remaining old structures, family faces from old photographs, and the characteristics of such beautiful but unforgiving land that initiated her inquiry. 
"In such surroundings, you can begin to glean some of the meaning of your ancestor's lives, and the rootedness of place. We have a framework to live in and the choices we make matter. We can learn from those gone before us. There is a home for us to discover that is a gift. Everyone's story is important. Somehow there is a universal story embedded in all our stories of home." 
Each return visit has deepened Lois's understanding of her family and helped identify her place in the history timeline. "My people grew the crops, raised large families, buried their dead, reused their clothes without realizing typhoid would be carried by them. They persevered faithfully and held it together. And beyond the day to day, they found ways to make things beautiful. The basic resources of wood and rock were used for function, but also with attention to what is beautiful. A slight uplift at the end of the roof, a curve in the granite steps, an elegant little spire gently pointing high over the 1776 church. Every log, every piece of furniture, made by hand. They made order and beauty out of what was rough and sometimes unforgiving. My inheritance is rich."
Lois Andersen has been a studio artist at The Umbrella Arts Center in Concord, MA, where she also teaches classes in oil painting composition and technique. More recent paintings by Andersen, and by some of her Umbrella painting students, can be seen in The Umbrella's #DiscoverYourArts Showcase, which features works created by The Umbrella community in the era of COVID-19. And, visit https://www.loisandersenfineart.com/ to find more of her "Finding Home" series.