Art in the Time of COVID
July 23, 2020 by Anonymous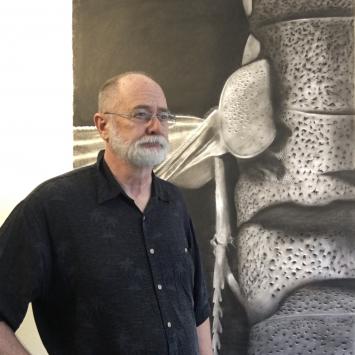 By Wendy Loveland
The Umbrella Arts Center suspended public programs on March 24, following Gov. Baker's closure order in the face of the COVID-19 pandemic.  While The Umbrella's 50+ studio artists were permitted to access their private studios, most artists did not come in. One would surmise that COVID-19 interrupted art as it did most other endeavors. However, it was just the opposite for artist Craig Elliott. Craig and his art thrive as the pandemic hammers away outside his studio. 
"I was furloughed at my architecture job, due to COVID-19," he says. "At the same time, a permanent studio became available – so I actually have more time to focus on my art."
Craig had been subletting for years at The Umbrella, and was already familiar with staff members and other artists. The Umbrella prides itself on creating a robust artist community, not only of studio artists, but also of crafters and performing artists. 
How was the community going to be affected by the lockdown, limitations, safety precautions and program closings? Craig said the community continued; it just changed platform. Administration was successful at using the technology, Zoom (in which everyone wishes now they had stock!), to bring people together. He feels that they didn't skip a beat.
"I don't identify as a victim – and do not identify that way with COVID-19," says Craig. "I would rather spend my time looking at objects in a different way, and then drawing them. I identify as an innovator, in life, work and art. I enjoyed seeing everyone on the Zoom meetings. It kept the community feeling going. I also had a small community of studio artists and we continued to visit each other."
Craig uses charcoal only – quite the limited palette – and was working on portraits. Now he is drawing insects. Insects? Yes, but as description of his work, it falls short. He takes small, almost unnoticeable objects – an insect wing, for example – and scales it up to the extent that what you see is the beautiful pattern that lay dormant to the naked eye. 
"The objects, patterns – everything – is already there, whether it is man-made or in nature," says Craig. "All I am doing is bringing it to life, in different ways."
Innovative thinking fuels his art work. For example, he may put two objects together in a drawing that don't exist together in reality. He may break an object up that is not broken up in real life. Yet everything he draws exists in real life. 
"Every piece is a process," he says. "I carry that over from architecture. But with art, even though I follow a process, I never know what the end result will be, and that's exciting." 
Starting with a charcoal underlayer, Craig uses erasers to pull out the intricate details of his drawings. The precision, obvious patience, ability to delve deeply into ordinary things, and the innovative thinking behind each piece is a sight to see.  
So, COVID-19 can keep knocking at the door, but Craig Elliott is too focused on his art to hear it.