Art Ramble 2017: Featuring Curator Jenn Houle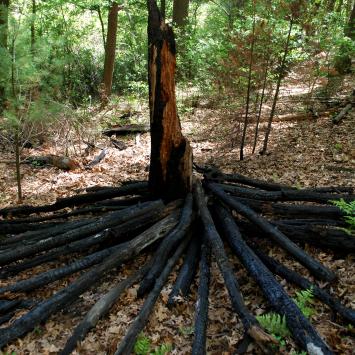 by Jenn Houle
"We must look a long time before we can see." - Thoreau
In honor of Henry David Thoreau's 200th birthday this exhibit encourages a slowing of the viewer's experience of the natural world. What can we learn from looking and how long does it take us to see? As a species we can now exist without stepping foot in the woods. But what happens when we do?
Sixteen artists working in diverse media were selected, faring from Chicago, Maryland, New York, Massachusetts and New Hampshire.  Each artist engages the natural or cultural history of the Hapgood Wright Town Forest with site-specific work created for this show. Artists participated in a 'Day of Observation' and conversed with local naturalists (Peter Alden, Bob White, and Peter Siebert) and each other to help shape their pieces. This unique landscape has a deep history of human activity (including the planting of 13,000 trees during its founding in 1935!) and all artists engage this in unexpected ways.
Henry David Thoreau's way of working, writing, and living is the seed for many projects. Diane Szczepaniaka's River of Sticks II marks a section of the Emerson-Thoreau Amble with a large-scale undulating branch sculpture. Ahmed Ozsever's installation connects time and space by marking locations surveyed by Thoreau with hand-made replicas of historic mapping tools. Thoreau resides alongside other key naturalists framed in knotholes suspended on trees by Liz Fletcher. A. Reid's field guide marks the present and missing species noted by Thoreau in 'Walden', Tim Norris brings his 'Wildflowers' poetry to life, and Tammy Rose connects the exhibit to 'Civil Disobedience' through performance.
Natural history is another common thread throughout works. Lisa Link and Heather Kapplow present forest close-ups and touch on specimen collecting. The viewer is engaged in the process of closer observation and specimen finding while searching for Maryanne Benn's delicate porcelain insect. Andrew Joslin, an avid arborist and artist, brings the audience into the forest canopy with photographs shot from the crown of the Old Growth White Pine, imagining what the tree may 'see'.
The rich history of Land Art (first entering the art world in the 1960's) is continued with Dena Haden's arrangement of found logs torched by a mysterious underground fire last year. Lindsey Glover's Drift highlights impermanence and forest processes, and Madge Evers's spore prints are made of residue of natural processes. Mary Baum and Laurie Sheridan independently use subtle sculpture to frame geologic remnants in the forest floor, collaborating with the landscape.
These artists were asked to reflect their own vision of nature to the audience to reveal deeper connections, looking, and questions. Carolyn Benedict Fraser provides a humorously literal reflection site with Selfie Stick, back dropped by the luminous Fairyland Pond. In Art Ramble: Slow Eyes, Solace and Site our relationship to the natural world, and specifically to this 183-acre haven in historic Concord Massachusetts, is examined through multiple lenses and vantage points. Visit, slow down and find the time to really see.