Arranging Entertainment for the Earth Day Parade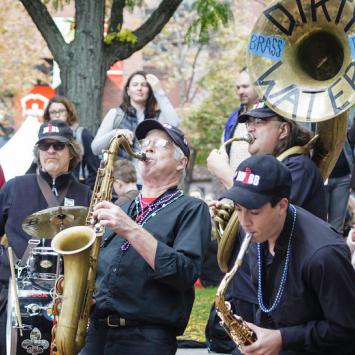 Mary Curtin: Arranging Entertainment for the Earth Day Parade
Written by Dan Kemp
Concord, MA (April 2015) - Mary Curtin began her journey to Musketaquid Arts & Environment's Earth Day as a Cyclops. A young Emerson graduate with a background in traditional theater, she was walking down Newbury Street in Boston and noticed a sign for a puppet production of The Odyssey. She decided to attend, thought it was great, and afterwards offered to help. The next day, and for the rest of the run, she played the Cyclops. The director happened to be one of the founders of The Musketaquid Arts & Environment program at The Umbrella, and he soon had Mary involved with the Musketaquid Earth Day parade, where she has stayed involved for the last twenty years.

The Earth Day events, which happen this year on Saturday, April 30, consist of three parts: The River Ceremony at the Concord River behind the Old Manse at 9:30 am, the Earth Day Parade from the Old Manse to The Umbrella building on Stow Street starting at 10:00 am, and the Earth Day Festival at The Umbrella Building beginning at 11:30 am. Mary is responsible for finding and recruiting the bands, solo musicians, dancers, stilt walkers, and other performers who participate in all aspects of the celebration. It's a lengthy, complex, and delicate process and it takes a person with both high energy and extraordinary patience.
When asked why she takes on such a responsibility every year, she says, "Because I love it! I love collaborating on events that have really strong art and entertainment elements. I oftentimes like to make things up as I go. Just try it out! Experiment! It's fun!"
Mary is a Cambridge native, the oldest of nine, and the granddaughter of immigrants on both sides. She studied theater, got involved with music, married a musician, and helped found a band. She tried living in New Mexico and Vermont, but she was a city girl at heart and returned to the Boston area.
She might have stayed in traditional theater, but her Cyclops experience turned her in a different direction. She joined a group performing political theater in Harvard Square storefronts, and administered a performance art company that incorporated theater, dance, and music. Her band, where she plays saxophone, participates in parades and events, especially street events, and her organizational skills and network of contacts have grown. Today she is a professional event organizer based in Charlestown.
Mary finds Concord a real contrast to the city: a beautiful history and landscape, but a different and more conventional cultural environment. She likes the cross-pollination that occurs when urban performers come to the suburbs. She mentions La Piñata, group of school-age percussionists and dancers from Jamaica Plain, will perform again this year. "Here we are in a parade, where the kids are completely out there with their enthusiasm, and they're not shy at all about expressing themselves. And that's contagious." 
Mary can't yet divulge all the names of the talent she has lined up. Some arrangements are not final, but she says, "I want this day to be loaded with surprises for people!" She can reveal that in the parade, there will be a New Orleans style brass band (The Dirty Water Brass Band), a mariachi band (Mariachi Internacional de Boston), a rowdy medieval music group (Diabolis in Musica), and plenty of percussion, including Grant Smith. Very tall stilt dancers, Leah Maya Apfulbaum and Shawn Morrissey, will stride along with the parade.
Mary arranges for small sideshows along the route in advance of the parade. This year's sideshows include The Concord-Carlisle High School Dance Club and a Brazilian drum group (aNova Brazil) at the rotary, a solo accordion player (Sari Kalin) in front of FootStock on Main Street, and a "World Soul Folk'n Roll" band (Snow Crow) in front of the Middlesex Savings Bank. These sideshows not only provide entertainment for visitors to downtown Concord, but also attract an audience that can be swept up when the parade comes through.
At The Umbrella, the Earth Day Festival will last until 2:00 pm and will feature food, children's craft activities, environmental displays, art, puppet shows and musical entertainment. Maureen Giese plans and guides this portion of the day, while Mary again arranges for the entertainment.
Art installations and two tiny houses on The Umbrella grounds create nooks for smaller acts to perform concurrently. This year a Dixieland-style jazz band (Dan Fox) will be playing on the side of the building, while a modern jazz duo (Charlie Kohlhase Duo) performs in The Umbrella Gallery, a puppet show ("Cardboard Explosion!" with puppeteer Brad Shur) happens near one of the tiny houses, and Eric Royer's One Man Band performs at the other tiny house.
All the events will be over in a few hours—a short time after such long preparation, but Mary says, "That's the nature of my work. It takes months to put it together and then it's done in a flash." But there is that moment of intense satisfaction waiting for the trucks to pick up the rented tables, when she and colleagues will sit on The Umbrella's front steps, and clink bottles in a toast to "another one down!"  And then, she'll be on to the next project.