"Are We There Yet?": Sally Lee's Immigrant Journey in Art
May 2, 2022 by Stewart Ikeda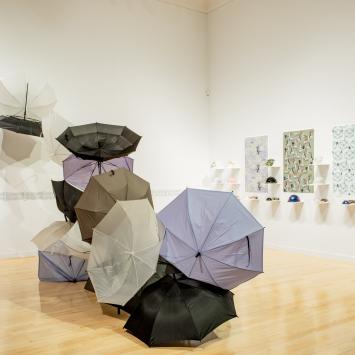 In recognition of Asian-Pacific American Heritage Month, The Umbrella Arts Center is pleased to share materials from a presentation last month by our 2021-2022 Artist in Residence Sally Lee.
A Boston-based installation artist from Arkansas, Lee is currently an adjunct professor at Northeastern University, teaches at the New Art Center, is a Ceramic Studio Assistant at SMFA, and Program Director of Nearby Gallery.
Lee works in a variety of mediums such as ceramics, painting, sculpture, textiles, and more. In her artist talk in The Umbrella Black Box Theater, "ARE WE HOME YET?", she described how her art practice has served as a mechanism to navigate her place in the world as a first-generation immigrant. These experiences inform how she creates conceptual work through historical, political and cultural contexts. Like her cultural identity, Lee's combined aesthetic between Eastern and Western styles and philosophies are a part of her artistic fingerprint. Warm, personal and often humorous, the talk ranges through landscapes, art movements and world events influences from the Tiananmen Massacre to political/pop "Vagabond Artists" to early European Chinoiserie and the experience of tracing and then representing her own family roots.
Artist-in-Residence Talk with Sally Lee at The Umbrella
Tuesday, April 12 @ 2PM in the Black Box Theater
[Open Talk Presentation Slides in New Browser Tab]