Announcing The Umbrella's 2015-2016 Artist-in-Residence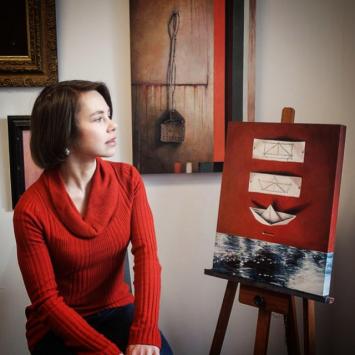 As we come to the last leg of a successful first year of our Artist-in-Residence program with Nina Earley, The Umbrella is proud to announce that we have selected the artist for our 2015-2016 Residency. Sarah Fagan was chosen from a large pool of talented artists who applied from all across the states.
Sarah received a BA in Fine Arts and English Literature from Stonehill College in North Easton, Massachusetts in 2007. She taught and worked as an editor for artscope magazine before relocating to Portland, OR in 2009. There she decided to concentrate on her own art making, attending a certificate program at the Oregon College of Art and Craft where she studied bookbinding and painting.
Sarah has had solo shows across the Northwest region of the United States, and exhibited in group shows across the country and abroad. Painting from a home studio, she has found valuable work and ideation time during travels and artist residencies throughout the past several years.
Her residency will begin in September 2015, after the closing of Nina Earley's show, Across the Land and the Water, which runs from August 17 through September 15.  We hope you will join us for a First Thursday opening reception of Nina's show on September 3 and come back to hear Sarah's three community talks throughout her residency.
Sarah's Artist Statement:
In a blend of painterly strokes and trompe l'oeil techniques, I elevate the status of everyday objects through the medium of acrylic on panel.
I present my subjects from an aerial perspective, sans environment. The resulting visual immediacy forces confrontation between object and viewer.
Accordingly, I consider the sensual and visual, as well as cerebral, impacts the chosen objects may deliver. The concept of the hand is often in my mind. Craftsmen tools, utensils, and small objects engage the body through the eye.
While the aim of the resulting imagery is a ruminative experience for the viewer, the act of painting is a likewise meditative process for me. It begins with the large and abstract, reigning in to the small and detailed. The gesture of symmetry, if not the exactness, is a realm of exploration behind many of my compositions.
Lately I have been concentrating on composition and the concepts of negative space and order through mediums other than painting. Photography, printmaking, and a fair amount of play in mixed media are on my list to experiment with in the coming year.