Art Ramble
2023 Art Ramble
Geo-Metric
September 1 - November 19
Hapgood Wright Town Forest
Hours: 30 minutes before sunrise to 30 minutes after sunset
Curator's Tour
Saturday, November 11 at 11AM
Rain Date: Sunday, November 12 at 11AM

Artist Reception & Walkabout
Saturday September 9 at 11AM
Rain Date: Sunday, September 10 at 11AM

Free and open to the public
Geo-Metric literally means Earth measurement. While traditionally, basic geometry relies on axioms used to measure fixed shapes and construct solid objects that will stand the test of time,"Geo-Metric" here refers to the ability to measure change. Our planet is constantly in motion and changes with exposure to light, temperature, weather, human intervention and climate change. The season visibly changes from summer to fall over the run of the Art Ramble, but what are the changes and patterns (geometric or otherwise) that we do not see? How can we make visible the patterns of nature and their disruption -- raising awareness of the threats to our environment as well as nature's keen ability to adapt and survive?
This year's Art Ramble includes interactive installations as well as quiet, contemplative sculptures. Several will change over the course of the exhibition as they interact with nature and visitors. (For best access to augmented reality installation, "Winds of Change," please download the apps, Hoverlay and Aero on your smartphone and bring earphones.) 
Be sure to also visit The Umbrella's front lawn at 40 Stow Street to see one additional "Geo-Metric" sculpture!
Art Ramble is an annual, temporary exhibition in the Hapgood Wright Town Forest in Concord, MA, a collaboration of The Umbrella Art Center and Concord's Division of Natural Resources (CDNR). Following Leave No Trace principles, regional artists create site-specific artworks promoting appreciation of nature, installed along Fairyland Pond and parts of the historic Emerson-Thoreau Amble connecting Concord Center to Walden Pond.
Participating Artists
David Ardito
Susan Arthur
Laurie Bogdan and Fran Sharp
Jennifer Fuchel
Rob Greene
Liz Helfer
Bob Kephart
Linda Pagani
Charlie Dov Schön
Ellen Schön
Noah Yilmaz
Click to view interactive exhibition map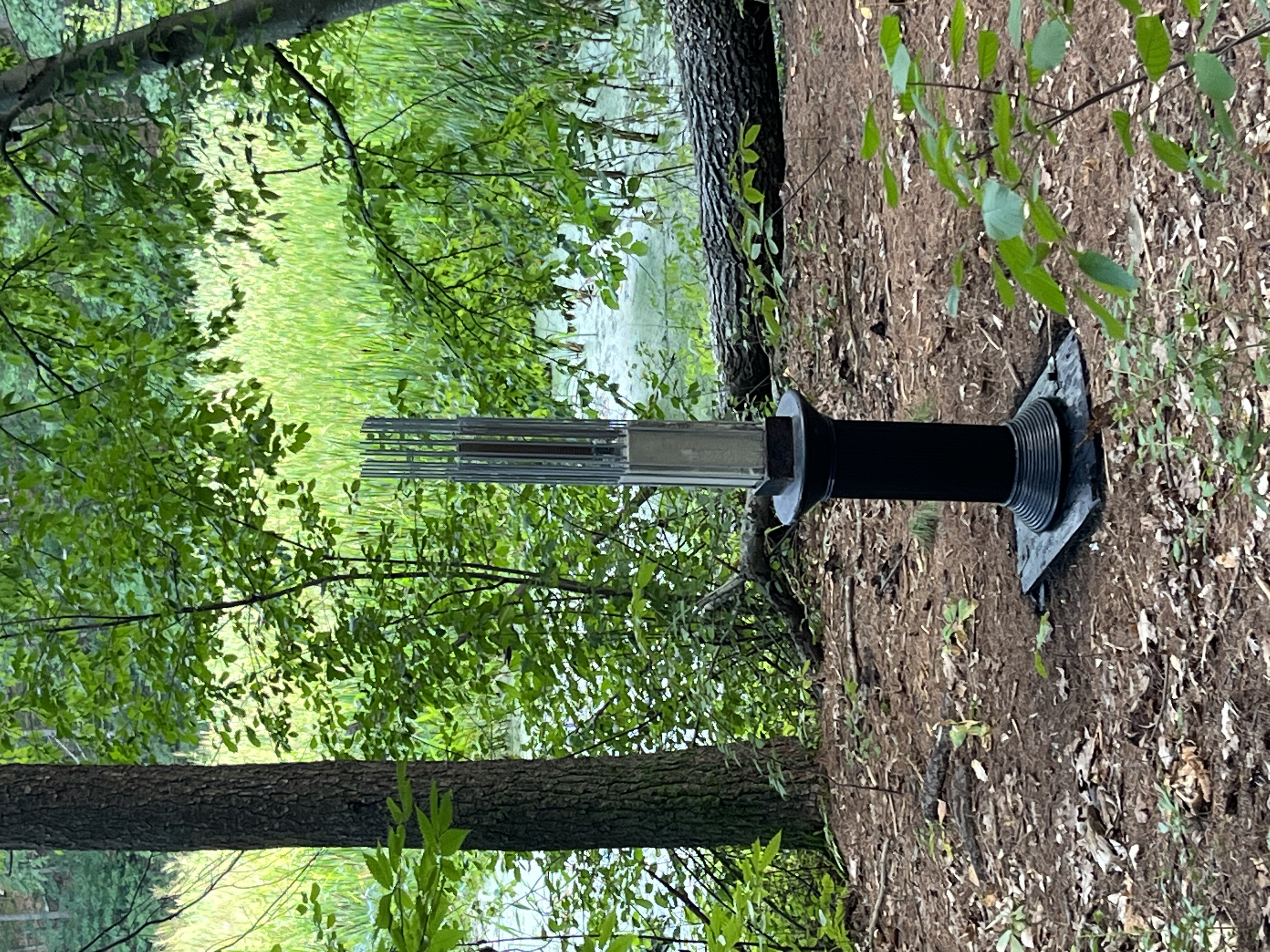 David Ardito
Opus Minor (2023)
Cement, galvanized metal, copper, wood, glass
Artist Statement
Opus Minor uses simple geometry and symmetry to create a calm presence in these woods. It connects to the natural setting in a number of ways. The work is intentionally open at the top so that it can "collect" falling materials from neighboring trees. It can also "collect" and measure rainfall in the calibrated glass vessel nestled in its core. The copper and other metal elements will react to rainfall and air and develop rust and patina over time. The process of decay and change can be seen as a positive force in nature as it is in the many of the artworks I make. This sculpture is dedicated to the memory of Ed Tsoi, my lifelong friend
Bio
David Ardito is a visual artist living in Arlington, Massachusetts. He is the former K-12 Director of Visual Art for both Winchester Public Schools and for Arlington Public Schools. His career included many years of teaching in Winchester Public Schools and the Massachusetts College of Art and Design.

View David's website
Susan Arthur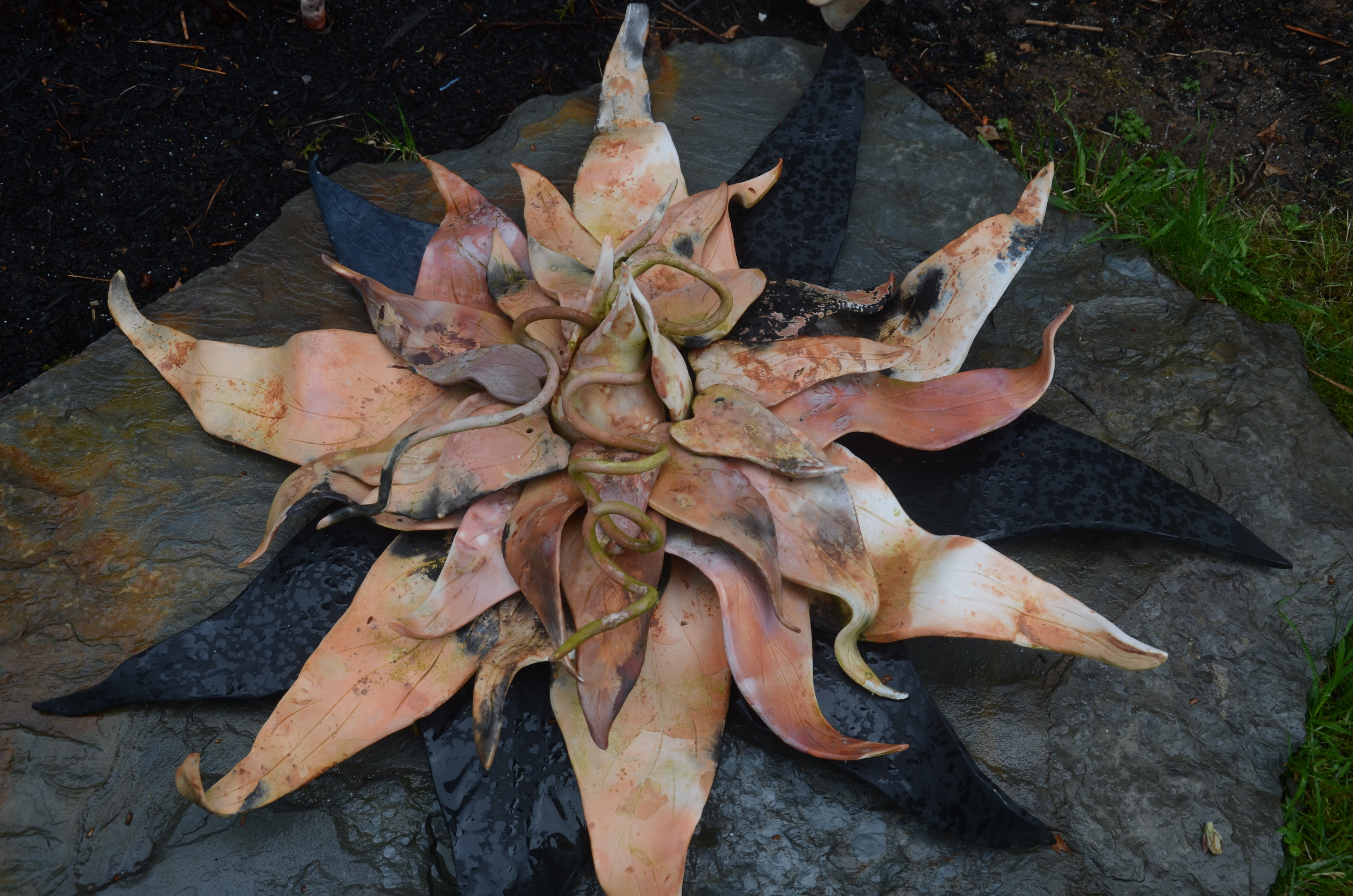 Fungal Flower (2020)
Pit fired porcelain stoneware, slate
Artist Statement
My work is constructed from a mixed porcelain and stoneware clay. After bisque firing, I place it in a pit fire with a variety of chemicals. I build imaginary forms from what I observe in the woods that surround me. I am fascinated with the way nature regenerates—fungi, seed pods— all translating some unique, persistent genetic code into form.
Bio
I started out as a photographer and, over the course of several decades, transformed into a sculptor. During that time, I earned an MFA in Visual Arts from Vermont College of Fine Arts. My primary medium is ceramic, sometimes including metals, paints, and wax.

View Susan's website
Laurie Bogdan and Fran Sharp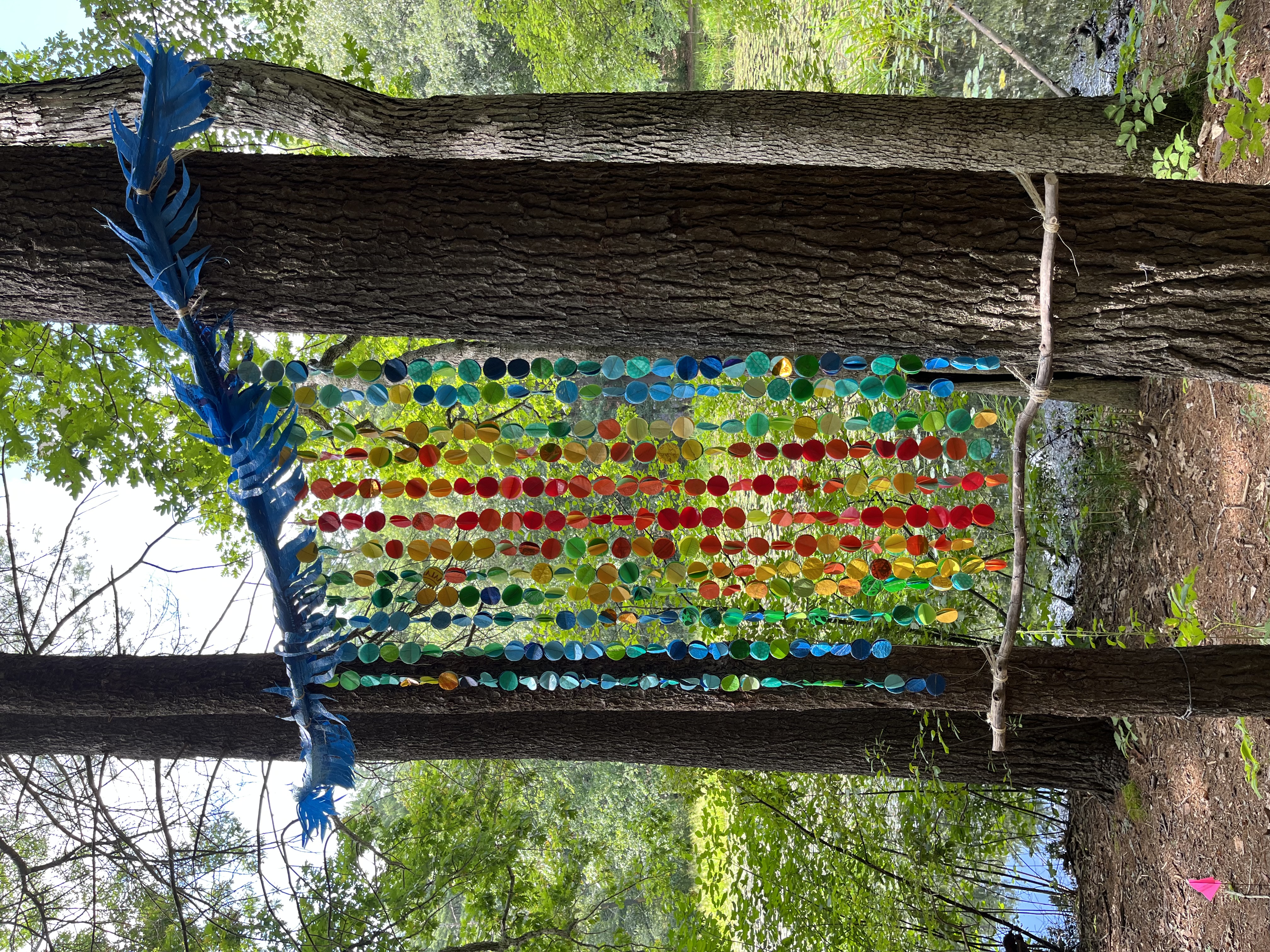 Fluctuation (2023)
Fused plastic, Thread, wood
Artist Statement
Fluctuation shows the daily low and high temperatures over a recent 12-month period in Boston. 2022 was the sixth warmest year in Massachusetts since 1895. This piece is topped with waves representing rising sea levels, a result of human-caused global warming. You can make a difference. ACT NOW.
Laurie's Bio
Laurie is a collage artist from Arlington MA. She uses a variety of repurposed materials in her public art and enjoys collaborating with fellow artists. Laurie is the chair of ArtLinks and active in Arts Arlington.
Fran's Bio
Fran has been a quiltmaker for over 20 years and lives in Maynard MA. Recently She focused on designs that call attention to social issues and the environment. What is the most pressing issue of our time? Saving the Earth!

Follow Laurie @lauriebogdan 
View Fran's website
Jennifer Fuchel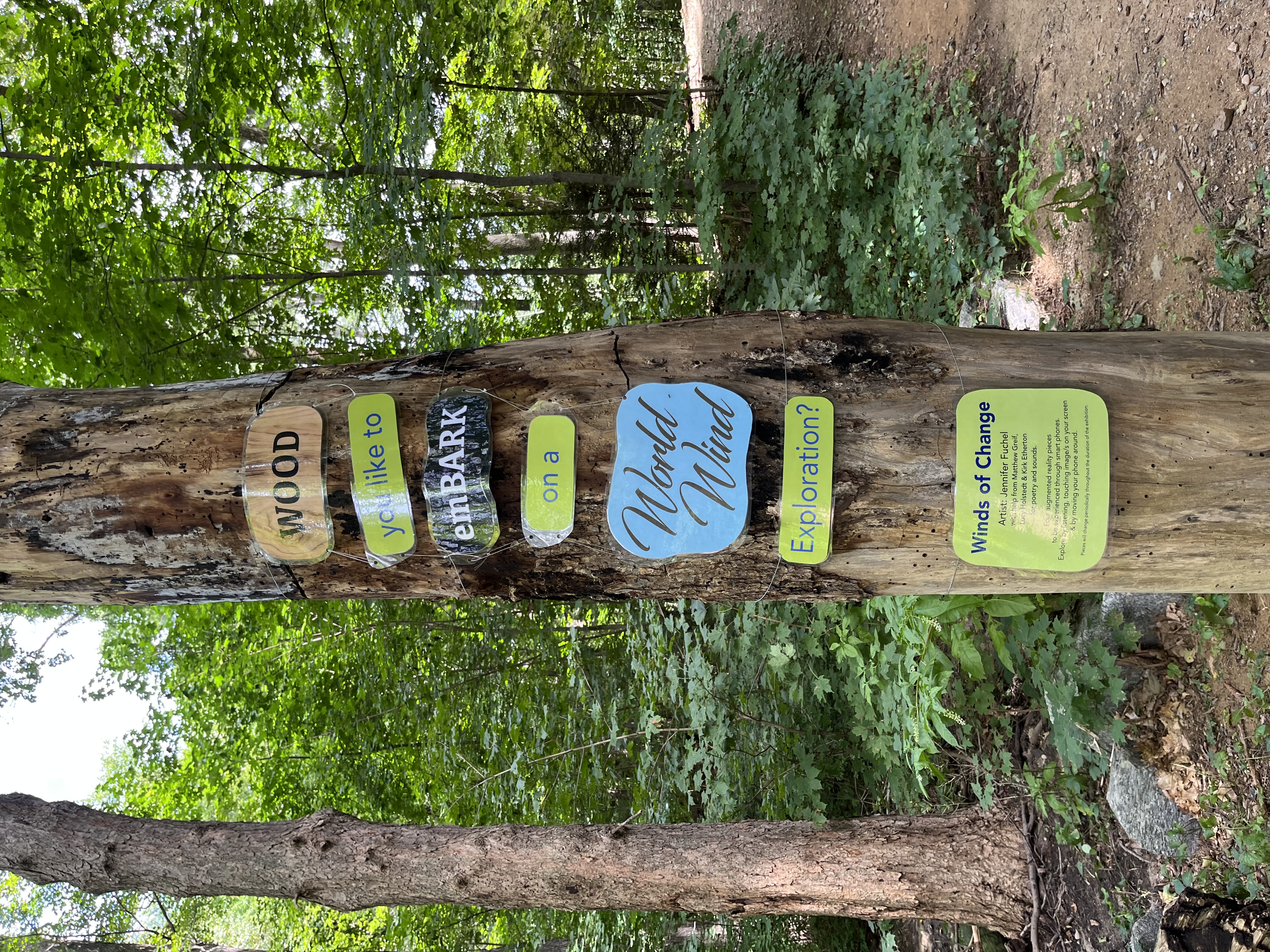 Winds of Change (2023)
Digital Media
Artist Statement
By creating an interactive AR (augmented reality) installation, Jennifer hopes the user will enjoy seeing, and interacting with the work through their smartphones. Inspired by the movements of wind speed measuring devices, Jennifer has created a virtual installation where viewers can 'tap' on virtual images and see them move and change – accompanied by sounds, music and spoken words. It is recommended to download the apps, Hoverlay and Aero, in advance of entering the woods. Bring a smartphone and headphones for the best experience. Images will change throughout the exhibition so come back again and again.
Bio
A recently retired professor of graphic design at Suffolk University, Jennifer is keeping her creative juices flowing by pouring them into her own art – learning new skills and refining old ones in a wide variety of media including painting, woodworking, ceramics, sculpture, outdoor installation, AR, animation, and many more. Now that she is retired, she is busier than ever taking on new challenges and opportunities.
View Jennifer's website
Rob Greene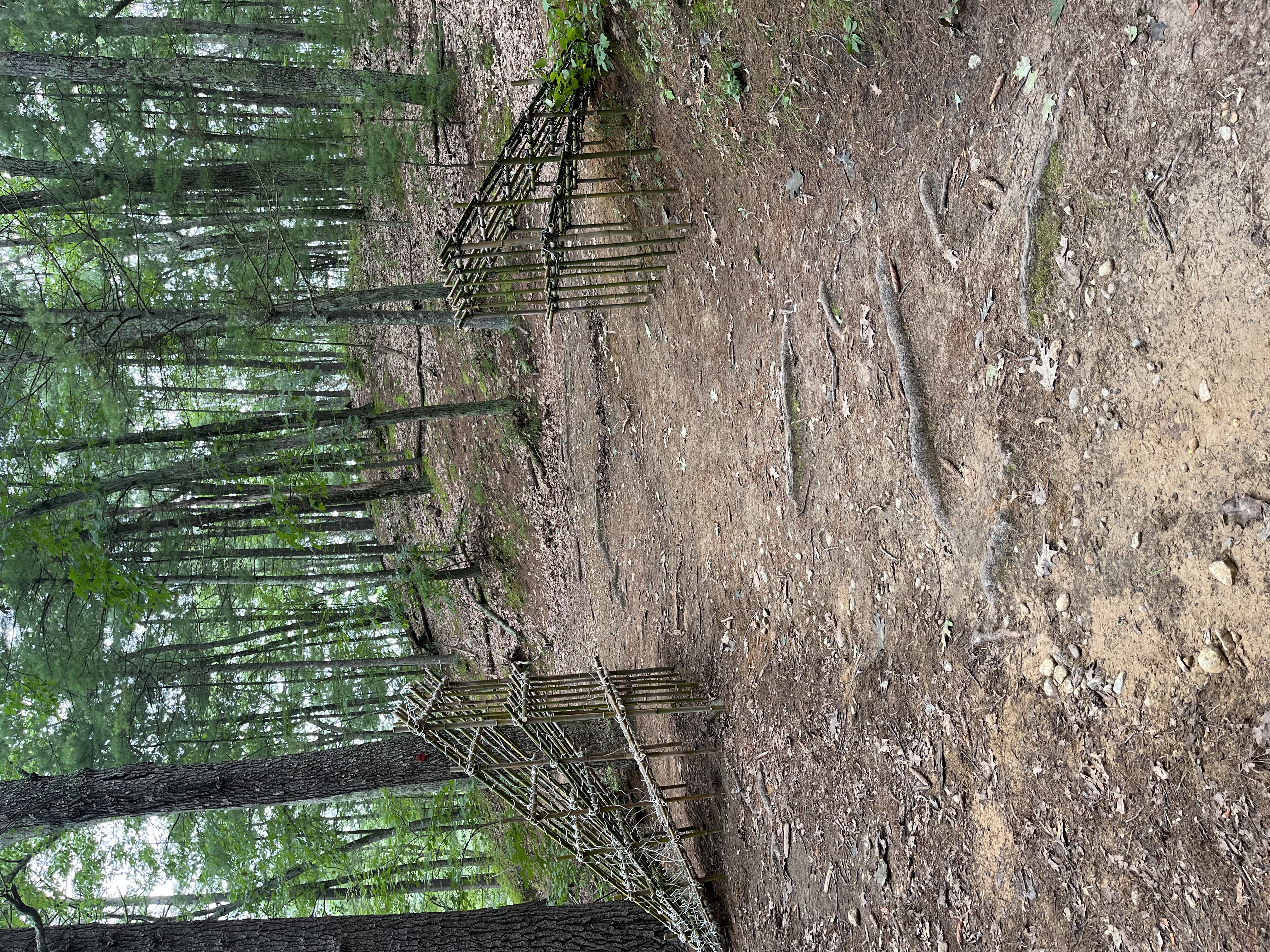 13.7.6.28 Periodical (2023)
Bamboo, electric sensors, electrical wire and speakers
Artist Statement
This interactive installation is actually a measurable graph. Its elevation, length, numbers, and cross sections, all represent the lifecycle of a Periodical Cicada, the cicada that comes around once every 13 years. The graph is split in two, so the viewer can walk through and become witness to the many cross sections and patterns within the sculpture. Despite our efforts to control these insects from our land and gardens, we still hear their music every summer in the trees above our heads. Just as cicadas do in real life, this piece will emit a sound from a distance, but when the viewer walks through it will go silent only to pick up again after the viewer passes.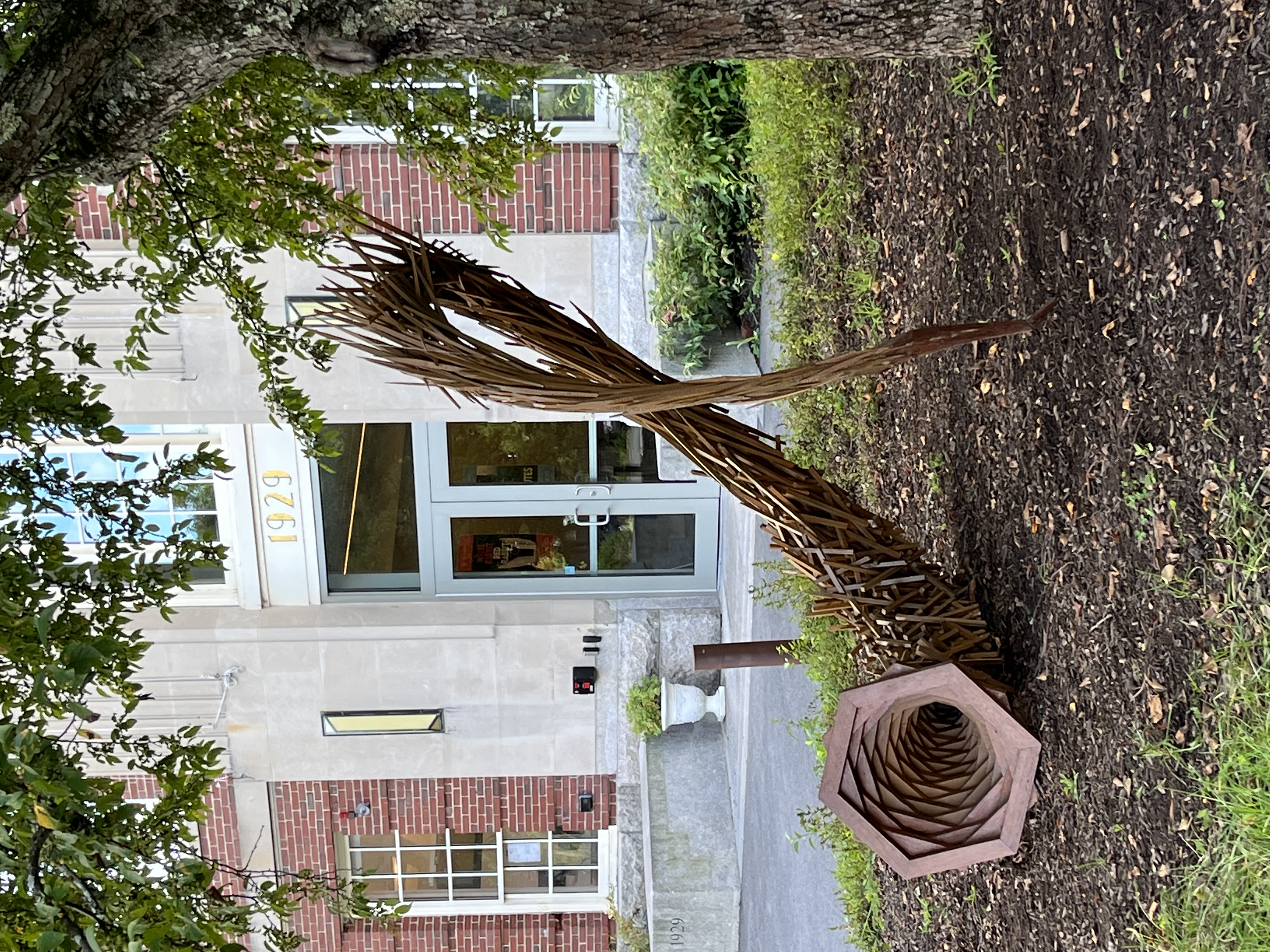 Loop (2013)
Artist Statement
Geometry is everywhere in nature. From dandelions to honeycombs, we don't need to look far to find measurable beauty. Loop is a sculpture representing that measurable beauty. Its ambiguous form lends itself to many things. It is left to the viewer to decipher its meaning or perhaps its meanings!
Bio
Robert Greene is an East Coast artist/sculptor who resides in Ledyard CT. His work deals primarily with the human condition. The activity of the mind and nervous system is his main inspiration. Graduating from Eastern Connecticut State University in 2006, he went on to pursue a Master's in Fine Art at the University of Massachusetts Dartmouth in 2010, receiving his Master's in 2013. He is currently a full time Associate Professor of Sculpture in the Department of Art and Art History at Eastern Connecticut State University. His sculptures have gained recognition along the East Coast with many pieces in both private and public collections. His work has been mentioned from local newspapers to the Boston Globe. Robert's works has been featured in the New York Times where it was highlighted in a prominent room in the Annual Kips Bay Decorator Show House. Robert's work has also been seen in The Architectural Digest, Huffington Post and many papers and blogs. He continues to exhibit in conjunction with staying busy creating original pieces and making new discoveries in his studio in Ledyard. He enjoys nurturing the creative minds of his students by engaging them in thought provoking projects. He believes that creativity and innovation go hand in hand.
View Rob's website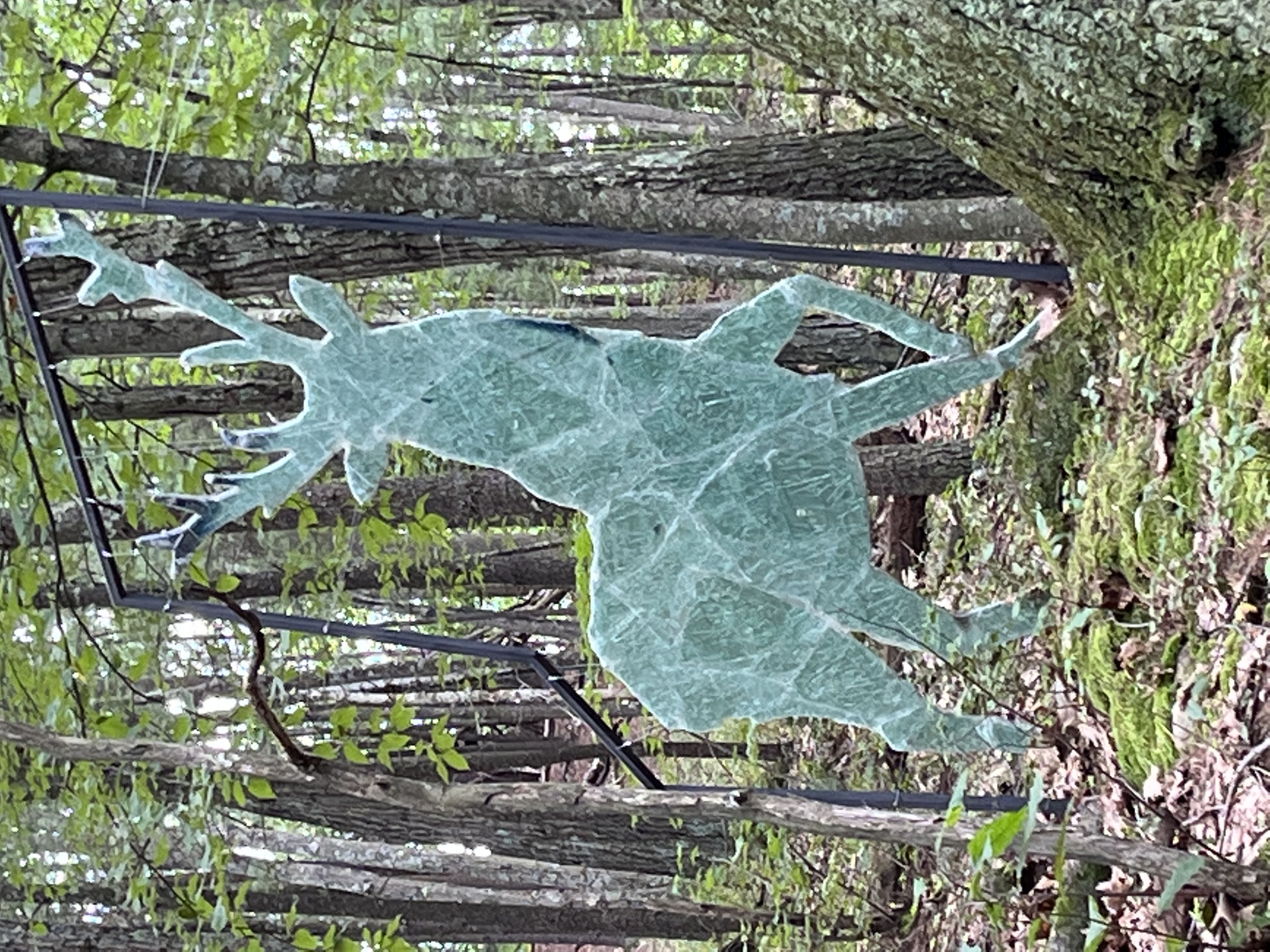 Liz Helfer
Blinkah 2 (2020)
Windshield glass, steel, vinyl wrap
Artist Statement
Blinkah 2 is the second iteration of an installation created in response to our casual destruction of life around us. The broken windshield glass is both reflective and transparent, revealing ghostlike animal silhouettes framed in geometric forms. The symbolic implications of industry contrasted against nature evoke an environmentalist narrative to help us see ourselves in the world around us.
Bio
Liz Helfer Studios is located in Waltham, MA, where Liz creates sculptures by commission and for exhibition. With a focus on metal, she creates site-specific mixed media sculpture that addresses our impending environmental peril, often using recycled materials that evoke the symbolism of their subject matter. Liz is currently the Public Arts & Culture Planner for Watertown, MA.
View Liz's website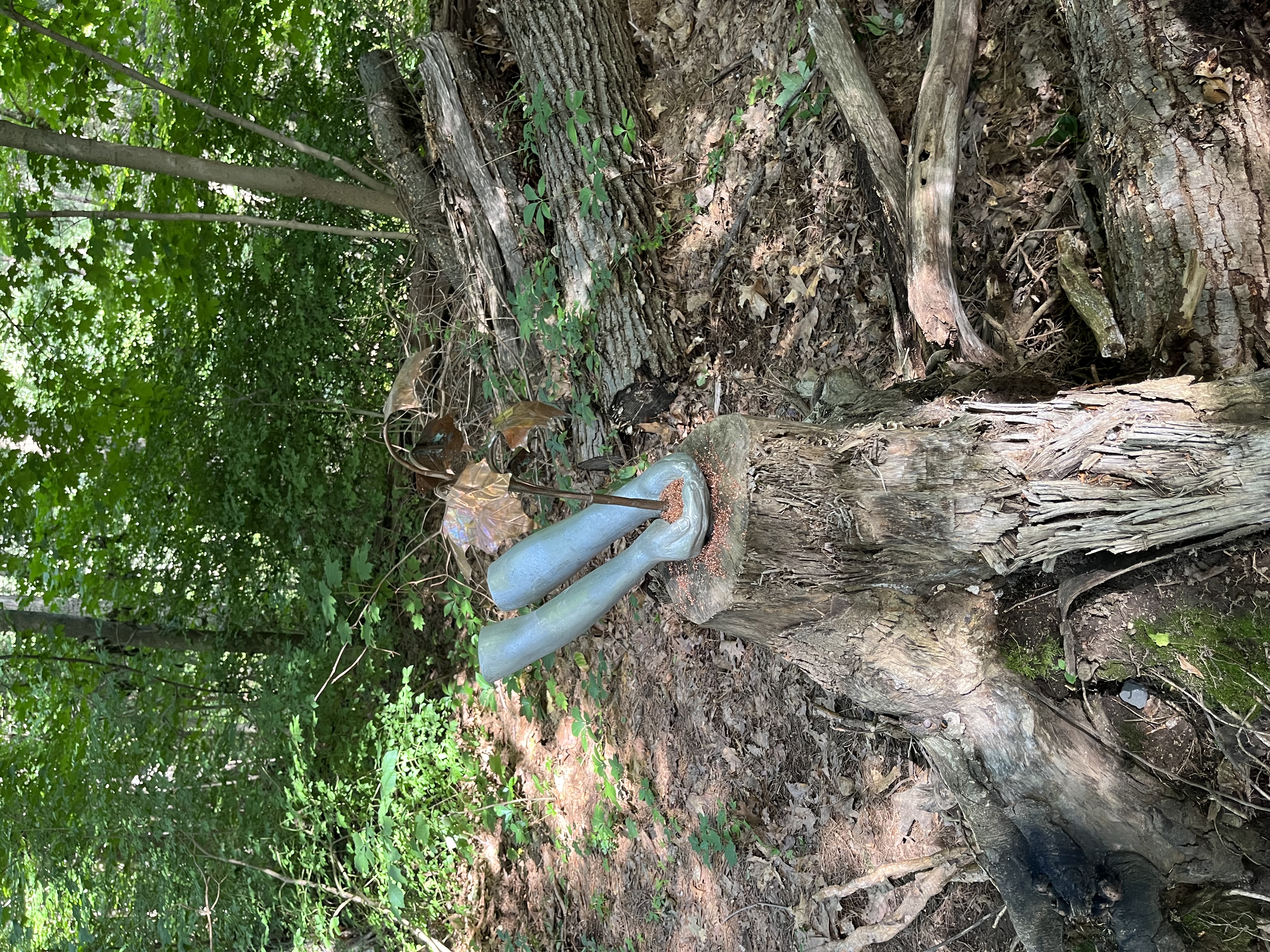 Bob Kephart
Full Circle (2022)
Wood and metal
Artist Statement
The passage of time and the cyclical nature of life are the conceptual foundations of this sculpture and speak directly to the Geo-Metric theme. The sculpture is in a state of change both physically, and in time.
Bio
Bob Kephart grew up in the Four Corner area of New Mexico and at the same time Calgary, Alberta Canada. Bob received his BFA from the Alberta College of Art in Calgary, which is now named the Alberta University of the Arts. He went on to earn an MFA from the School of the Art Institute of Chicago. Bob moved to Massachusetts in 2003 where he continues to have a studio practice.
See Bob's website
Linda Pagani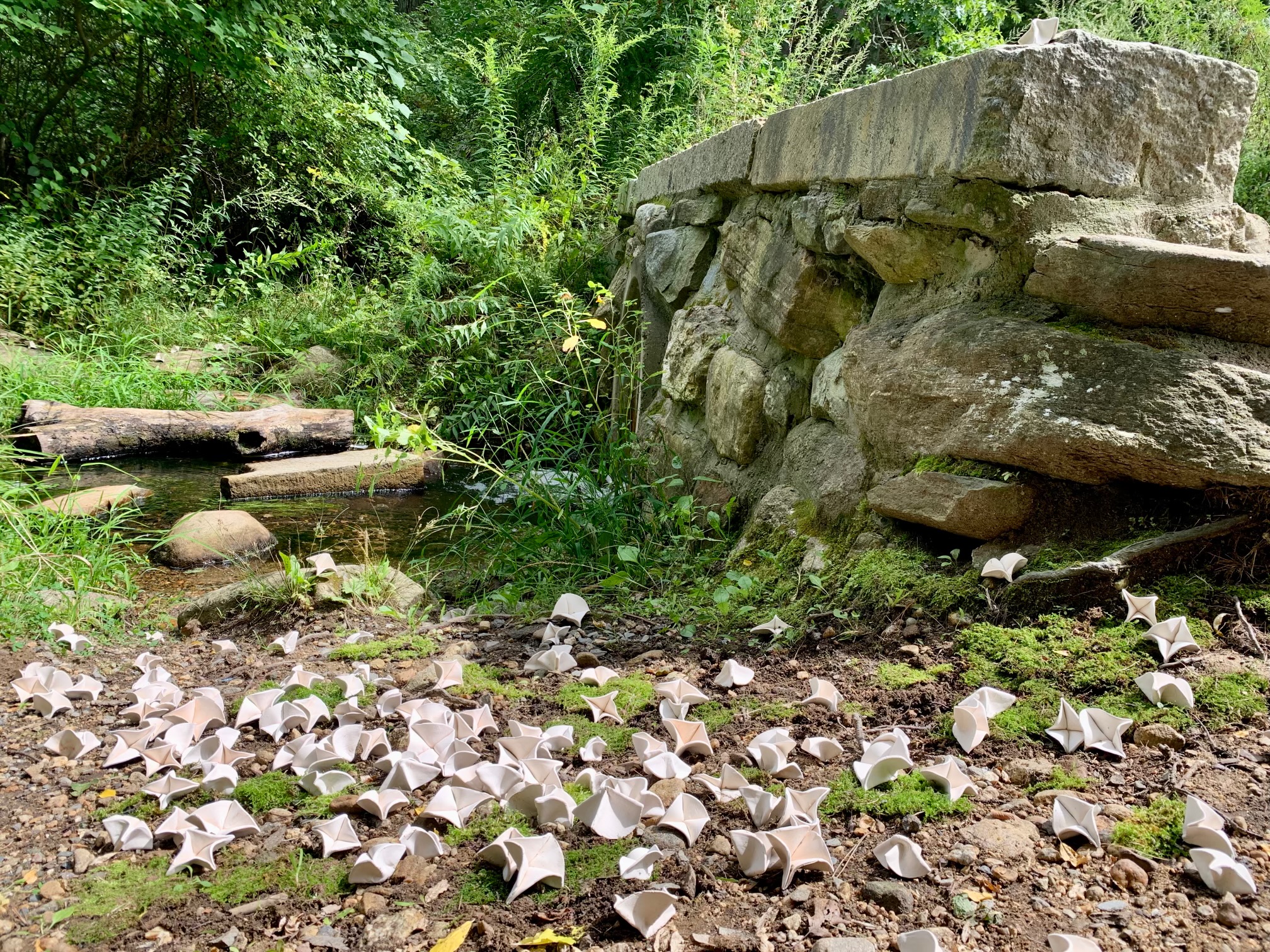 Garden of Eve x Hapgood (2023)
Ceramic
Artist Statement
GARDEN OF EVE x Hapgood is nestled into the earth, thriving in clusters, alluding to the impact of the collective. Here the flower symbolizes growth and transformation of the female experience. Over time, the clusters will multiply, changing their impact on their environment.
Bio
Working with light, architecture, and landscape, interdisciplinary artist Linda Pagani examines the coexistence of built structures and the natural. Through her inquiry into the sensorial experience of an environment she investigates emotional connection with one's surroundings. Pagani studied at the School of the Art Institute of Chicago, and at the School of the Museum of Fine Arts at Tufts University. Her work is held in private & public collections. She lives and works in Lexington, MA.
See Linda's website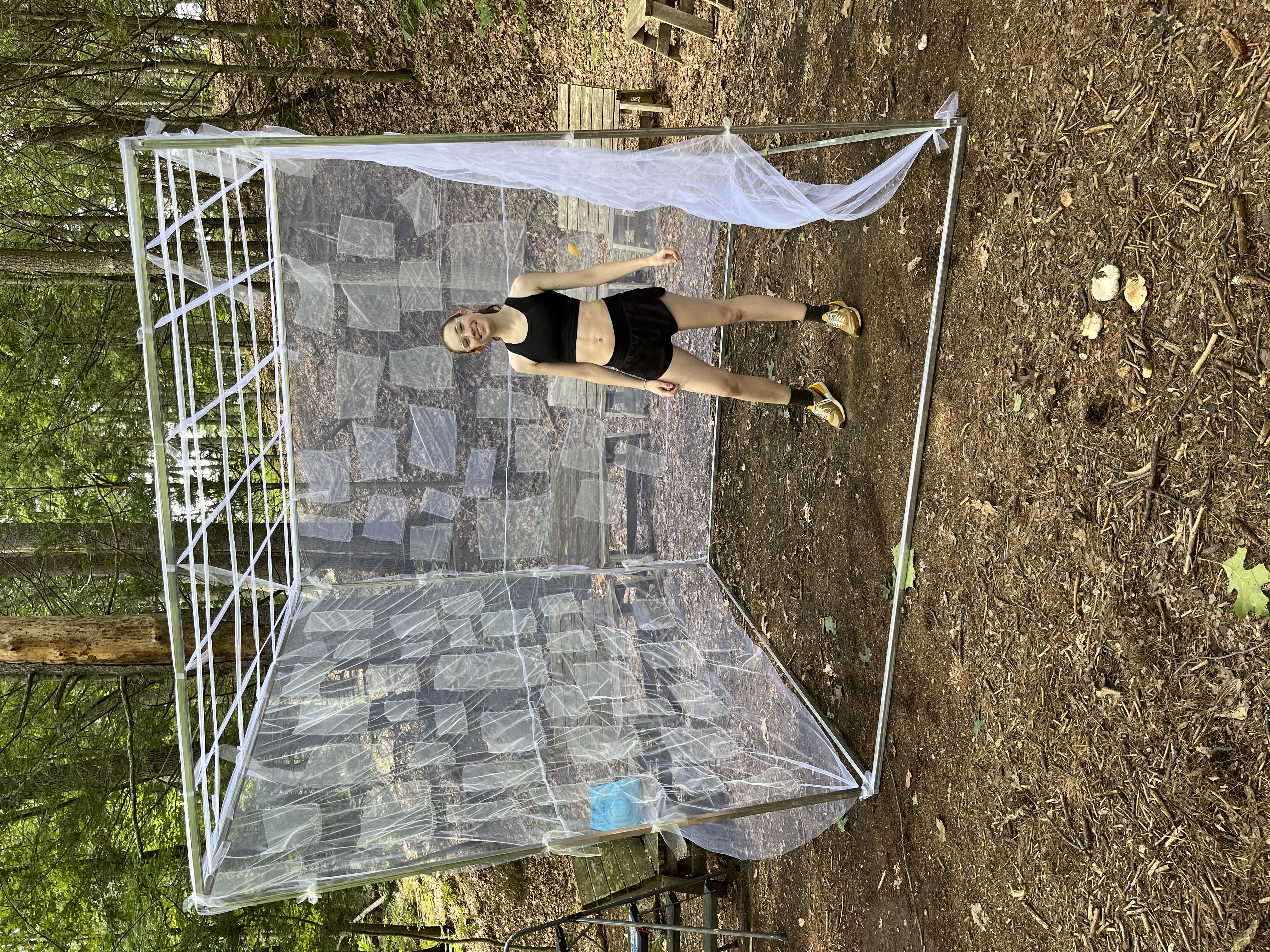 Charlie Dov Schön
Blessed Are You Who Has Brought Us To This Season (2023)
Aluminum, tulle, thread, found and gathered fall debris
Artist Statement
This piece is an evolutionary installation, consisting of a built structure modeled on the Jewish tradition of the Sukkah. The Art Ramble aligns with the Jewish holiday of Sukkot, a celebration of the harvest and the turning of the seasons. It offers a shelter for climate grief and climate hope.
Bio
Charlie Dov Schön is an artist whose work is deeply place-based, engaging with textiles, transparencies, ritual, and the natural world. She is a dryer lint collector, a spatial data enthusiast, a found object artist, and a scientific communicator. Her work has been shown at Hamilton College's Wellin Museum, Boston City Hall, and The Brandeis Knizkick Gallery. She is a forthcoming artist in residence at Flathead Lake Biological Station through Open AiR Montana Fall 2023.
View Charles's website
Ellen Schön
Blue Spiral (2022)
3D printed stoneware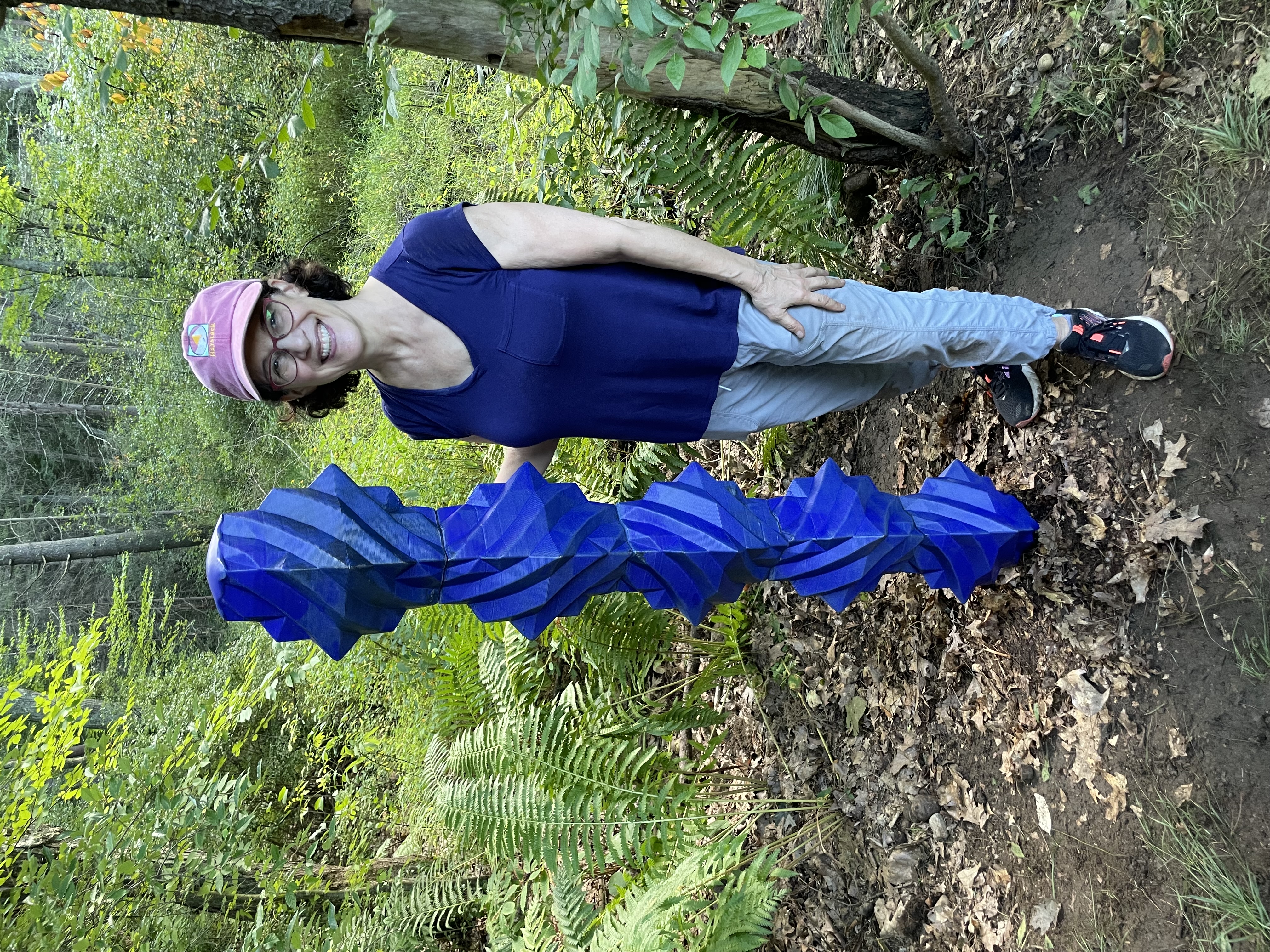 Artist Statement
I have always been interested in the ability of a ceramic vessel to point to something beyond itself—to function as metaphor. Physically structured with necks, shoulders, bellies, and feet, ceramic vessels can evoke the gesture and anthropomorphized stance of the human figure. They reveal deep aspects of human experience and of the natural world. My newest work explores the geometry of 3D clay-printed vessels. This piece, Blue Spiral, is inspired by platonic solids, ancient totems, ziggurats, and Constantin Brâncuși's Infinity Column. My interpretation seeks to relate this mirrored symmetry to the abstracted human form.
Bio
Ellen Schön is Adjunct Professor in Fine Arts and Ceramics Studio Supervisor at Lesley University College of Art and Design in Cambridge, MA. She earned a BA from Marlboro College (Ceramics and Perceptual Psychology) and an MFA in Ceramics from Boston University's Program in Artisanry. Schön has organized and co-curated exhibitions locally and abroad. A member of the European Artists Association, she has participated in international artist symposia and residencies in Denmark, Finland, Croatia, Hungary, Turkey, Israel, Germany, and Malaysia. She won The Artist Foundation Fellowship from the Massachusetts Council on the Arts and Humanities and was an Artist Fellow at the St. Botolph Club. Schön's work is held in the permanent collections of the Museum of Fine Arts, Boston, and the Fuller Craft Museum in Brockton, MA.
View Ellen's website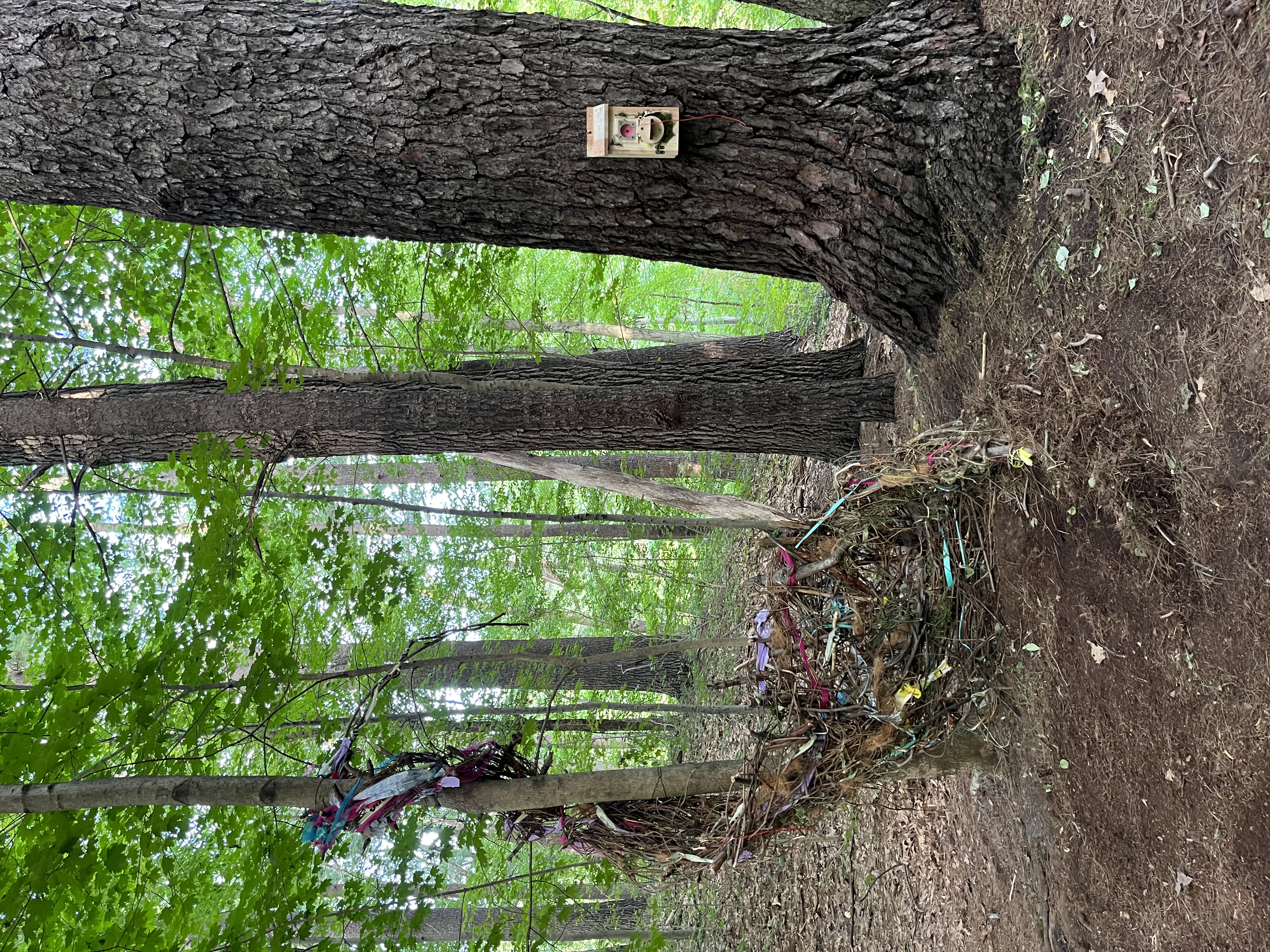 Noah Yilmaz
Foul Nest (2023)
Natural fibers, wicker, reclaimed plastics and various manmade materials
Artist Statement
Foul Nest explores the relationship between humans and their environment. Inspiration for this work comes from the observations of birds incorporating trash into their nests. Viewers are invited to add to the work using string from the adjacent birdhouse, acknowledging their impact on their environment and pledging to protect it.
Bio
Noah Yilmaz is a mixed media artist and educator. He holds a B.A. in Studio Arts and a M.A. in Elementary Education. He teaches art to students in grades K-5. His work explores a combination of media to create artwork that reflects nature, society, and the relation between the two. He's passionate about increasing accessibility to the arts and believes art is a tool for social change.
View Noah's website
See the previous Art Ramble
Header image: Installation by Susan Arthur